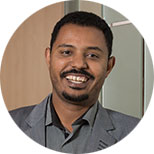 Awoke Misganaw Temesgen
Clinical Assistant Professor
Faculty
Awoke Misganaw Temesgen (PhD) is a Clinical Assistant Professor at the Health Metrics Sciences Department, University of Washington. In this role, he leads burden of disease collaborative initiative between IHME and Ethiopian Public Health Institute (EPHI). Dr. Awoke is PI with Prof. Mohsen Naghavi for a collaborative research project between IHME and EPHI funded by Bill and Melinda Gates Foundation, $12 M, 2019 – 2023, that supports subnational burden of disease analysis and build capacity for National Data Management Center (NDMC) for health.
Dr. Awoke has led the conceptualization, designing and establishment of National Data Management Center (NDMC) for health, with different units including burden of disease at EPHI in Ethiopia. Currently, he is a senior researcher and advisor for the NDMC which focuses on continuously gathering health and health related data available at research institutes, academics and agencies in Ethiopia; store, manage, share, analyze and synthesize available data; and timely disseminate and facilitate use of evidences for public health impact by Ministry of Health and its partners.
Dr. Awoke interests are burden of disease analysis, causes of death, building data system and analytic capacity in resource poor settings, networking and collaboration, and translating evidence to health policy.
Dr. Awoke has been lecturer and researcher at Addis Ababa University and has served in the clinical and leadership positions as public health officer in the Ethiopia health care system. He has published a lot on peer-reviewed journals, contributed to guidelines, books, and book chapters.  He has got Best Research Award of the Year 2013 form Addis Ababa University.
He studied at School of Public Health in Addis Ababa University, Ethiopia, earning his Master's degree (MPH) and PhD in Public Health. He has completed Post-Graduate Fellowship at IHME, University of Washington.