VOLUME 6, ISSUE 9 | September 2019

Plants Pressed: in the Miller Library through September 28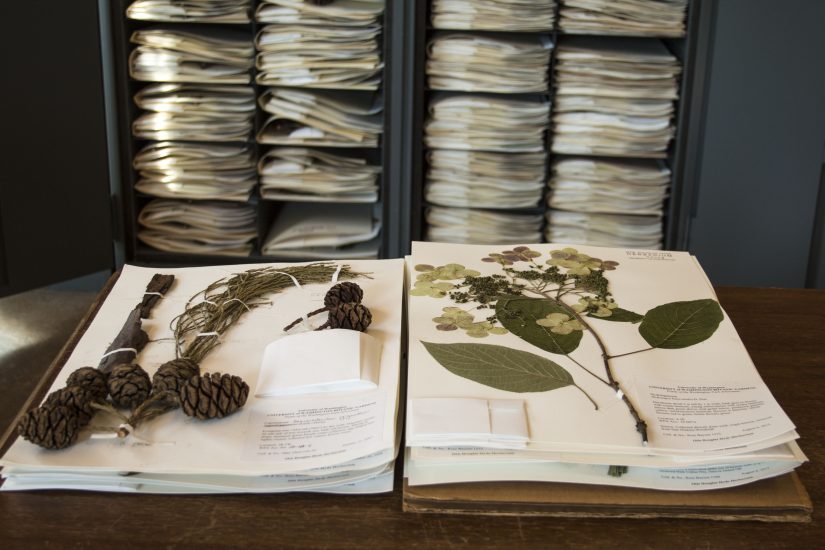 Plants Pressed narrates the power of plants throughout history. Herbaria of pressed plant specimens originally served as pharmaceutical references of potent poisons and healing remedies. Herbarium collections continue to provide scientists vital information about plants in our past and present environments, but they also document and represent a disturbing history that give us insights into the harmful racial divide that persists in the United States today.


The Otis Douglas Hyde Herbarium
collects and houses pressed plant specimens from the UW Botanic Gardens and from the research of students, staff and faculty. It is a valuable storehouse of botanical DNA from the Seattle region, the Pacific Northwest and beyond.
Readers of Leaflet for Scholars are invited to meet Herbarium Manager Eve Rickenbaker at a reception she is hosting on Friday, September 6, from 5 to 7 pm in the Miller Library. Eve will also speak about the exhibit in the library Thursday, September 26, from 5 to 7 pm.
Deep dive on Arboretum plants research
by Tracy Mehlin, Information Technology Librarian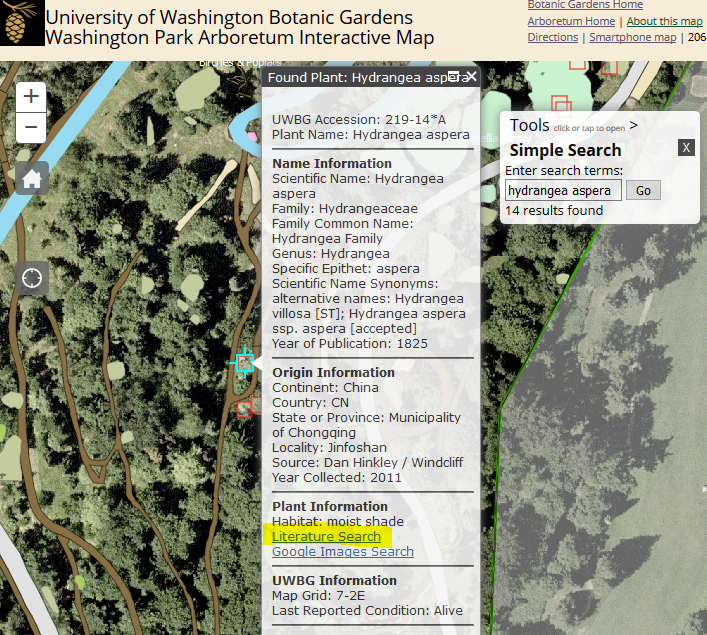 I created a new tool for serious plant geeks that want to learn everything they can about specific plants growing in the Washington Park Arboretum. Starting from one of three access points to our plant data
,
the
Living Collection Search
, the
advanced Interactive Map,
or the
basic Interactive Map
, people can search for a plant and discover if it is growing, and where, in the Arboretum. If the plant
is in the Arboretum
the user will see details for that plant, including a link to run a "Literature search." That literature search looks for mentions of the plant in the
Bulletin
, published by the Arboretum Foundation, and newsletters from the Northwest Horticultural Society. If a match is found, then a link to a digitized copy of the issue hosted by the Biodiversity Heritage Library is listed.
Links to other information sources are also included with the plant name already embedded in the URL. That means the user can quickly find more information from organizations such as the Royal Horticultural Society, Missouri Botanical Garden, The Encyclopedia of Life and even the Miller Library's Gardening Answers Knowledgebase. Try a search for
Hydrangea aspera
.
Black Locust Blossoms by Harold Bishop


detail from Robinia photo by Joy Spurr
I hope to see black locust blossoms again
In the spring when showers come.
I know they will be back.

They're leaving now, withering, fading, their color spent.

I think I'll probably be here, too.
One never knows.

Of course they'll come again,
Their pendant blooms fresh,
Glowing quietly in the new foliage,
Hanging in their tall trees

Against the pale, spring sky.

I wonder if bees like them?
I know they must.

I think it's their modesty I like best,
And the knowledge
That they could put on quite a show
If they wanted to.

But they don't.
Harold Bishop composed this poem in May 2019. He also volunteers with the UW Farm.

The Miller Library is open for browsing and research six days a week.
You'll find our
hours
and information for visitors on our website.
© 2019 University of Washington Botanic Gardens