VOLUME 8, ISSUE 9 | September 2021

Welcome back! The Miller Library will reopen September 20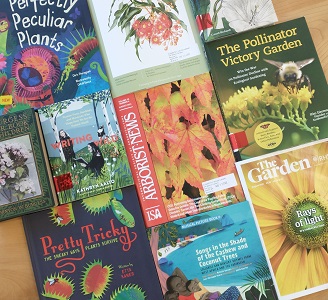 We're excited to announce that the Miller Library will reopen on Monday, September 20. Our staff have been working on the collections throughout the closure. Please visit us during the week of September 20-24 to learn what's new.
The University of Washington requires masks in all indoor spaces for all individuals, regardless of vaccination status. The UW Botanic Gardens continues to follow all advice and directives set forth by the UW, which are detailed at length on the
UW Novel Coronavirus Information Page
.
Library hours will be Monday from noon until 8 p.m., and Tuesday through Friday from 9 a.m. until 5 p.m. Saturday hours will resume October 2 from 9 a.m. until 3 p.m.
Around the World in 80 Plants by Jonathan Drori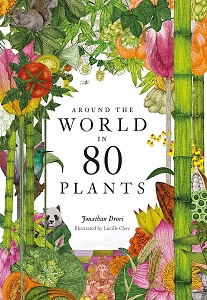 I imagined Jon Drori's world tour starring 80 plants would be interesting to a plant nerd like myself. Inspired by Jules Verne's Around the World in 80 Days, Drori's second book follows on the well-received Around the World in 80 Trees, but with more flowers and herbaceous subjects. I was not disappointed. The book is fun and informative with a perfect mix of botany, history and culture.

I was surprised to learn that the common Rhododendron native to Turkey, which is invading natural areas of Western Scotland, produces toxic nectar. The honeybees that evolved with this Rhododendron aren't harmed by the toxin. However, the "mad honey" created from this nectar causes low blood pressure and general feelings of wooziness in humans who eat it. Drori reports that the delicious but dangerous mad honey was used as a bioweapon against pursuing Roman soldiers in 69 BCE by a fleeing Persian army.


The country/plant associations are not always obvious nor necessarily plants native to the country or even the region. Scotland gets Rhododendron because it is so invasive that it is taking over the countryside there. One unusual tree representing the USA is the Cook Island pine, frequently planted in California, especially on college campuses. Part of the fun of this book is anticipating which plants represent which countries. Germany has entries on barley and hops, while Australia has the endemic grass tree (Xanthorrhoea), but also the opium poppy because it is the world's largest legal supplier to the pharmaceutical industry. Most of the included plants make an economic or cultural contribution to humankind, such as sugar cane, henna, wormwood or yerba mate. Others, such as sphagnum moss or saguaro cactus, anchor an ecosystem. A few plants are simply botanically remarkable, such as Welwitschia growing in the harsh Angolan desert. It survives by collecting moisture from fog, and Charles Darwin described it as the "platypus of the plant world" because it exhibits traits from both cone-bearing and flowering plants.
Drori's writing style is clear and engaging. He teases us with just enough botanic and cultural highlights, and seldom writes more than 2 pages of text per entry. I would guess that most of these 80 plants could each have their own book filled with history, lore and botany. French illustrator Lucille Clerc really brings the entries alive with captivating color drawings of plant habit and flowers, but also little sketches of products made from the plants, such as thread on spools and a bottle of linseed oil for the entry on flax. The illustrations for lotus were so expansive that they required a two-page spread without any text.
A Year of Musing and Contemplation
Virtual exhibit by Renée Simard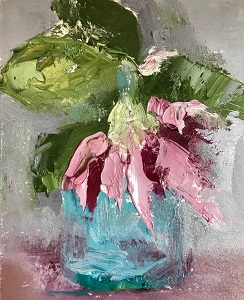 The Miller Library staff are pleased to welcome Renée Simard back for a virtual exhibit of her new
paintings
. From the artist's statement:
Just like many artists over centuries, I am fascinated and inspired by the natural world. An unglamorous little trampled leaf can be as striking as a grandiose landscape. I want to be a visual poet of what is often overlooked - the effects of time, seasons, decay and renewal.

This exhibit continues throughout the month of September.
Outdoor Learning for Teachers and Future Teachers

Selected by Laura Blumhagen

The latest addition to our
academic shelf browse page
, Outdoor Learning for Teachers and Future Teachers, is a virtual display for students and faculty in Education as well as teachers working with students of all ages. These are our very best resources on the value of outdoor learning and how to harness the power of nature to inspire learners in math, science, reading, art and more from preschool to high school.
See something you like? Click a title to open the catalog record, then log in and place a hold. If you need to register as a new borrower or update your record, contact us at
hortlib@uw.edu
.
Register for the Miller Lecture
The Pendleton & Elisabeth C. Miller Charitable Foundation's 2021
Elisabeth C. Miller Memorial Lecture
is Saturday, September 18 at 10 a.m.
Dan Pearson
speaks on how horticulture & design can re-engage us with the natural world in a Zoom webinar.
Register
online to catch this free event live via Zoom and also get a link to the recording, available for viewing for two weeks afterwards.
© 2021 University of Washington Botanic Gardens