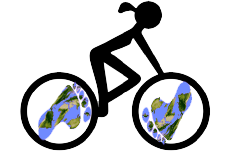 Sustainable City
Here's your chance not just to be the mayor, but the original city planner as well! Imagine a medium sized city that would be developed with modern, low carbon transportation in mind, and other strategies to reduce the average citizens' carbon footprints.

What would that city look like? Would that make you more likely to want to live there?
Sustainable City in French Polynesia

max_tahiti
2021-09-22 19:22:53
Hi everyone.
As far as we are concerned here in French Polynesia, redirecting our city towards a sustainable model is somehow a hard task. In fact, as an island (supported by other country, yes...) it is still hard for us and our government to change what has been our way of living for years.
And on one hand, i think it's the same problem for everyone.
That's why i think that today, the problem is not really about how to change and improve our green behaviour in order to go towards this "sustainable city model" that everyone supports, but more about how to make people's mind evolved and convince them with this new model.
Green countries such as Denmark try this new trend years ago and today, are a real model concerning this way of developing. That's why we have to keep up our efforts.

Madda
2021-09-23 06:19:18
ciao sono d'accordo con te sarà difficile far coinvolgere la gente con questo nuovo modello di svilupparsi

Carly marfe
2021-09-27 07:34:45
Ciao anche io sono d'accordo penso che sviluppare una mentalità adeguato alla sostenibile e davvero difficile.
Le persone non riescono a rendersi conto della gravità in cui vive il nostro pianeta il governo deve continuare a sensibilizzare la popolazione