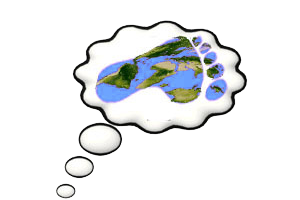 Student Footprints
Students from around the world calculated their class mean and standard deviations for their footprints and posted them on our world map.

Do you see differences across the globe? If so, why do you think those differences exist?

Did you use the calculator to try to reduce your footprint down to the average from a citizen of another country? What changes would you have to make to lower your footprint in this way? Are you going to try and take some of these actions in your daily life?

kristrunhuang
2021-09-28 10:18:13
my test results showed that I was under average both in my country and the world which surprised me because I don´t really think that much about climate change. But that´s good and I can just continue on the same track or I can try to reduce my carbon footprint even more by walking more or recycle my trash.

2nfIII
2021-09-28 10:37:29

JulianBHS
2021-09-28 10:40:22

kylev
2021-09-28 10:40:38
Americans produce a lot more carbon emissions than the rest of the world, noticeably. I think this is important when it comes to climate change, what exactly causes this?

Jaewon
2021-09-28 13:28:09
yeah we did this in class and a kid behind me got over 40,000. painful to hear, i thought mine was high but compared to many of my classmates its nothing.