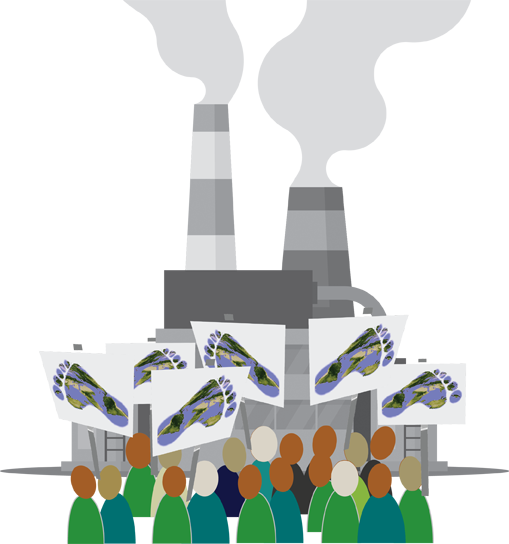 Corporate responsibility (new topic, Sep 2021!)
How much responsibility do corporations have for the climate crisis and for stepping up with solutions?

Here at the ISCFC we are committed to promoting personal, community, national and planetary solutions to reduce our environmental impacts and boldly confront the climate crisis. But as individuals, we can feel powerless when there are huge corporations -such as the fossil fuel industry and factory farms– that are disproportionately responsible for carbon emissions of the past and the present.

What should we do about this? Do you agree that corporations should do more? And if so, what does that mean exactly? How do we persuade or impel polluting industries to change their ways?
how capitalism shifts the blame for climate change

Kaia_H
2021-09-28 10:43:25
corporations benefit from our self blame about climate change. When we focus on taking shorter showers and recycling, we stop looking at the handful of conglomerations that own almost every brand you see in stores, and how they funnel millions of dollars into ad campaigns to make us think that we could save the world by picking up litter or going vegan. In actuality, gas and coal companies owned by a few hundred people are responsible for the majority of carbon emissions, and there's not much one individual, or even many people acting as individuals can do to stop them. The idea that companies can't be changed at all, however is untrue as well. We may not have power alone, but people acting as groups do. Boycotts and workers strikes are some of the most powerful tools the average person has against climate change. Community organization and education is the most powerful stand you can take for your future.

audreyt (canada)
2021-10-01 14:36:53
I agree, the idea that a city using less water is doing less damage than the oil, gas, and other fossil fuel companies that are the ones pushing the ideas of a clean future they play a huge part in. Boycotts and strikes would be a useful wakeup call for the corporations and could change the way our society is affected by large corporations.

ScarletteCat1899
2021-10-01 14:56:55
First of all I think it is so great that someone is talking about this. Remember this is the same system that pretended that climate change didn't exist, people are benefiting from the rest of our suffering. Last summer the world saw it's biggest heat strike ever, it almost reached 40 degrees in BC. In Australia the weather forecasters have had to start adding new colors because it's never been hot as it is now.

Q.Abc
2021-10-02 18:40:52
This is very well said, I absolutely agree that we should target big corporations if we want to make a major difference in climate change. Some people believe that we have no power over what corporations do because we do not have enough power or our voice are not strong enough. That may be the case right now, but we can change that if everyone focusses on the biggest problem, climate change, and get together to put an end to it. We are the reason it exist after all.  Some people may think that climate change is a problem that the next generation can fix, but we're already at a point where we can't go back that easily. If we can put all our problems aside and just focus on reducing the carbon going into our atmosphere, I believe that is the only way that we can truly save humanity and resurrect what we have destroyed, the balance of nature and all of its ways.