Interns from the Bernier Lab presented their research at the 22nd Annual Undergraduate Research Symposium at the University of Washington's Mary Gates Hall on Friday, May 17th 2019. The Undergraduate Research Symposium at UW is one of the nation's largest undergraduate symposiums, with nearly a thousand posters from across a wide variety of disciplines submitted from undergraduates who are representing their departments and research. In order to present at this event, our interns had to apply, write an abstract, collect their data, run statistics, and design their posters to clearly display their research findings.  Interns were supported by mentors from the lab, including staff, graduate students and post-docs. Three posters from four of the Bernier Lab's undergraduate interns were selected for presentation in the 2019 Symposium: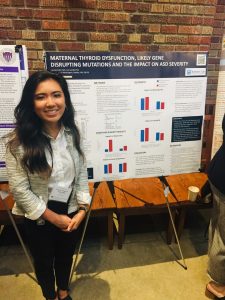 Lauren 'Koko' Hall (pictured above) presented a poster titled: Maternal Thyroid Dysfunction, Likely Gene Disrupting Mutations and the Impact on ASD Severity.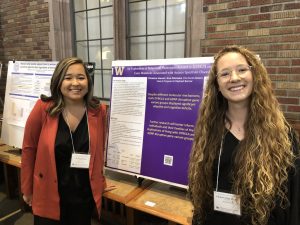 Aiva Petriceks and Christine Haensli (pictured above) worked together to present a poster titled: An Exploration of Behavioral Phenotypes Related to DYRK1A and ADNP Gene Mutations Associated with Autism Spectrum Disorder.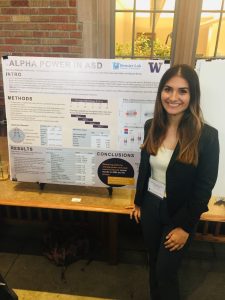 Katherine Wadhwani (pictured above) presented a poster titled: Alpha Power in ASD.
We are so proud of our interns for their hard work and dedication! If you're interested in reading their posters in detail, follow this link: UW Undergraduate Symposium.