YouTube Playlist (Click Icon Below to Expand)
Elmer Dixon was born in Chicago and moved to Seattle at age 7 when his father took a job at Boeing. Dixon grew up in Seattle's Central District, attending Garfield High School. While at Garfield High, Dixon helped organize the school's Black Student Union in 1968. That same year, with his older brother Aaron Dixon, he co-founded the Seattle Chapter of the Black Panther Party. He served the Chapter as its Field Marshall as well as the Breakfast Program Coordinator. When the Seattle Chapter closed its office and some of its core members moved to Oakland in 1972, Elmer, under parole and unable to move to Oakland, stayed in Seattle and reorganized the Chapter. He worked to sustain the Party's breakfast program and health clinic, maintaining the Panther organization until 1976 and some programs into the 1980s. Elmer Dixon now works as a diversity consultant.
Elmer Dixon shared memories of his years in the Black Panther Party in a videotaped interview conducted by Janet Jones and Trevor Griffey on May 17, 2005. To the right are streaming-video excerpts of the interview.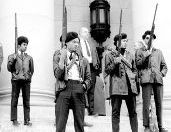 Above: Elmer Dixon leads Panther contingent on steps of the state capitol, February 28, 1969. Photo courtesy Washington State Archives