"The Sperm Whale and You,"
a YouTube video by Ian Stevens and Zachary Bivins, FHL Autumn 2014 students
The video represents UW students, Stevens and Bivins' final project for their Marine Biology Class at FHL. To quote Richard Kenney, one of their Reading and Writing in the Marine Environment instructors: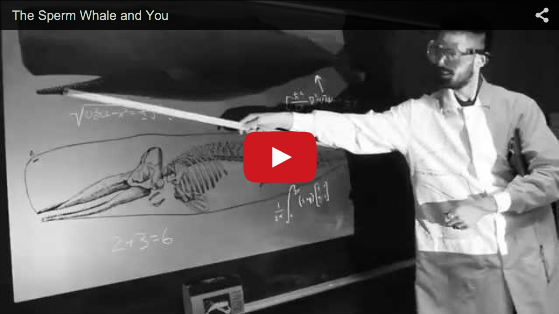 "The Sperm Whale and You," … is a nine-minute rigorous-not-to-mention-hilarious education on the subject of this greatest of creatures, thoroughly inspired and informed by a passionate reading of Moby Dick. The words are mostly direct quotes from Melville, glossed by Jacques Cousteau, stitched together with integumentary prose of authors Bivins and Stevens. The voice belongs to Adam Summers, a senior scientist and professor in residence at the Labs."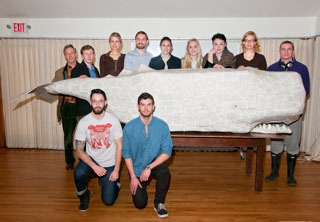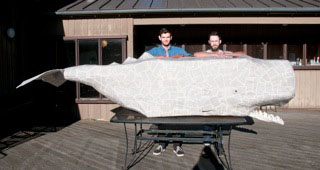 Their creativity did not stop here! At the time the video was created, Stevens and Bivins also created "the White Whale, constructed on the sly in seventy hours of spare time. At quarter-scale, about the size of a sperm whale calf, the brute was built of PVC pipe and cardboard, animated with recorded cetacean clicks and a piercing LED eye, and skinned over with 3.75 copies of the Dover Thrift Edition of Moby Dick, repaginated in the shape of the whale." It was discovered hanging in the FHL Commons!