The Washington State Society for Clinical Social Work is pleased to announce that applications are being accepted for the Advance Diversity Scholarship.  This is the first year the society offers this scholarship to Students of Color who are seeking to enter the field of clinical social work.  Applicants should be in the Day program with a mental health focus or in the EDP program in the health/mental health focus and plans to work in a mental health setting.
The application deadline has been extended for this scholarship to July 7th, 2014. Please click on the link below for instructions and more information:
Washington State Society for Clinical Social Work Diversity Scholarship
Hi Students,
Scholarship opportunity for foundation Day students and 2nd year EDP students. See attachment.
Best,
Student Services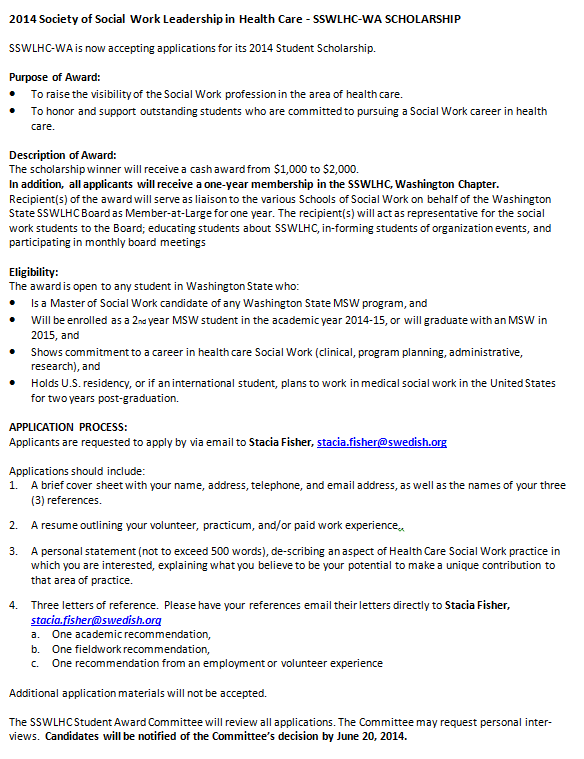 Luce Scholars Program Information Sessions
Rising seniors, alumni, graduate and professional students at UW are encouraged to apply for the Luce Scholars Program (http://www.hluce.org/lsprogram.aspx). This is great opportunity for those with little or no prior experience in, or education about, Asian countries to add this valuable perspective to their future career interests!
The UW is able to nominate 3 students per year to compete nationally for the opportunity to spend 12 months in Asia. The program provides stipends, language training and individualized professional placement in Asia for fifteen to eighteen young Americans each year.
During the current application cycle for the 2015-16 program, applicants must be American citizens who, by July 1, 2015, will have received at least a bachelor's degree and will not have reached their 30th birthday. Applicants should have a record of high achievement, outstanding leadership ability, and a clearly defined career interest with evidence of potential for professional accomplishment. Those who already have significant experience in Asia or Asian studies are not eligible for the Luce Scholars Program. (Eligibility criteria are set by the Henry Luce Foundation; additional details are provided in the Program Summary below.)
Information sessions covering the program basics, application and nomination process will be held:
For graduate students or alumni – Marilyn Gray,

megray@uw.edu

, G-1 Communications
For undergraduate students or alumni – Robin Chang,

robinc@uw.edu

, 171 Mary Gates HallProgram Summary: The Luce Scholars Program represents a major effort by the Henry Luce Foundation to provide an awareness of Asia among potential leaders in American society. Launched in 1974, the Luce Scholars Program is aimed at a group of highly qualified young Americans in a variety of professional fields. It is unique among American-Asian exchanges in that it is intended for young leaders who have had limited experience of Asia and who might not otherwise have an opportunity in the normal course of their careers to come to know Asia.

Luce Scholars have backgrounds in virtually any field other than Asian studies, including but hardly limited to medicine and public health, the arts, law, science, environmental studies, international development, and journalism.

Placements can be made in the following countries or regions in East and Southeast Asia: Cambodia, China, Hong Kong, India, Indonesia, Japan, Laos, Malaysia, Mongolia, Philippines, Singapore, South Korea, Taiwan, Thailand, and Vietnam.

In spite of its name, the Luce Scholars Program is experiential rather than academic in nature. Some Scholars have been attached to Asian universities in teaching or research capacities, but none of the participants is formally enrolled as a student in a college or university and no academic credit is extended. Past placements have included an architect's atelier in Tokyo; a public health program in Banda Aceh; a Gobi regional initiative in Ulaanbaatar; a dance theatre in Kuala Lumpur; an agricultural and environmental center in Hanoi; a human rights commission in Seoul; a pediatric hospital in Bangkok; a TV network in Beijing; a national museum in Siem Reap; an international arbitration centre in Singapore; and English-language newspapers, local governmental agencies and NGOs in diverse fields throughout East and Southeast Asia.

Professional placements are arranged for each Scholar on the basis of his or her individual interest, background, qualifications, and experience. Each Scholar spends July and August studying the language of the placement country, and the work assignments run for approximately ten months from September until July of the following year. The placements are intended primarily as learning opportunities for the Scholars. Certainly it is hoped that a Scholar will be able to make a professional contribution to the host organization, but equally important is a willingness to learn some of the many things that Asia has to teach.
SSW Joshua Children's Foundation Center on Child Sexual Abuse announces the availability of MSW scholarships.  Partial scholarships are available to MSW students in their foundation or advanced years, in any concentration and any program at the SSW.  Joshua Fellows must have an interest in devoting at least a portion of their careers to work with child victims and/or adult survivors of childhood sexual abuse in practice, prevention, policy or research.
Joshua fellows must be in a placement or be entering a placement allowing a significant portion of work with or on behalf of youth or adults whose lives have been touched by childhood sexual abuse.
Scholarship applications should include a written statement of interest that includes 1) the origins of the applicant's interest in childhood sexual abuse, 2) a vision of how the applicant will devote a career to responding to childhood sexual abuse, and 3) a description of the field placement and/or practicum experience (clinical, prevention, or other direct practice or policy, advocacy, or research) that will support training in child sexual abuse.   Applications should not exceed five double-spaced pages in length.
Joshua Fellows are required to participate in a SSW monthly seminar on child sexual abuse or equivalent.
Finalists for the scholarships will be interviewed by the Center Director.
Applications should be emailed to contej@u.washington.edu.
The University of Washington Alumni Association (UWAA) Multicultural Alumni Partnership (MAP) awards scholarships to deserving University of Washington students who need financial assistance to assist with their progress toward a degree at the UW. Funding for these scholarships comes from contribution from UW alumni and friends as well as proceeds from the Bridging the Gap Breakfast held annually on Homecoming Saturday.
One of MAP's missions is to promote the UW and the UWAA. It supports the recruitment of diverse students, faculty and staff and encourages appropriate mentoring activities.
Qualifications for MAP Scholarships:
Continuing UW student in good standing
Full-time student at the University of Washington, graduate/professional or undergraduate.
Minimum one quarter at the UW
Financial aid need as determined by the UW Office of Student Financial Aid
Completing the on-line application process includes two steps:
Step 1: Complete UWAA MAP scholarship application questionnaire at https://catalyst.uw.edu/webq/survey/jflowers/232281 (after submission you will receive a confirmation code and instructions for Step 2)
Step 2: Upload three scholarship supporting documents at https://catalyst.uw.edu/collectit/dropbox/jflowers/31564
One reference letter from faculty member, adviser, academic personnel, or community leader (signed reference letter must be scanned and uploaded by the applicant)
A one-page typed narrative describing the applicant's personal background, academic and career goals, financial need, commitment to diversity, and the applicant's involvement with campus and/or community organizations
Copy of UW transcript (unofficial transcript acceptable)
Additional materials will not be accepted. We will not accept phone calls regarding application status. Recipients will be contacted by telephone. Non-recipients will not be notified; if you have not been contacted within five weeks of the application deadline, you were not selected. However, the Office of Student Financial Aid will retain your application in case other scholarship funds become available. All information will be kept confidential.
Scholarship recipients must be available to attend MAP Bridging the Gap Breakfast on Saturday, October 25, 2014. The Multicultural Alumni Partnership (MAP) strives to maintain a close relationship with its scholarship recipients. Support of a diverse student body is at the heart of MAP's mission. Students are our future alumni; thus, MAP aims to support students and encourages your involvement in our programs.
Questions: Contact Dr. James Flowers, (206) 616-2309 or jflowers@uw.edu
Applications must be submitted by Friday, May 30, 2014.
                                                       Outstanding Student Award
Washington State Society for Clinical Social Work (WSSCSW) is your state organization dedicated to clinical social work practice.  A part of our mission is to support and promote high standards of practice for those entering the profession.  To this end, we offer our Outstanding Student Award to Washington State masters level social work students in their graduating year. 
This year, we will be offering 1 Grand Prize of $350 plus a 1 year membership to the WSSCSW to the strongest paper or project submitted, and a runner up prize of $150 plus 1 year membership to the WSSCSW to the second strongest paper or project.  Winners will be mentioned in the WSSCSW newsletter and will be honored at graduation, as well as at the WSSCSW annual party held in early June. 
Entry Criteria:
 *Entries must be clinical practice papers or project that contain both clinical case material and discussion of theory that applies to the understanding and treatment of the case presented.  The paper or project must be presented in an integrated, cogent way that shows the practical application of theoretical ideas.  Your paper or project can (and probably should) be a paper or project you wrote for a class.
 *Writing or presentations should be clearly and professionally written, well organized, and demonstrate appropriate grammar, syntax, etc.
 *Paper should be in double-spaced 12 point font, no more than 10 pages long, and must conform to APA formatting standards.
 *Entries must contain a 1-page cover page detailing "Why I Want to Be a Clinical Social Worker."
Entries must be received via email or post-marked by May 10, 2014.
Questions and entry submissions to: Stacey De Fries, Chair of Associates Committee to:  sdefries@uw.edu
Call for Proposals: Harlan Hahn Awards for Disability Studies – Spring 2014
The Disability Studies Program is pleased to announce that there will be funds from the Harlan Hahn endowment available to the University of Washington community. Students, faculty, and staff from all three UW campuses are invited to submit a proposal for one of the two types of awards ($500 – $5,000):
I) Student Scholarship for UW undergraduate and graduate students
II) Research Award for UW faculty and staff
Application deadline for both awards: Monday, May 19, 2014, 11pm.
All application materials should be submitted to the dropbox:
https://catalyst.uw.edu/collectit/dropbox/jwoiak/31888.
The Harlan Hahn Awards Selection Committee will make the decision on the final recipients, who will be notified by May 30, 2014. The number and amount of the awards will depend on the quality and quantity of applications. It is anticipated that the awards will range between $500 and $5,000. The specific amount awarded will be dependent on the individual proposals.
I) Harlan Hahn Student Scholarship:
All undergraduate and graduate students at the University of Washington may apply for the Scholarship. This is a merit-based monetary award for students who demonstrate promise in the field of Disability Studies. Applicants should have • A minimum 3.0 GPA in Disability Studies courses or equivalent demonstration of academic excellence in areas related to disability studies (e.g. courses taught as a graduate teaching assistant or scholarly work conducted as a graduate research assistant) • Evidence of commitment to issues of social justice related to people with disabilities (e.g. work, volunteer or activist experiences, academic outreach) and/or disability studies scholarship.
Award funds may be used for
• Travel to disability studies related conferences as a participant or as a presenter • Support for academic research projects in any area of disability studies (e.g. surveys, incentives for subjects, books) • Development or support for disability related activist endeavors (e.g. web development, meeting support) • Assistance with accessibility issues • Other academic/activist goals pertaining to disability studies.
To apply, please submit all of the following:
·      A personal statement that includes a) a brief proposal for how the funds will be used; b) a statement about how the applicant exemplifies the award criteria; and c) a short description of the applicant's disability studies related experience, research, and/or career goals
·      Name and contact information for one reference
·      Resume/CV
·      Academic transcript
Application deadline: Monday, May 19, 2014, 11pm.
Materials should be submitted to Harlan Hahn Awards Selection Committee at https://catalyst.uw.edu/collectit/dropbox/jwoiak/31888.
Please note that • Recipients of the Scholarship are expected to provide a Disability Studies Program brown bag talk or other public presentation, as well as a short written summary of how the funds were spent • All activities must be completed by June 30, 2015 • Past performance under these awards will be taken into consideration when assessing an application by a previous award winner.
II) Harlan Hahn Research Grant:
All full-time and part-time University of Washington faculty and staff may apply for the Research Grant.
Award funds may be used for projects that include, but are not limited to • Pedagogical research in disability studies (including course development) • Travel and attendance at a disability studies related conference • Research and writing of a publishable article or manuscript on disability studies.
To apply, please submit both of the following:
Read more
Thursdays, 10-11 a.m. & Fridays, 2-3 p.m., Allen, Research Commons, G86A
The Graduate Funding Information Service (GFIS) helps students identify and use different resources to locate funding opportunities for graduate school-related expenses including tuition, research, and conference and research travel. Students can seek answers to their questions during drop-in advising hours, can schedule individual appointments, or can request information by email.
Rickey Fellowship
Deadline 5/12/2014
Applicant must be enrolling for Autumn 2014 and be in their advanced curriculum (either will be 2nd year DAY or 3rd year EDP students).
This fellowship is for students with an interest in careers in health care planning or policy which includes planning and program policy at the systems level as well as these activities conducted by direct service providers.
For more information:  https://catalyst.uw.edu/collectit/dropbox/brwneye/31614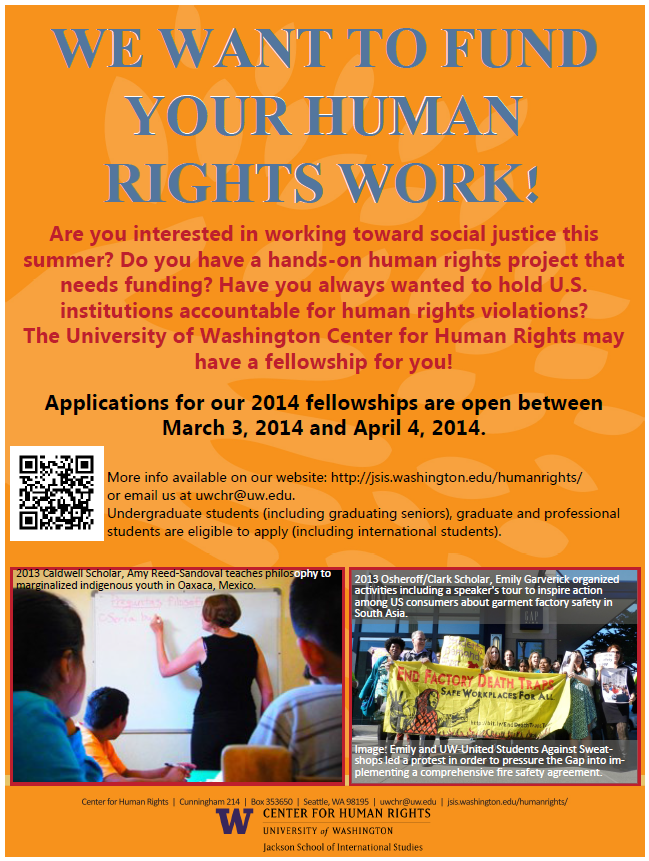 Hi All -
Full-time graduate students (10 credits) are eligible to apply, too!
From: Burgess Malarkey [mailto:asuwbdsp@uw.edu]
Sent: Friday, February 21, 2014 3:05 PM

Hello All,
The ASUW Husky Pride Fund is distributing two $1,250 scholarships for Exploration Seminars! The application is open until March 2nd (next Sunday) at midnight.
The Husky Pride Fund is a need based scholarship, but all full-time undergraduate and graduate students are eligible to apply. The scholarships are for Exploration Seminars only. More information is at http://hpf.asuw.org/
If you have any questions, please contact me!
Regards,
Burgess Malarkey | Director of Service and Partnerships
Associated Students of the University of Washington
E-Mail | Office Hours | Facebook
HUSKY UNION BUILDING 121 | (206) 543-1780
Description
Mortar Board Alumni/Tolo Foundation is seeking qualified candidates to receive merit scholarships for the 2014-2015 academic year. The Foundation awards over $30,000 in total scholarships at the UW each year.
Mortar Board Alumni/Tolo Foundation annually recognizes UW sophomores, juniors, seniors, & graduate students based on distinguished achievement in scholarship, leadership & service to the campus & community. Applicants are encouraged from all UW academic levels and from all fields of study, including those students who have not yet declared a major.  Membership in Mortar Board is NOT required. The Mortar Board Alumni/Tolo Foundation will award scholarships on an objective and non-discriminatory basis.
Mortar Board is a national honor society  (a related but separate organization from the Foundation, which awards the scholarships) recognizing college seniors for outstanding scholarship, leadership, and service.  Mortar Board membership is one of the highest honors a university student can achieve. In western Washington we have three active Mortar Board chapters – at the University of Washington, Seattle Pacific University, and Pacific Lutheran University. There has been an active Mortar Board Chapter at the University of Washington since 1909. Mortar Board alumni form the Mortar Board Alumni/Tolo Foundation, which awards these merit scholarships annually.
Eligibility
Applicants must be a sophomore, junior, senior, or graduate student of the University of Washington, including branch campuses, throughout the 2014-2015  academic year.
If selected as a semifinalist, applicants must be available for a personal interview to be scheduled with the Mortar Board Alumni/Tolo Foundation Scholarship Committee during spring quarter.
Applicants must not be related to a past or present director and/or employee of the Mortar Board Alumni/Tolo Foundation.
An awarded scholarship can be used only for tuition and other eligible education expenses.
More info see: http://expd.washington.edu/scholarships/search/search-results.html?page_stub=mortar
The Department of Global Health is excited to announce five funding opportunities for travel support and fieldwork experiences for graduate and professional students, and medical residents at the University of Washington.
This year we've developed a Common Application to make it easier to apply. Students are encouraged to apply for more than one fellowship, but are only eligible to receive one award per application cycle. If a student is awarded and accepts the Fellowship, they must immediately withdraw their applications to other DGH fellowship or funded programs. Fellowship recipients must meet all program deadlines and program requirements, including attendance at a mandatory pre-departure orientation on Sunday, May 4, 2014.
Common eligibility criteria:
Graduate or professional students enrolled in a full-time University of Washington degree program.
Medical residents enrolled in a University of Washington residency program are eligible to apply for:
- George Povey Social Justice and Activism in Global Health Fellowship
   – Global Opportunities (GO) Health Fellowship
   – Stergachis Global Health Fellowship.
Good academic standing.
Not currently receiving another DGH award or fellowship for the same time period, or for the same program or fieldwork experience.
Medical and post-doc fellows, and undergraduates are NOT eligible for any of these awards.
Please review the criteria for each of the awards to ensure that you have submitted the proper documentation to complete the process.  All documentation must be submitted via email to Daren Wade at ghrc@uw.edu by 11:59 p.m., Friday, March 21, 2014.
2014 Bonderman Travel Fellowship are due in less than a week, on Thursday, February 20, 2014 at 12 noon (PST)!
Please also note that the eligibility requirements for undergraduate students have been revised for 2014 and all eligibility criteria are listed below:
The Bonderman Travel Fellowships offer University of Washington graduate/professional and undergraduate students an opportunity to engage in independent exploration and travel abroad. All applicants must be enrolled and in good standing during the quarter the application is due and must hold US citizenship or permanent resident status.
GRADUATE/PROFESSIONAL STUDENTS: All students in graduate or professional degree programs are eligible to apply.
UNDERGRADUATE STUDENTS: All undergraduate students (from the Seattle, Tacoma, and Bothell campuses) with senior credit standing and a degree application on file, AND who also meet ONE of the following criteria are eligible to apply:
at least a 3.8 cumulative UW GPA by the start of Winter 2014; OR
participation and good standing in the University Honors Program (Interdisciplinary, Departmental or College Honors) or in UW Tacoma's Global Honors Program, by the start of Winter 2014. Undergraduates in one of these Honors programs DO NOT need to have 3.8 UW GPA or higher to apply, but simply must be in good standing in their respective programs, whatever that might mean.
David Bonderman – the donor – wishes to give students an opportunity to experience learning and growth in new and unexpected ways. Bonderman Fellows will undertake international travel on their own for eight months, to six or more countries in two or more major regions of the world. Through solo travel the Fellows will focus on exploration and discovery, learning about the world and themselves in it.
Up to seven graduate and seven undergraduate Bonderman Fellowships will be awarded in Spring 2014. Each Fellowship carries a $20,000 award to be used only for extended solo international travel. Fellows may not conduct research, pursue an academic project, or participate in a formal program or organization.
The application deadline is Thursday, February 20, 2014 at 12 noon (PST).
Information about the fellowship and the application can be found at: http://depts.washington.edu/bondermn
Ottenberg-Winans fellowship applications for 2014 are now open!
Deadline: 04.04.2014 (5 pm) 
To apply: http://jsis.washington.edu/africa/fundingopportunities/
Ottenberg-Winans Fund
The Ottenberg-Winans Fellowship fund was established to honor the contributions of Professors Simon Ottenberg and Edgar V. Winans to the African Studies Program at the University of Washington as well as to recognize their contributions of the field of African Studies. During their distinguished careers, Professors Ottenberg and Winans taught and mentored numerous students and made important contributions to scholarship on Africa. The fellowship honors these contributions by supporting University of Washington undergraduate and graduate student research in Africa and by supporting students from universities in Africa who attend University of Washington as part of various exchange programs.
Eligible students may be enrolled in any undergraduate, graduate or professional school at the University of Washington. For UW students traveling to Africa, the fellowship can be used to support travel and related expenses, living expenses, and research materials. For students from African universities visiting or studying at UW, fellowship funds can be used to support these types of expenses as well as course materials or other expenses related to attending the University of Washington.Each year we grant multiple fellowships for amounts up to $750. Read more
The Tillman Military Scholars program provides scholarships for undergraduate, graduate or post-graduate degree students in all fields who are active or veteran servicemembers, or spouses of active or veteran servicemembers, from all branches of the U.S. Armed Forces. UW is a partner university with this scholarship program, providing enhanced opportunities for our applicants and selected scholars.
Please share the message below widely with your students. Attached is also a flyer for posting where possible.
The scholarship application will open online on Friday, Feb. 7, 2014 and the deadline to apply will be March 6, 2014! Bios of current scholars are available now at http://www.pattillmanfoundation.org/scholars, which is also where the online application will be available once it is open.
Information for UW applicants, including details on the application process, is available at http://expd.washington.edu/scholarships/search/search-results.html?page_stub=tillman.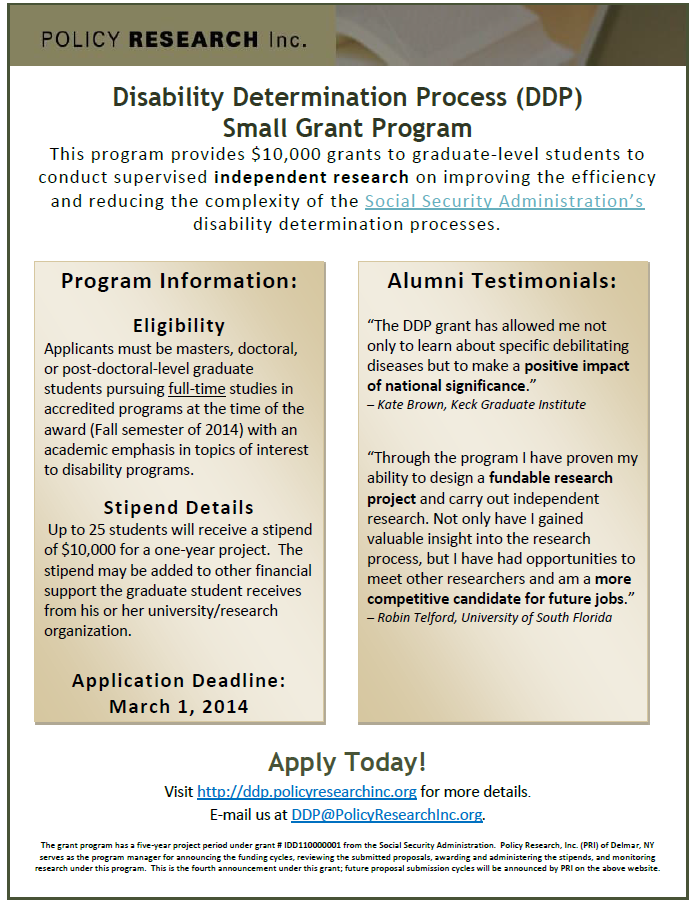 TO MSW EDP 2nd or 3rd year, Advanced Standing and 2nd year Day.
The School of Social Work Scholarship Committee is pleased to announce that applications are being accepted for the Farber Memorial Fellowship for spring quarter 2014. The deadline for submission February 10, 2014.
Farber Memorial Fellowship
The School of Social Work's Scholarship Committee is pleased to announce that applications are being accepted for the Farber Memorial Fellowship's inaugural offering. This fellowship is for University of Washington MSW students who will be enrolled during the 2013-2014 academic year. The fund has been established to honor the social work careers of Arthur and Ruth Farber.
About Arthur and Ruth Farber:
In a career starting as a practitioner, supervisor and executive, and culminating in 17 years as a professor at the University of Washington School of Social Work, Arthur was a courageous pioneer for social justice and individual empowerment. In addition to his professional areas of interest, Arthur Farber's personal style embodied a constant expressive joy in the exploration of ideas that led him intrinsically toward innovation. Read more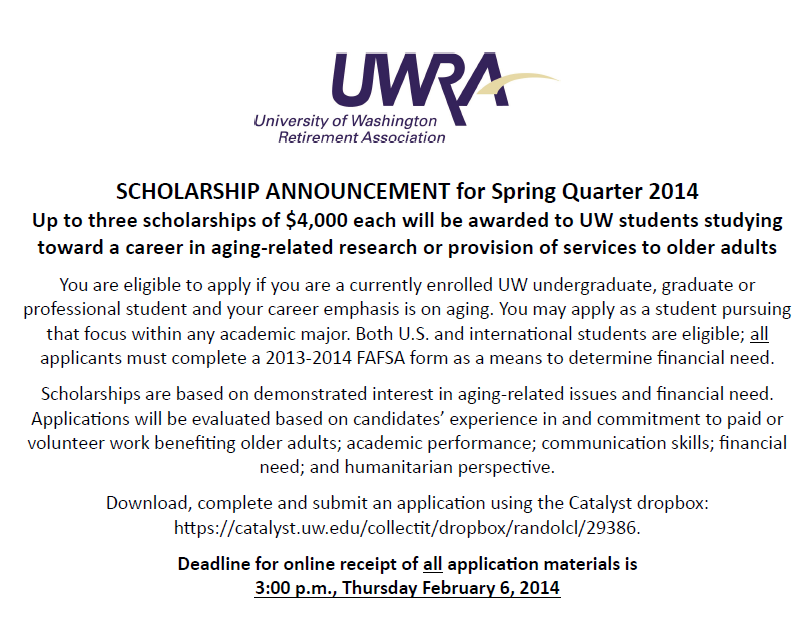 The Child Welfare Training and Advancement Program (CWTAP) is accepting applications for the 2013-2014 academic year.   The application process is open to 1st year day students and 1st and 2nd year EDP students. Newly accepted students will be eligible to receive tuition assistance immediately.  The application can be downloaded from our website at http://socialwork.uw.edu/programs/CWTAP.  The deadline for applying will be Friday, January 24, 2014.  Please contact Angela Rambo at 206-616-3557 or accromer@uw.edu if you have any questions.