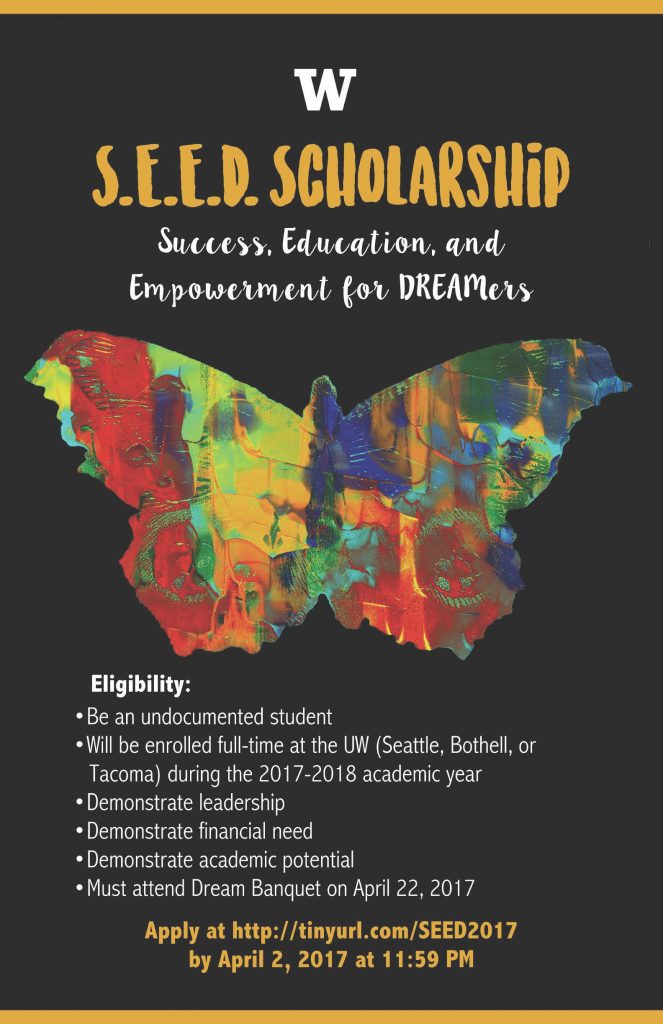 UW Graduate Certificate in Public Scholarship
Call for Applications
Deadline: Wednesday, April 12, 2017
The Certificate in Public Scholarship is a 15-credit course of study, structured by portfolio and practicum learning, and supported by a crossdisciplinary advising network.
As a learning community of graduate students, advisors, campus and community partners, participants in the Certificate in Public Scholarship develop their capacity to:
Recognize and address institutional and historical relations of inequity and marginalization in campus-community partnerships and practices, while promoting access, equity, and inclusion;
Facilitate collaboration and build partnerships that promote effective and creative problem-solving for social change;
Situate their research, teaching, and engagement practices in public or community contexts, while documenting and reflecting critically on those practices;
Demonstrate and communicate the significance of their scholarly practice for diverse professional and community publics and audiences.
***
Applications are due April 12, 2017. Coursework begins Autumn 2017. Graduate students of good standing in any program at the University of Washington are eligible to apply.
***
Learn more about the Certificate in Public Scholarship at www.simpsoncenter.org/certificate-public-scholarship 
Information sessions for graduate students and faculty:
Tuesday, March 2, 4:00pm, CMU 218D
Thursday, March 30, 4:00pm, CMU 218D
Register at https://catalyst.uw.edu/webq/survey/cpsadmin/325018
Question? Contact Graduate Program Advisor, Miriam Bartha, at mbartha@uw.edu.
Tillman Military Scholars program now accepting applications for 2017 scholarships!
The Pat Tillman Foundation offers an annual scholarship open to active duty military, veterans, and spouses pursuing a full-time bachelor's, master's, or professional degree at a US-based accredited institution. Each individual scholarship award is based on the applicant's unique financial need, the average award in 2017 is expected to be ~$10,000 per academic year (renewable for the duration of the student's program of study).
Founded in 2008, the Tillman Scholars program supports our nation's active-duty service members, veterans and military spouses by investing in their higher education. Since the program's inception, the Foundation has named over 450 Tillman Scholars at more than 100 institutions nationwide.
Applications to become a 2017 Tillman Scholar will close on March 1, 2017 at 11:59pm PT. Details and the online application are available at http://pattillmanfoundation.org/apply-to-be-a-scholar/.
The Department of Global Health common application for Funding for Fieldwork is now available as of February 1, 2017. These funding opportunities are available to full-time UW graduate students, professional students and medical residents, and Global Health Minor undergraduate students to help support short term fieldwork experiences in global health. Please be sure to read the application requirements thoroughly for each fellowship program and identify those programs for which you qualify.
The following fellowships in the Common application are
Warren George Povey Endowed Fund for Global Health Students Fellowship
Global Opportunities in Health (GO Health) Fellowship
Stergachis Endowed Fellowship in International Exchange
Thomas Francis, Jr. Global Health Fellowship
Details for these programs and list of past participants can be found on theGHRC Funding for Fieldwork page.
This year the SCOPE fellowship conducted an early round of applications and have selected their fellows for the 2017-18 year. Therefore, the SCOPE fellowship is not included in this cycle's DGH Common Application.
Deadline to submit all materials is Wednesday, March 15, 2017 by 11:59 p.m.
For questions regarding the application or other details, please contact the Global Health Resource Center atghrc@uw.edu or at (206)685-7362.
Stroum Center Opportunity Grants
Stroum Center Opportunity Grants are separately offered in two cycles: grants for Winter/Spring experiences and grants for Summer/Autumn experiences.  The amount per grant is up to $1500. Multiple grants are available.
For undergraduate students, the primary goal of the Stroum Center Opportunity Grants is to support undergraduate experiences with Jewish Studies through UW-approved study abroad experiences. Accredited academic domestic opportunities will also be considered (e.g., Middlebury Language Schools). Students can also apply funding towards MODHEB 105: Intensive Elementary Modern Hebrew, taught at UW during the summer full-term.
For graduate students, Stroum Center Opportunity Grants are intended to help support research, conference attendance, and further study in topics related to Jewish Studies. This research and study can be done domestically or abroad.
Students from all departments, disciplines and backgrounds are encouraged to apply; candidates do not need to be Jewish Studies majors or minors. Preference is given to students who intend to study a language related to the Jewish experience (e.g., Hebrew, Yiddish, Ladino) and/or have pursued coursework in Jewish Studies during their graduate or undergraduate careers at the University of Washington. Any undergraduate or graduate student planning to be enrolled at the University of Washington for the 2016-2017 academic year is eligible to apply.
For more information and applications: http://jewishstudies.washington.edu/scholarships/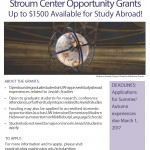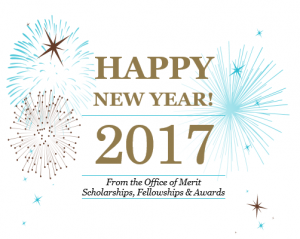 Advisers Guide to National Scholarships
American Endowed Scholarship (AIES) applications applications are now available for the 2017-18 academic year award cycle. Individuals interested in applying may download the application materials at the ReadySetGrad website at: http://www.readysetgrad.org/college/american-indian-endowed-scholarship.
The Washington Student Achievement Council will accept applications beginning January 1, 2017. Signed applications, with all required attachments, are due back to the Council postmarked by March 1, 2017.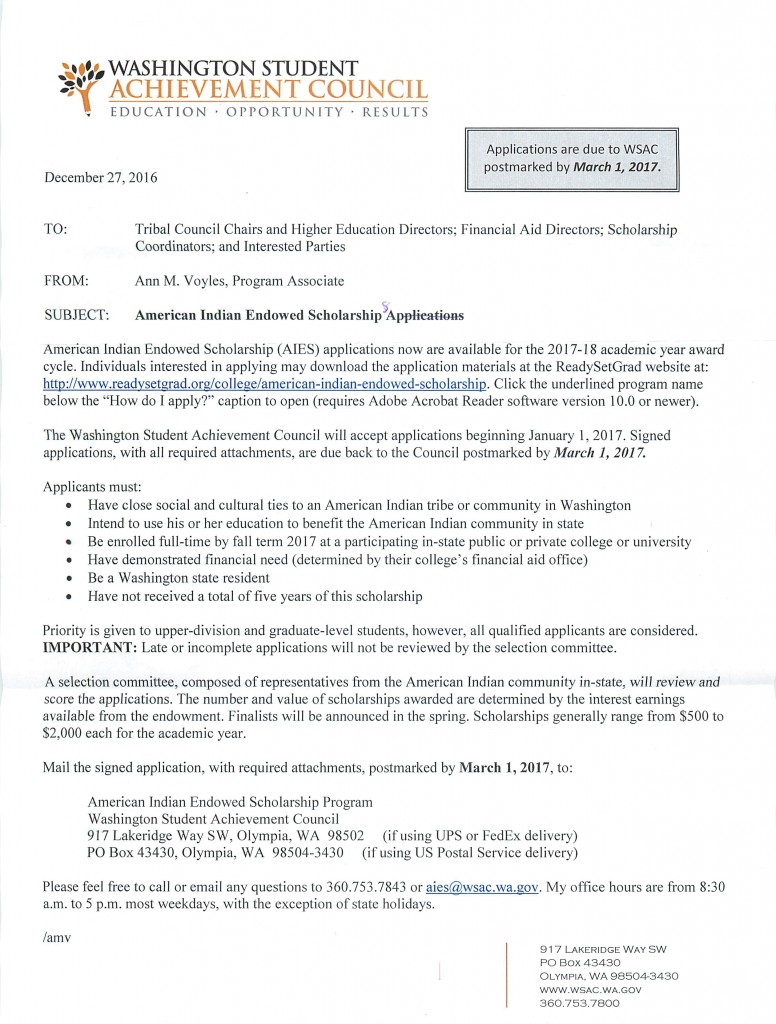 For Grads:
Foreign Language and Area Studies (FLAS) Fellowships award up to $7,500-$33,000 to UW students studying French or Canadian Indigenous Language including the Inuit language and the regions where they are spoken. Each fellowship includes an institutional payment and a subsistence allowance. Awards are available for Summer 2017 or the 2017-18 Academic Year. Deadline is January 31, 2017 at 5 PM PST. Click here to view website and apply.
For Undergrads:
The Corbett British Columbia-Washington International Exchange Program Fund provides an opportunity for undergraduate students at the University of Washington to spend two semesters at the University of British Columbia or University of Victoria; and for students from the University of British Columbia and University of Victoria to spend three quarters at the University of Washington. Deadline is January 15, 2017. Click here to view website.
Killam Fellowships Program provides an opportunity for exceptional UW undergraduate students to spend one semester or a full academic year in Canada. The Killam Fellowships Program offers a fellowship award of $5,000 per semester (up to $10,000 for two semesters). Deadline is January 15, 2017. Click to view website.
Description
The HSF Scholarship is designed to assist students of Hispanic heritage obtain a college degree. Scholarships are available, on a competitive basis, to:
Graduating High School Seniors
Community College Transfer Students
Undergraduate Students
Graduate Students
Important Dates:
Available: January 01, 2017
Deadline: March 30, 2017
Award Notifications: June-July
Enrollment Verification Deadline: August-October
Award Distribution: November-December
Awards:
Awards are based on merit; amounts range from $500 to $5,000, based on relative need, among the Scholars selected.
Eligibility Requirements:
Must be of Hispanic Heritage
Minimum of 3.0 GPA on a 4.0 scale (or equivalent) for High School Students
Minimum of 2.5 GPA on a 4.0 scale (or equivalent) for College and Graduate Students
Plan to enroll Full-Time in an accredited, not-for-profit, 4-year university, or graduate school, during the FALL of a scholarship cycle (year)
U.S. Citizen, Permanent Legal Resident, DACA or Eligible Non-Citizen (as defined by FAFSA)
Complete FAFSA or state based financial aid application (if applicable)
Other:
All majors and graduate fields accepted
Emphasis on STEM majors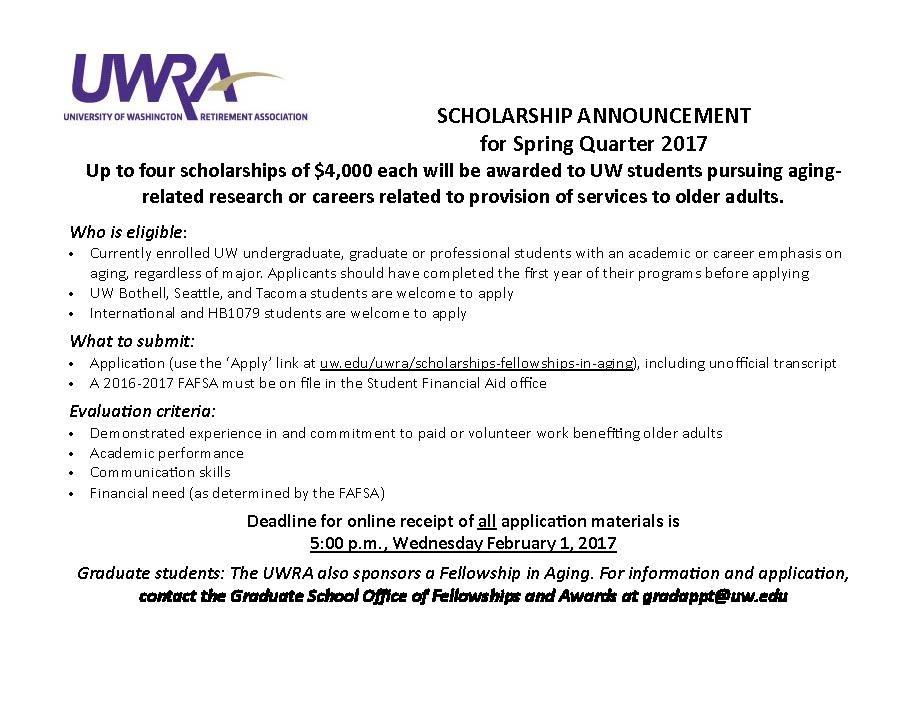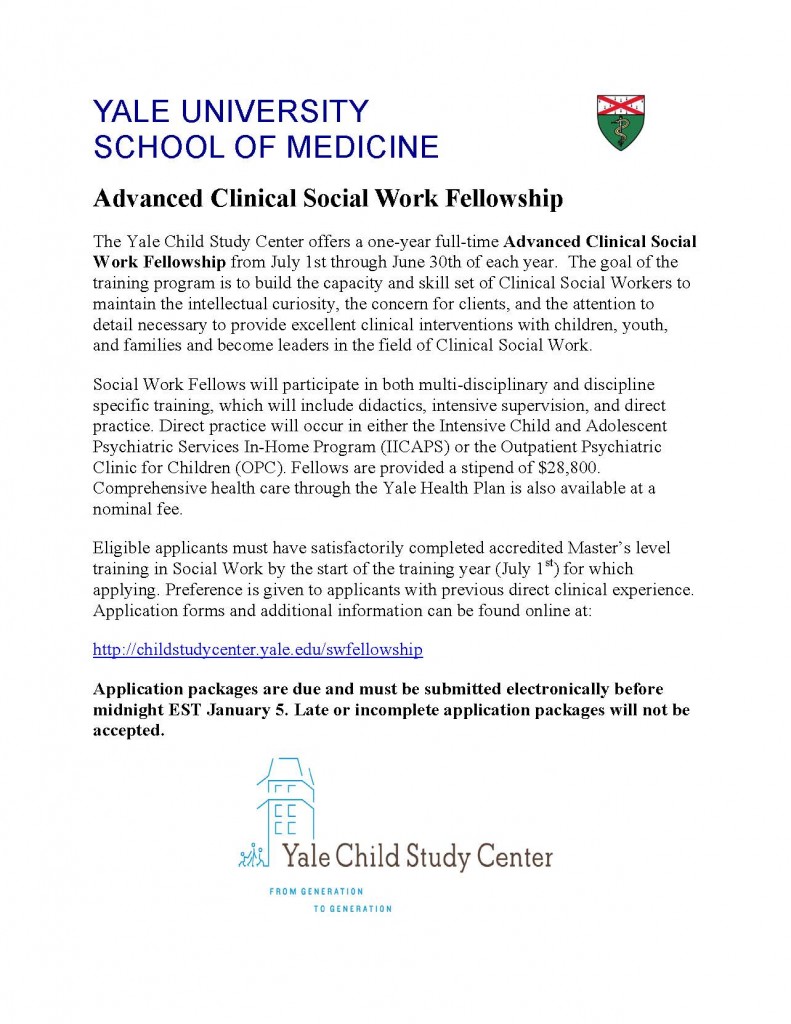 Pre-Doctoral Fellowship in Social Work Neuroscience and Biobehavioral Intervention Research
Eric Garland, PhD, Associate Dean for Research at the University of Utah College of Social Work, is seeking an incoming social work PhD student in social work neuroscience and biobehavioral intervention research. The pre-doctoral fellow will assist in federally-funded research; faculty at the University of Utah College of Social Work are currently conducting research projects funded by NIH -National Institute of Drug Abuse, NIH-National Center for Complementary and Integrative Health, NIH-National Institute on Aging, National Institute on Justice, the National Science Foundation, the Department of Defense, and Patient Center Research Outcomes Institute (PCORI). The fellow will assist on several funded randomized clinical trials (RCTs) and biobehavioral mechanistic studies of Mindfulness-Oriented Recovery Enhancement (MORE), a manualized social work intervention for chronic pain, emotion dysregulation, and opioid misuse. For additional information on MORE and current research studies, see www.drericgarland.com.
Pre-doctoral fellows will assist with the following duties: a) manuscript preparation from existing datasets; b) clinical data collection; c) psychophysiological data collection (autonomic and fMRI measures); c) data analysis; d) study coordination; and e) designing and implementing new translational research studies. Pre-doctoral fellows will have opportunities to coauthor scientific articles from existing primary datasets, as well as to conduct new research studies, leveraging the resources and interdisciplinary connections of the College of Social Work, which extend into Psychiatry, Psychology, Oncology, Public Health, Anesthesiology, Neuroscience, Family Medicine, Law, and Nursing, among other departments.
Required Qualifications: Dr. Garland is seeking doctoral applicants with a MSW, strong writing and analytical skills, and clinical experience working with persons suffering from mental health problems, addictive behaviors, and/or chronic pain and other health conditions. Applicants must also apply to the doctoral program in social work.
Preferred Qualifications: Applicants with a LCSW, previous experience with quantitative data analysis, computer programming, psychophysiological data collection/analysis, and/or previous study coordination experience on federally-funded studies will be given preference. Mindfulness practice experience preferred.
College, University, and Environment:  As a major research and teaching university—and the flagship of the Utah System of Higher Education—the University of Utah strives to create an academic environment in which the highest standards of scholarship, professional practice and teaching are observed.  The University is located in Salt Lake City, at the base of the Wasatch Mountains, providing ready access to world class outdoor recreational opportunities.
The University of Utah College of Social Work has a number of excellent research facilities, including the state-of-the-art Bridge Training Clinic, consisting of four therapy rooms with one-way mirrors and videotaping capacity for behavioral observation and coding, as well as a Social Work Neuroscience Laboratory for assessment of neurocognitive and neuroaffective mechanisms of therapeutic change.
Application Process:
Review of applications will begin immediately and the position will be open until filled. Applicants should provide cover letter, curriculum vitae, list of three professional references, and published writing sample(s).
Inquiries regarding the position may be directed to Dr. Christina Gringeri, Director of Doctoral Studies, cgringeri@socwk.utah.edu, 801-581-4864.
The University of Utah is an Equal Opportunity/Affirmative Action employer and educator. Minorities, women, and persons with disabilities are strongly encouraged to apply. Veteran's preference. Reasonable accommodations provided. For additional information: http://w3ww.regulations.utah.edu/humanResources/5-106.html.
UWRA Graduate Student Fellowship in Aging
Application Deadline:  February 1, 2017 12 noon (PST)
The University of Washington Retirement Association has endowed a fellowship to support graduate students of outstanding academic merit who have a demonstrated academic and personal interest in aging-related issues or concerns.
This fellowship will provide a monthly stipend equivalent to the PDTA 2 level (currently $2,572/month), GAIP health insurance, and a waiver of a maximum of 18 credits of state-tuition (except for U-PASS fee and international student fee).  The fellowship must be used in 2017-18 academic year.
At the time of application, students must be matriculated in a UW graduate degree tuition-based program and not in their last year of study.  (Students in fee-based programs are not eligible.)  The recipient of the award must be enrolled in full-time credits (at least 10) during the quarter in which he/she takes the fellowship.
Please see our website at http://grad.uw.edu/graduate-student-funding/for-students/fellowships/list-of-fellowships/uw-retirement-association-fellowship-in-aging/ for further information.  Detailed on that page are also the application requirements and process (statements, letters of recommendation, etc.) as well as criteria for selection.
The selected recipient(s) will be invited to attend the UWRA luncheon in spring 2017.  They will also be asked to give an informal presentation to UWRA members on their research/academic and personal interests related to aging during the year of the award.
Questions regarding this opportunity may be directed to The Graduate School, Office of Fellowships and Awards, megray@uw.edu or 206-685-4248.
Interested in studying a foreign language and learning about different cultures? FLAS Fellowships award $7,500-$33,000 to UW students studying foreign languages.
(Available to current and incoming undergraduate, graduate and professional UW students who are U.S. citizens or U.S. permanent residents).
Applications now open! Due January 31, 2017 at 5 PM PST.
For more information and to apply, visit jsis.washington.edu/advise/funding/flas/
UPCOMING FLAS INFORMATION SESSIONS:
Tu, Nov 29, 2-3 PM PST, Web Chat (see website for access instructions)
Th, Dec 8, 3:30-4:30 PM, Thomson Hall, Room 317
Wed, Dec 14, 1-2 PST Web Chat (see website for access instructions)
Wed, Jan 11, 3:30-4:30, Thomson Hall, Room 317
Questions? Contact Robyn Davis at rldavis@uw.edu
Following on the excellent and expansive Study Abroad Fair today, please encourage your students to take advantage of the series of scholarship information sessions offered next week geared toward funding international experiences. Please feel free to forward the details below, and attached are flyers and images that can be posted or shared on social media as well. Details are also on our website at http://expd.uw.edu/scholarships/workshops/events/.
Focus on International Scholarships Week – Nov. 14-18, 2016
Monday – Funding for Study Abroad: November 14, 3:30 p.m., MGH 171. RSVP to attend.
Thinking about studying abroad and don't know where to start or how to plan for it? Attend this info session to learn more about planning for study abroad and finding scholarships to support your study.
Tuesday – Boren Scholarships & Fellowships for Study Abroad: November 15, 11:30 a.m., MGH 171. RSVP to attend.
Join us to learn more about these undergraduate scholarships & graduate fellowships funding language studies abroad in wide range of critical languages. Boren Undergraduate Scholarships provides up to $20,000 to U.S. undergraduate students to study abroad in areas of the world that are critical to U.S. interests and underrepresented in study abroad, including Africa, Asia, Central & Eastern Europe, Eurasia, Latin America, and the Middle East. The countries of Western Europe, Canada, Australia, and New Zealand are excluded.
Wednesday – Marshall Scholarships for Graduate Study in the UK: November 16, 3:00 p.m., MGH 171. RSVP to attend.
Marshall Scholarships finance young Americans who have the potential to excel as scholars, leaders and contributors to improved UK-US understanding to study for a graduate degree in the United Kingdom. Up to forty Scholars are selected each year to study at the graduate level at any UK institution in any field of study. Join Mr. Robin Twyman, Consul (Business and Government Affairs) from the UK Government Office in Seattle, to learn more about the program and application process.
Wednesday – Around the World with Scholarships Meetup: November 16, 4:00 p.m., MGH 171. RSVP to attend.
Go around the world with scholarships! Stop by if you're thinking about applying to international scholarships like the Fulbright, Schwarzman Scholars, Luce, DAAD and more! We'll have some sweet treats to share too! Join us to hear from fellow students about their application process and international experiences!
Thursday – Foreign Affairs Fellowships: Pickering, Rangel, PPIA, Payne, Carnegie, Humanity in Action fellowships & more!: November 17, 3:30 p.m., MGH 171. RSVP to attend.
A variety of foreign affairs fellowship programs provide funding for academic and professional preparation for undergraduate students and alumni considering international careers. Some fellowships prepare students specifically to enter the U.S. Department of State Foreign Service. Others provide research experience. And still others have broader goals of expanding participation in public policy and exploring national histories of discrimination and resistance. Join us to learn more about these various programs and how you might take advantage of the opportunities they provide.
Friday – Study, Research or Intern in Germany: DAAD Scholarships & Fellowships: November 18, 12 p.m., MGH 171. RSVP to attend.
For undergraduates and graduates, the German Academic Exchange Service (DAAD) provides financial support to over 120,000 highly-qualified students and faculty for international research and study each year. There are scholarship opportunities for students from all fields interested in participating in study, research or internship programs in Germany.
Wardenburg Health Center
Campus Box 119 UCB
Boulder, Colorado 80309-0119
Phone: (303) 492-5654; Fax: (303) 735-1900
http://www.colorado.edu/counseling
November 7, 2016
Social Work Post-Masters Fellowship (2 Positions Available)
Application Deadline: December 5, 2016
FELLOWSHIP POSITIONS:
Counseling and Psychiatric Services is now accepting applications for its Social Work Post-Masters Fellowships. The positions will begin (depending on fellow's availability) between August 7, 2017 (preferably beginning 8/7/17) and September 7, 2017.
We are offering two tracks for the 2017-2018 academic year, described below: Read more
The 2017 Bonderman Fellowship application now available!
Deadline: January 9, 2017, 12 noon (PST)
The 2017 Bonderman Travel Fellowship application is now available and we encourage you to consider applying! This fellowship offers University of Washington graduate/professional and undergraduate students (from the Seattle, Tacoma, and Bothell campuses) an opportunity to engage in independent exploration and travel abroad.
The first information session is Wednesday, 11/2, 12:30-1:30 pm in the Allen Auditorium, Allen Library!
David Bonderman – the donor – wishes to give students an opportunity to experience learning and growth in new and unexpected ways. Bonderman Fellows will undertake international travel on their own for eight months, to six or more countries in two or more major regions of the world. Through solo travel the Fellows will focus on exploration and discovery, learning about the world and themselves in it.
Up to seven graduate and seven undergraduate Bonderman Fellowships will be awarded in spring 2017. Each Fellowship carries a $20,000 award to be used only for extended solo international travel. Fellows may not conduct research, pursue an academic project, or participate in a formal program or organization. Read more
The application for the 2017 Critical Language Scholarship (CLS) Program in fourteen critical foreign languages is now open!  The CLS is a fully funded language immersion program that occurs during the summer for U.S. citizen undergraduate and graduate students.  This year the languages are Arabic, Azerbaijani, Bangla, Chinese, Hindi, Indonesian, Japanese, Korean, Persian, Punjabi, Russian, Swahili, Turkish, and Urdu.   If you would like to learn more about the program and application, I hope you'll be able to attend this information session.  Please also note that there is no service requirement for this program. Thank you!
Critical Language Scholarship Info Session
Wednesday, October 19th
3:45-4:45 pm
Mary Gates Hall 173R
About CLS: The CLS Program is a program of the U.S. Department of State, Bureau of Educational and Cultural Affairs. It is a fully-funded overseas language program for American undergraduate and graduate students. With the goal of broadening the base of Americans studying and mastering critical languages and to build relationships between the people of the United States and other countries, CLS provides study opportunities to a diverse range of students from across the United States at every level of language learning.
Please note that participants in the CLS Program are not required to have any experience studying critical languages for most of the fourteen languages. Arabic, Chinese, Persian, Russian, and Japanese institutes have language prerequisites, which can be found on the CLS website: http://www.clscholarship.org/information-for/applicants.
The CLS Program seeks participants with diverse interests, from a wide variety of fields of study, backgrounds and career paths, with the purpose of representing the full diversity of professional, regional, cultural and academic backgrounds in the United States. Thus, students from all academic disciplines, including business, engineering, law, medicine, science, social sciences, arts and humanities are encouraged to apply.
There is no service requirement for CLS Alumni after the program. However, participants are expected to continue their language study beyond the scholarship period, and later apply their critical language skills in their professional careers. Participants are selected based on their commitment to language learning and plans to apply their language skills to their future academic or professional pursuits.
The application is now live and available online at:  http://www.clscholarship.org
Applications will be due November 16,  2016
HAPPY NATIONAL COMING OUT DAY!
On this day, we are proud to announce that
GSBA Scholarship applications are now available.
The GSBA Scholarship Fund awards educational scholarships to LGBTQ and allied students who exhibit leadership potential, demonstrate strong academic abilities, and are actively involved in school and community organizations.
Students should be enrolled in community colleges, four-year public or private colleges or universities, or vocational/technical/trade programs. Current college students, individuals planning to enroll in a program next year, and current high school seniors are eligible to apply.
As fall kicks off, we are excited to share our October workshops & events with you.  As usual, we are offering basic information sessions and workshops focused on supporting your students in both connecting to scholarship opportunities and being competitive for them.
New this quarter, we are dedicating one full week to scholarship basics.  October 24-28th is Getting Started with Scholarships Week. You'll find our full calendar, which includes all info sessions and events, on our website.
Without further ado, below is our list of October Workshops!
October Workshops: All workshops in MGH Suite 171.
We also meet with students individually to talk through just about any academic application they are working on—please let them know we will happily meet with them to talk about their scholarship applications as well as admissions essays and grant proposals. Thanks for sharing!