We hope to see you at the Scholarship Fair next Thursday, January 25th from 2:00-5:30pm in Mary Gates Hall!  Over 25 programs will be tabling and we'll hear from 7 different scholarships during information sessions throughout the day.  Sign-up for a reminder and we'll see you there!
SCHOLARSHIP FAIR
Learn about over 25 different scholarship and fellowship programs. Drop by any time during the fair!
January 25th | 2pm-5:30pm |  Sign-up for a reminder
INFORMATION SESSIONS @ THE SCHOLARSHIP FAIR
NOTE for Social Work Students – In almost all cases, the summer FLAS program works better for our students. It's incredibly difficult to attend language courses and do your practicum, since the language courses almost always meet on campus 5 days/week.
Did you know that there are approximately 140 FLAS fellowships per year for UW students?
Interested in studying a foreign language and learning about different cultures? FLAS Fellowships award $7,500-$33,000 to UW students studying foreign languages.
(Available to current and incoming undergraduate, graduate and professional UW students who are U.S. citizens or U.S. permanent residents).
Applications now open! Due January 31, 2018 at 5 PM PST.
For more information and to apply, visit jsis.washington.edu/advise/funding/flas/
UPCOMING FLAS INFORMATION SESSIONS:
Th Jan 11, 10-2 (FLAS Table), Study Abroad Fair, HUB Ballroom
Th Jan 11, 10:30-11 AM, 2:30-3 PM, 'Funding Your Study Abroad Program,' HUB 214
Wed Jan 17, 3:30-4:30 PST Web Chat (see website for access instructions)
Tu Jan 23, 2:30-3:30 PST Web Chat (see website for access instructions)
Th Jan 25, 2-5:30 PM (FLAS Table), Scholarships Fair, Mary Gates Hall Commons
Th Jan 25, 2:30-3 PM 'Last-minute tips for FLAS Applicants,' Mary Gates Hall 171
Questions? Contact Robyn Davis at rldavis@uw.edu
Both Merit-based and Need-based, the competitive Cobell Scholarship is annual, non-renewable, and available to any post-secondary (after high school) student who is; an enrolled member of a US Federally-Recognized Tribe, enrolled in full-time study and is degree-seeking. Applicants must plan to attend or be attending any nationally, regionally and industry accredited non-profit, public and private, institution.
Applicants must be pursuing a vocational certificate or diploma, associate's, bachelor's, master's, doctoral or professional degree, or certificate.
https://cobellscholar.academicworks.com/
The Association on American Indian Affairs (AAIA) is currently accepting applications for scholarships that will provide monetary support to graduate students during the spring semester/quarter of the current (2017-2018) academic year.
All AAIA applicants must:
Be enrolled members within their respective tribe from continental US tribes or Alaska Native.
Submit a copy of tribal enrollment (there is no minimum blood quantum requirement for eligibility). This can be a copy of the student's tribal I.D. card or a copy of an official letter from the tribe.
Be enrolled as full-time students for both fall and spring semesters.
​Have a minimum 2.5 out of 4.0 GPA.
Attend an accredited institution and be seeking an Associate's Degree or higher (AAIA does not fund certificate programs or seminaries)
Specific scholarships open to graduate students include:
Sequoyah Graduate Scholarship, for graduate students in all fields of study
Elizabeth & Sherman Asche Scholarship, for undergraduate and graduate students in health and science fields
Florence Young Memorial Scholarship, for graduate students in art, law, and public health fields
Allogan Slagle Memorial Scholarship, for undergraduate and graduate students from non-federally recognized tribes (students from state recognized tribes may apply)
For complete information about these opportunities, including how to apply, click here.
The application for the EDP Fellowship (to be awarded in Winter/Spring 2018) is now available. Please submit your application by December 18th at 5pm via the link below:
https://catalyst.uw.edu/webq/survey/jennmag/344548
If you have any questions please contact Jenn Maglalang at jennmag@uw.edu.
Warmly,
SSW Scholarship Committee
Dear MSW Advanced Year Day and EDP Students,
I am Co-Director for a post-graduate fellowship training program in psychosocial rehabilitation at the Durham, North Carolina VA Medical Center.  I am reaching out to your program to make sure that you know about this opportunity for MSW graduates. Most of our applicants are 2nd year MSW students anticipating a spring graduation. The fellowship begins in September. We expect to recruit 2 social workers for our 2018-2019 class.
Please let me know if you have any questions, julie.mccormick@va.gov.
More information can be found here: Durham VA PSR Fellowship Announcement
Best,
Julie C. McCormick, LCSW, CPRP
Director, Psychosocial Rehabilitation and Recovery Center
Co-Director, Interprofessional Fellowship on Psychosocial Rehabilitation and Recovery
Durham Veterans Affairs Medical Center
(919) 286-0411, ext. 5111
508 Fulton St. (116D/Hill2)
Durham, NC 27705
Deadline: January 8, 2018, 12 noon (PST)
The 2018 Bonderman Travel Fellowship application is open and we encourage you to consider applying! This fellowship offers University of Washington graduate/professional and undergraduate students (from the Seattle, Tacoma, and Bothell campuses) an opportunity to engage in independent exploration and travel abroad.
David Bonderman – the donor – wishes to give students an opportunity to experience learning and growth in new and unexpected ways. Bonderman Fellows will undertake international travel on their own for eight months, to six or more countries in two or more major regions of the world. Through solo travel the Fellows will focus on exploration and discovery, learning about the world and themselves in it.
Up to eight graduate and eight undergraduate Bonderman Fellowships will be awarded in spring 2018. Each Fellowship carries a $23,000 award to be used only for extended solo international travel. Fellows may not conduct research, pursue an academic project, or participate in a formal program or organization.
Eligibility:
All applicants must be enrolled (for graduate students "on leave" status is not considered enrolled) and in good standing at the UW during the quarter the application is due and must hold US citizenship or permanent resident status. Good standing in this regard refers not only to academic but also disciplinary and conduct standing. Additionally:
GRADUATE/PROFESSIONAL STUDENTS: All students in graduate or professional degree programs are eligible to apply.
UNDERGRADUATE STUDENTS: All undergraduate students with senior credit standing AND who also meet ONE of the following criteria are eligible to apply:
at least a 3.60 cumulative UW GPA by the start of Winter 2018; OR
participation and good standing in the University Honors Program (Interdisciplinary, Departmental or College Honors) or in UW Tacoma's Global Honors Program, by the start of Winter 2018. Undergraduates in one of these Honors programs DO NOT need to have 3.60 UW GPA or higher to apply, but simply must be in good standing in their respective programs, whatever that might mean.
To learn more about this extraordinary opportunity, please attend one of the information sessions listed on the website.
Applications must be submitted by 12:00 pm (noon) January 8, 2018.
More information about the fellowship, information sessions, and the application can be found at: bonderman.uw.edu
WORKSHOP: FINANCING YOUR STUDY ABROAD
Learn what study abroad costs, the basics of financial aid and scholarships, and get budgeting ideas.
The next workshop is Wednesday, November 15 from 3-4:30pm in the ECC-Asian Room.
Check our calendar for more workshops and info sessions!
SCOPE Graduate Student Fellowship Program now accepting applications
Deadline:       11:59PM Sunday, December 3, 2017
Eligibility:      Students enrolled in a graduate degree program at the University of Washington
Site:                 Gondar, Ethiopia
Funding:         Up to $6,000
The SCOPE fellowship offers funding (up to $6000) for a 3-6 month field experience in Gondar, Ethiopia.  Selected students will work with collaborators at the University of Gondar to explore how partnerships with faith communities can be leveraged to improve health.  SCOPE's mission is to unite medical and faith communities to improve health for the most vulnerable through innovative partnerships, leadership development, and measured impact.  Fellows will work closely with University of Gondar fellows, faculty and staff on their defined activities.
SCOPE is seeking graduate student applicants to support the Faith Leaders Advocating for Maternal Empowerment (FLAME) project, a randomized control trial that will assess the efficacy of an intervention to improve uptake of antenatal and delivery care services at health centers in rural Ethiopia.   Fellows will assist the University of Gondar FLAME team in the development and implementation of the intervention with direction from mentors in the Department of Global Health at UW and professionals on the SCOPE Board of Trustees.  Please see the SCOPE website for more details on the SCOPE fellowship and how to apply.  Contact Kate Pfizenmaier with any questions regarding the application at kpfiz1@uw.edu .
The University of Washington (UW) Tobacco Studies Program (TSP) is pleased to announce that applications for TSP scholarships are now open for the 2017-2018 academic year!
The purpose of the Tobacco Scholars Program is to support Master's and Doctoral students at the University of Washington in their studies of tobacco and public health in order to develop the tobacco prevention, research, control and treatment workforce.
SCHOLARSHIP OPPORTUNITIES
Tobacco Studies Career Development Award: Maximum of $500 (up to five awarded per year)
Tobacco Studies Fellowship (full concentration): Maximum of $1,500 (up to five awarded per year)
Applications are due to tobacco@uw.edu by Friday, November 3, 2017. Eligibility requirements and application details can be found here: UW TSP Scholars Application 2017-2018 and on our website.
 YALE UNIVERSITY
SCHOOL OF MEDICINE
Advanced Clinical Social Work Fellowship
The Yale Child Study Center is pleased to offer a one-year full-time Advanced Clinical Social Work Fellowship from July 1st through June 30th of each year.  This training program is designed to build and support the professional capacity, skill set, intellectual curiosity, concern for clients, and attention to detail necessary for Clinical Social Workers to serve the mental health needs of children, youth, and families of diverse backgrounds.
Social Work Fellows will participate in both multi-disciplinary and discipline specific training, which will include didactics, intensive supervision, and direct practice. Direct practice will occur in either the Outpatient Psychiatric Clinic for Children (OPC) or the Intensive Child and Adolescent Psychiatric Services In-Home Program (IICAPS). Fellows are provided a stipend of $28,800. Comprehensive health care through the Yale Health Plan is provided at a nominal fee.
Eligible applicants must have satisfactorily completed accredited Master's level training in Social Work by the start of the training year (July 1st) for which applying. Preference is given to applicants with previous direct clinical experience. Application forms and additional information can be found online at:
http://childstudycenter.yale.edu/swfellowship
Application packages are due and must be submitted electronically before midnight EST January 5. Late or incomplete application packages will not be accepted.
Social Work Fellowship Positions
Counseling and Psychiatric Services (CAPS) at the University of Colorado Boulder invites applications for two, one year full-time Social Work Post-Masters Fellowships for the 2018-2019 academic year. These positions are for candidates who have completed a Master's Degree in Social Work and who need supervised clinical experience to obtain licensure. The positions provide direct clinical services including walk-in services, intake, individual and group psychotherapy, and crisis intervention to students attending the University of Colorado Boulder.
CAPS is offering two Fellowship tracks for the 2018-2019 academic year:
Generalist: The Generalist track offers an opportunity to provide a range of individual and group psychotherapy services at CAPS. The Fellow in this track will carry a generalist caseload, working with clients with a variety of presenting concerns. An opportunity to gain experience providing behavioral health interventions to clients in the Wardenburg Health Services Medical Clinical may be available.
Alcohol and Other Drugs (AOD): The AOD track offers a challenging opportunity for professional growth by providing the Fellow with the experience and supervision to perform effectively in a clinical area that is often difficult to talk about and frequently is met with resistance. Opportunities include working with students who are mandated for treatment, implementing brief motivational interventions, conducting differential assessments for co-morbid conditions, and gaining understanding and competence with the principles and practices of Motivational Interviewing (MI). The Fellow participating in the AOD track will spend approximately 50% of their clinical time providing AOD focused services and approximately 50% of their time will be devoted to a generalist caseload.
Applicants are encouraged to apply for the track that best fits their interest and skills. Applicants may apply for more than one track if they desire.
UW Study Abroad is launching a new workshop designed to help students make more informed decisions about the financial costs of studying abroad.  Our Financial Planning  workshop will cover the basics of financial aid, scholarships to consider, cost comparisons of different programs, budgeting tips, money generating strategies and important forms and deadlines for students.  We are offering the workshops at three different times to make it convenient for students:
Tuesday October 24, 3-4:30, Mary Gates Hall 171
Wednesday November 1, 3-4:30 in Schmitz 450
Wednesday November 15, 3-4:30 Ethnic Cultural Center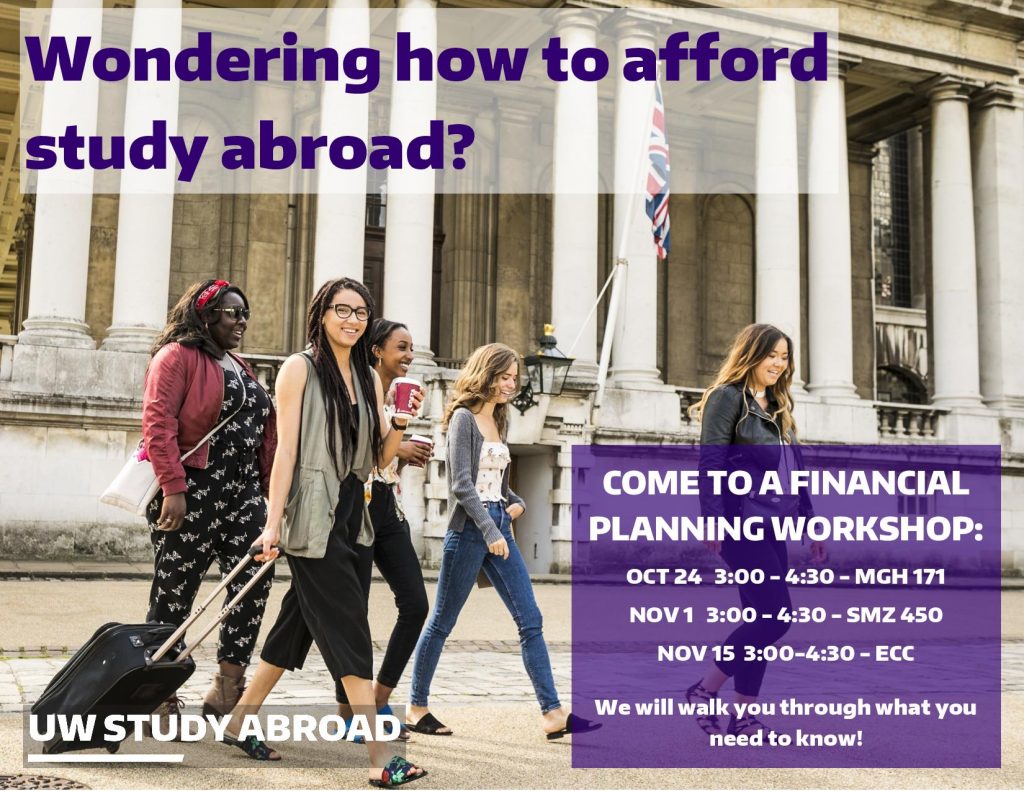 2018-2019 David L. Boren Fellowship Application Now Open
Campus Deadline: January 8, 2018, 11:59 PM (PST)
National Deadline: January 30, 2018, 2:00 PM (PST)
Dear Graduate and Professional Students,
We write to share an opportunity to gain insightful professional, cultural and linguistic experience. The 2018-2019 Boren Fellowship application is open and we strongly encourage you to consider applying.
The David L. Boren Fellowship provides up to $30,000 to U.S. graduate students to add an important international and language component to their graduate education through specialization in area study, language study, or increased language proficiency. Boren Fellowships support study and research in areas of the world that are critical to U.S. interests, including Africa, Asia, Central & Eastern Europe, Eurasia, Latin America, and the Middle East.
WISIR is accepting proposals for innovative student projects that are focused on the study of race, ethnicity, immigration, or inequality and politics. WISIR will offer research grants ranging from $250 to $1,000 to help undergraduate and graduate students conduct research projects. Students can utilize the funds to subsidize research costs such as visiting historical archives, fielding surveys, or completing interviews etc.
Undergraduates are encouraged to present their findings at the Undergraduate Research Symposium. Graduate students should incorporate their funded work into conference papers, journal articles, and dissertations.
Eligibility:  Currently enrolled UW graduate students or undergraduate students are eligible to apply.
To apply:  Submit the following information to the online application:
1) Project description (maximum of 3 pages single spaced)
2) Budget and discussion of when the research will be conducted
2) Updated copy of Resume/CV
3) One letter of recommendation emailed directly to sophiajw@uw.edu.
Please fill out the application and upload information here:
https://catalyst.uw.edu/webq/survey/sophiajw/341578
Questions: Contact Prof. Sophia Jordán Wallace, Associate Professor of Political Science, at sophiajw@uw.edu
Deadline:  November 15, 2017 by 5:00PM PDT
Notification of Decision: November 30, 2017
More information about WISIR: http://depts.washington.edu/wisir/
*Funding for this grant is supported by the UW Race and Equity Initiative. For more information, see https://www.washington.edu/raceequity/.
Hello from Pride Foundation and
the GSBA Scholarship Fund!
We are excited to announce that our scholarship application opens TODAY!
These scholarships are for lesbian, gay, bisexual, transgender, queer (LGBTQ) and ally students of any age from Alaska, Idaho, Montana, Oregon, or Washington. This support is for students pursuing any kind of post-secondary education — including community college, public or private colleges & universities, trade schools/apprenticeships, or certificate programs.
Since 1990, Pride Foundation and GSBA have awarded more than $7.82 million in scholarships to support the educational pursuits of LGBTQ and ally students.
There are over fifty different types of scholarships, but only one web-based application for students to complete.
Scholarship applications are completed online through the Pride Foundation or the GSBA Scholarship Fund websites and  are due on Friday, January 12, 2018 at 4:00pm AKST | 5:00 pm PST | 6:00pm MST.
To assist students applying for these scholarships, we will hold Scholarship Application Workshops throughout the Northwest and online in the fall. See the Pride Foundation website for specific times and locations.
We look forward to receiving applications and to another year of partnering with our communities to support tomorrow's leaders!
I'm excited to share that Michael Saffle from the Boren Awards will be visiting the UW on October 18th to talk with students about Boren funding for study abroad.  He's offering an information session in Mary Gates Hall 171 at 4pm.  Below I've listed a few highlights of the Boren Funding and I've included photo of a few of our 2016 undergraduate Boren Scholars.
A few highlights to share about the Boren Awards:
Open to U.S. citizens
Up to $20,000 for undergraduates who study language abroad during the academic year (semester or longer)
Must be studying a language abroad (list of preferred languages here)
Up to $8,000 for STEM students to study a language abroad during the summer
Special language African Languages and South Asian languages
Up to $30,000 for graduate students who will study a language abroad
Special initiative for ROTC students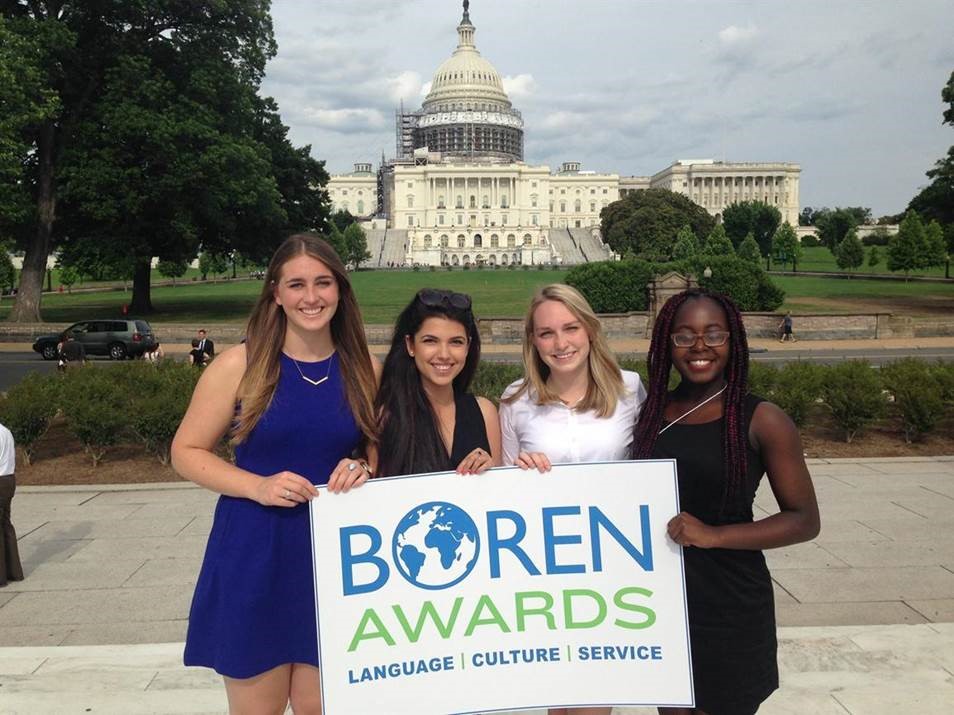 Learn more about the award on October 18th at 4pm!  RSVP at https://expo.uw.edu/expo/rsvp/event/239
Friends,
The last week has been trying for our community especially as we face a deadline that is less than three weeks away. We have fantastic news from one of our trusted national partners, Mission Asset Fund (MAF).
In 2012, MAF collaborated with 21 Progress on our first 150 DACA assistance loans in Washington State. Now, MAF is offering free DACA renewal scholarships.
Simply apply at LC4DACA.org and MAF will send a check already written out to USCIS for payment of DACA renewal. This is not a loan and no one will be asked to pay the money back. The deadline to renew DACA is October 5 for eligible participants, so apply for this scholarship as soon as possible.
Since 2015, MAF has provided $5 million dollars in financial assistance to immigrants as a nonprofit. In the past, this took the form of lending circles – now they have switched to DACA renewal scholarships.
Due to the urgent DACA deadline, Mission Asset Funds has received enough funding to cover every DACA renewal in the United States for free.
Mission Asset Funds is committing to sending the scholarship through priority mail within 48 hours of receiving your DACA renewal scholarship application, if eligible.
APPLY FOR DACA RENEWAL SCHOLARSHIP
If you have any concerns about your DACA renewal, legal clinics are available to help you with your application. You can find a list for Washington state here: https://www.nwirp.org/options-after-daca-community-forums/ and http://www.seattle.gov/iandraffairs/programs/daca#top
Step 1: Complete your DACA renewal application (get help at a legal clinic) if your DACA expires on or before March 5 to be eligible for a renewal.
Step 2: Apply for a free DACA renewal scholarship at LC4DACA.ORG.
Step 3: Send your application to USCIS before October 5 according to your state here: https://www.uscis.gov/i-821d-addresses
IMPORTANT: Scholarship applications must be fully completed. Please answer every question.
Please share this information widely! We want to reach as many people as possible. No one should miss the renewal deadline due to financial concerns. These scholarships are for the entire United States of America.
WASHINGTON: If you have any questions about this process or problems during your application, please email us at daca@21progress.org. If you are outside of Washington state, please contact MAF directly: (888) 274-4808
2017 SSWLHC-WA SCHOLARSHIP
SSWLHC-WA is now accepting applications for its 2017 Student Scholarship.
Purpose of Award:
To raise the visibility of the Social Work profession in the area of health care.
To honor and support outstanding students who are committed to pursuing a Social Work career in health care.
To provide mentorship opportunities to students new to the field
To allow access to students to see how a voluntary board functions
Description of Award:
New Fund Seeks New Ideas for Achieving Results and Racial Equity
The City of Seattle's Human Services Department (HSD) is piloting an Innovation Fund to test new ideas that focus on achieving results and racial equity. This fund will make available $225,000 for new ideas related to one of the department's six impact areas: (1) Preparing Youth for Success, (2) Addressing Homelessness, (3) Supporting Affordability and Livability, (4) Responding to Gender-Based Violence, (5) Promoting Public Health, and (6) Promoting Healthy Aging.
As part of the City's Age-Friendly Seattle initiative, HSD is designating $125,000 of the total Innovation Fund to support up to six projects at $21,000 each.  These projects will need to advance the "Promoting Healthy Aging" impact area, and how they align with one or more of the Age-Friendly Seattle goals[1]. In July 2016, Seattle joined the AARP Network of Age-Friendly Communities, an affiliate of the World Health Organization's Global Network of Age-Friendly Cities and Communities.  This Network is focused on eight domains[2] for an age-friendly community.  The balance of the Innovation Fund will be awarded to five projects at $20,000 each. These remaining projects will need to advance one of HSD's other five impact areas.
"Our department continues to be committed to results and racial equity," said HSD Director Catherine L. Lester. "We see this Innovation Fund pilot as a way to encourage creativity and risk taking, both of which are important in responding to the human service issues our community faces,".  "I am excited to see how this Innovation Fund pilot helps us to test new ideas and support our learning with our partners as we carry out our commitment to results and racial equity.  This pilot is an important part of HSD's work to strengthen the capacity of the human service sector," Lester continued.
The traditional view of capacity-building can range from hiring extra staff, to providing special training, to sharing resources across different organizations. The goal of the Innovation Fund pilot is to move beyond traditional methods by supporting the type of capacity that is developed through experience and the ability to take a risk to try something new.

Eligible applicants may include, but are not limited to, non-profit organizations, for-profit companies, government agencies, researchers and individuals. The application process will be through a Request for Proposal (RFP) and consist of a one-page document with less than 500 words describing the proposals.
The Innovation Fund RFP will be released on June 1, 2017 at http://www.seattle.gov/humanservices/information-for-grantees.  Awards will be made in August 2017, with projects beginning in September 2017.  For more information on HSD's work and six impact areas, visit seattle.gov/humanservices.