Brief Introduction
Our Purpose
The Honors Program is for a select group of political science majors seeking a rigorous and intensive course of study. The program consists of one seminar each quarter for the students in that year's class of 10 to 15 students. These small seminars, comprised of some of the best students in the department, offer an excellent opportunity for students and faculty to engage one another in lively debate and inquiry. After completing the seminar series, the students begin work on their senior thesis, which provides them an opportunity to work on a topic of their choosing under the supervision of a faculty member. It is a remarkable opportunity for some remarkable students.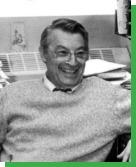 Dan Lev and Lance Bennett created the Honors Program in 1979, with the first seminars beginning in 1980. Professor Bennett, Professor Christine DiStefano, and Professor Michael McCann all played crucial roles in developing the program that we have today. Professor Lev's vision of the Honors Program reflects his scholarship: committed to the highest standards, engaged in real world problems, and passionate about politics. We hope the program continues to live-up to the very high standards he and his colleagues set.
Welcome to our new webpage
We address this website to three audiences. First, to prospective students to help them learn about the Honors Program. We are always on the lookout for students seeking a challenge, and if you are a good student seeking an intense but rewarding experience, please apply!
Second, we address this page to current students in the Honors Program. Here you will find information about the program, deadlines, procedures, and a variety of helpful hints.
Third, we address this page to our alumni. We want to hear from you! We are creating a database of former graduates of the Honors Program to help you contact each other and, we hope, to help you help current and former honors students. We have created a password protected Alumni page where you will have an opportunity to post information about your whereabouts, your activities, and any opportunities you might have for current or recent graduates of the Honors Program.
Thanks to Faculty, to Staff, and to Sean Kellogg
This program is possible because of the continued and enthusiastic support of the faculty members in the Political Science Department. The staff support makes the program run as well as it does, and for this we must thank especially Christina Kerr.
Last but not least, many thanks to Sean Kellogg ('03) for creating this webpage. He patiently tutored us in how to use and edit the site, and he was meticulous in his attention to detail. Sean donated his time and energy to the project. We could only imagine this website. Sean made it happen.
We are still working on improving it. Please send your comments and suggestions to pshonors@u.washington.edu.