The IMPACT Center website goes live!

The IMPACT Center uses implementation science to improve youth mental health outcomes in under-resourced communities. We create rigorous implementation strategies, methods, and toolkits that are relevant to real-world settings – helping stakeholders implement evidence-based practices with fidelity.
View the full website here.
---
In a Q&A with the Kaiser Permanente Washington Health Research Institute, Dr. Dorsey and Dr. Lewis discuss the IMPACT Center they co-lead to improve mental health care for children and youth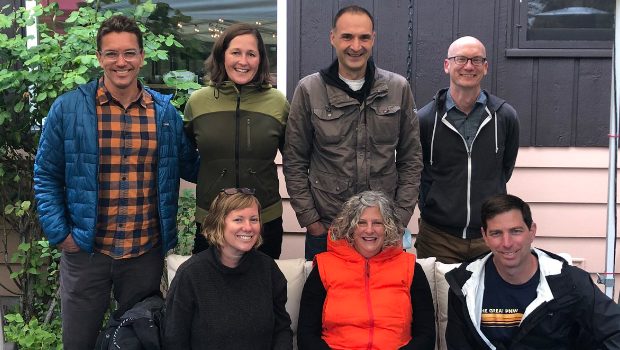 Cara Lewis, PhD, co-leads a new center to accelerate use of evidence-based practices in under-resourced settings such as schools.
Mental health care for most people under age 18 often takes place in community settings rather than large hospitals or specialty departments. Community clinics and schools often have limited funding and resources — yet treat serious conditions such as depression, anxiety, post-traumatic stress, and behavioral problems.
To improve mental health services for children, adolescents, and teens receiving care in the community, Kaiser Permanente Washington Health Research Institute (KPWHRI) and the University of Washington just launched a new center. The goal of the center is supporting community settings where diverse, low-income youth get care, to successfully deliver effective treatment for their mental health conditions.
KPWHRI Senior Investigator Cara Lewis, PhD, and University of Washington Department of Psychology Professor Shannon Dorsey, PhD, co-lead the Center to Optimize Evidence-Based Practice Implementation for Clinical Impact — known as the IMPACT Center. Lewis and Dorsey have expertise in practical implementation science, meaning they work with leaders and practitioners at clinical sites on ways to overcome challenges to delivering effective treatments and finding solutions that can be sustained, in a context with limited funding and resources.
Lewis and Dorsey answered questions about how the IMPACT Center will work with community sites, to optimize their use of evidence-based practices with the youth they serve.
Full article: KPWHRI (kpwashingtonresearch.org)
---
Professor Dorsey talks about trauma and grief caused by COVID-19 in The News Tribune
According to University of Washington Psychology Professor Shannon Dorsey, who specializes in the treatment of trauma in children and adolescents, everyone reacts to grief and loss differently.
Citing her experience working with death-related trauma, Dorsey said it's important to provide space for people to talk about who they've lost — good and bad — while helping people understand they still have a connection with someone who has died.
Dorsey said healthy reactions to death often include finding ways to honor the deceased, including traditional funerals and other ceremonies associated with death. The curtailment of these cherished services due to COVID-19 precautions has been particularly hard on some, she noted.
Dorsey described this as part of the process of converting a relationship "from interaction to memory."
"One of the biggest issues for children, cross culturally, is we often don't talk a lot about people who have died," she continued. "But things have to be talked about for children to process that grief and that loss."
Asked what the potential lasting impact of the COVID-19 pandemic might be on the public — in particular those who haven't been personally touched by death — Dorsey said that one day the health crisis will be something people are able to "put into context."
Broadly speaking, Dorsey emphasized that "people are resilient," while also noting that some will require help, and issues like isolation, increased substance use or short-term depression are likely to "reverberate."
Importantly, Dorsey said that tuning out some of the negative news and headlines — consciously or unconsciously — can make sense right now for many people.
"How do you do your job that day and take care of your children if you allow yourself to really feel all the loss we've had?" Dorsey said.
Full article: The News Tribune
---
Our new paper featured on UW NEWS among other news outlets!
Our recent JAMA Psychiatry article comes from data on the Pamoja Tunaweza project, which delivered TF-CBT through task-sharing. Community health volunteers and teachers delivered TF-CBT to orphaned children in Tanzania and Kenya. We built on this project to launch Building and Sustaining Interventions for Children (BASIC). You can access the JAMA Psychiatry article and the study protocol for BASIC under the publications tab.
Podcast describing treatment and family perspectives
---
Ace Africa BASIC Supervisors Present the Plenary Keynote Address for the Society for Implementation Research Collaboration
Check out what attendees said about the plenary below!
---
Presentation Information: September 13th, 2019 at the Husky Union Building (HUB) at the University of Washington in Seattle, Washington
Mental health interventions delivered via task-sharing in low-resources contexts have been effective; however, implementation strategies for scaling and sustainably delivering interventions with minimal governmental funding are lacking. The ACE Africa team presents methods and initial findings from identifying feasible and locally-relevant implementation practices and policies (IPPs) associated with successful implementation of task-shared mental health care in western Kenya. Methods for identifying IPPS and for developing and providing implementation support hold relevance for other task-shared interventions, since the process was feasible and aided implementing partners in feeling more prepared and able to effectively offer intervention.
Presenters from ACE Africa serve as supervisors and local trainers for lay counselors providing Trauma-focused Cognitive Behavioral Therapy (TF-CBT), in schools and villages. As part of an NIMH-funded study, they led a stakeholder-involved process to identify implementation policies and practices in education and health sectors that support successful implementation. Partnering with stakeholders, they co-developed and deliver implementation support for schools and villages beginning to implement TF-CBT.
Shannon Dorsey, PhD, is an Associate Professor in the Department of Psychology at the University of Washington. Her research is on implementation and effectiveness of mental health treatments for children and adolescents in the United States and globally in low-resource contexts.
---
The majority of the world's population lives in low-income countries with extremely limited access to mental health care. This gap is largest in African nations, which have the world's lowest ratio of mental health professionals: just 1.4 per 100,000 people. For more than a decade, a multinational team of researchers has been exploring ways to close that gap for nearly 50 million orphans in Africa who are grieving the loss of one or both parents. HIV/AIDS and respiratory infections are the leading cause of death.
Being orphaned predicts other problems – problems like substance abuse, dropping out of school, or unemployment. Orphans are also more likely to engage in risky sexual behavior that may lead to new cases of HIV — and perpetuate a vicious circle.
With a new, five-year $3.4 million grant from the National Institute of Mental Health, the team led by professors Kathryn Whetten at Duke and Shannon Dorsey at the University of Washington is testing how to help orphans in the Bungoma, Kenya, region.
Their strategy? Train local people with no mental health background to provide Trauma-Focused Cognitive Behavioral Therapy (TFCBT) in schools and community health centers, under the supervision of lay supervisors. The goal is to develop a blueprint for scaling up such a program on a large scale. Access the podcast here.
---