SETTING BOUNDARIES
As children enter "teen-hood," they may present many new challenges (to put it nicely) to their parent. There are so many times that you just want to say, "What ever made you SAY or DO that?!!!!"
Acting on every single thing that you don't approve of just doesn't' seem to work and can lead to very difficult times in your parent-child relationship.
In this section, we'll offer some suggestions that parents of teens have reported as finding useful. (These suggestions were gathered from a series of group meetings with parents of teens.)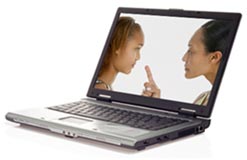 This is the rallying cry for many a parent of teens! After trying several different ideas, many people conclude that you can't respond to every single thing that you don't like.
You need to decide:
How many things am I complaining about all at the same time?
Which of these is most important to me?
Which of these is most important to my child's present life, health/safety?
Which of these would make the biggest difference here in our home or outside the home if it were to change?
Make a priority list as to what you really most want to change first and what items you could actually learn to live with for a while, if necessary. Then devote your attention to your top priority item.
Example
In a recent episode of a family TV show, Mom 1 was trying to explain to Mom 2 how to handle her teen stepdaughter. Mom 2 had tried to be her stepdaughter's friend so she was very hesitant to ask the daughter to do anything. She just wanted the daughter to like her. Yet, things were not going well and she complained that in truth, the daughter was driving her totally crazy.
Mom 1 explained that having no rules wasn't making this child like Mom 2 any better. She explained she had learned from having her own teens that it was important to "pick your battles."
At this point the teen charged into the room. She loudly threw down her backpack and other belongings in the living room and was about to charge out the door again when Mom 2 asked her very calmly to pick up her belongings and put them away in her room.
At this point the girl began cursing Mom 2. Mom 1, who was standing nearby observing the entire scene, reminded Mom 2 to "pick her battles." Mom 2 suggested that leaving belongings around the house right now might be tolerated for a while longer, but cursing and disrespecting Mom 2 verbally should not be tolerated.
BACK TO TOP
So you've selected the problem behavior, now what are you going to do if it occurs again. Remember the consequence you select has to be one that you can actually enforce, not just an idle threat. Your teen will know if this is really something that you won't be able to actually carry out. Make sure that you have considered possible obstacles to carrying out this consequence and you have decided how to handle these obstacles, should they occur.
Example
Continuing our example from the TV show, Mom 2 has decided that cursing and disrespecting her is not to be tolerated. She says impulsively, "You're grounded!" The teen laughs. "You wouldn't ground me," she says.
Because Mom 2 has never done such a thing before, the daughter can hardly believe her ears. Mom 2 gets a bit weak in the knees but with coaching from Mom1 she follows through and insists that the teen go to her bedroom.
However, Mom 2 still needs to decide what "grounding" actually means.
Does it mean staying in the bedroom for a few minutes, 1 hour, etc.?
Does it mean losing privileges such as going out on weekdays after school and/ or weekends with friends and if so, for how long (e.g. a week, a month, etc.)?
Mom 2 needs to decide these details before she threatens a consequence that she hasn't totally figured out. The consequence she has announced to her daughter is one that she and her daughter must live with. How will this change her daughter's life? Will she be a better student because of it? Will she still have some chance to socialize with friends? Also she needs to consider whether anyone else is going to have to support and participate in this decision. For example, did her husband agree to this consequence beforehand? Will he agree now?
Before you announce a consequence for the behavior, make sure that you have thought through what this consequence will involve and possible obstacles and barriers to carrying it out. These obstacles need to be carefully thought through so that when you present the consequence, you can be confident of your ability to actually carry it out. Remember, your teen will sense idle threats!
BACK TO TOP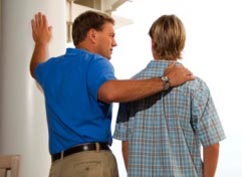 Okay so now you've decided on your top priority for action. (That is, you have "Picked Your Battle."
Will you be carrying this decision out alone? Or is there a partner that needs to also be consulted about this and be supportive of this consequence? Have you and your partner discussed this consequence and considered any barriers or obstacles you will face in carrying this out.
Example
In our TV example involving the mom who told her daughter she was "grounded" after the daughter began verbally cursing her, the mom acted on the "spur of the moment" without thinking through the consequence she announced. As it turned out on the TV show, the daughter was quickly able to talk her way out of the consequence as soon as Dad arrived home. She recruited Dad as an ally. Dad did not want to see his daughter receive this consequence and downplayed what had happened to his wife. This left Mom to regret her decision. Mom realized later that if she couldn't get Dad to agree with the consequence, the teen was always going to be able to work her way around any consequence she announced.
BACK TO TOP
Now it's time to talk to your teen. Parents offer different ideas based on how to go about this step.
PRESENT THE DECISION YOURSELF


Some parents suggest taking the straight-forward approach of informing their teen that this is the decision and this will be the consequence. They try to make sure to present this decision at a time when they are able to talk privately with their teen in a quiet place. It might be in the late evening at bedtime. It might be car time, when they are driving their teen to school, a friend's house, a sporting event, etc. In any case they want it to be a time when they can have their teen's full attention without the usual distractions.



FAMILY MEETING TO INFORM OF DECISION


Some suggest a family meeting. They want to be able to discuss the behavior that is most of concern during a time when everyone can try to talk about it in calm voices rather than during the heat of the moment. State clearly what the behavior of concern is and what the consequence for it will be. While the teen may argue, it needs to be clear that the decision has already been made.



FAMILY MEETING TO INVOLVE THE TEEN


Some parents take the approach of discussing the problem together with the teen and deciding as a family what the consequence will be. So once the parent(s) have taken Step 1 of "Picking their Battles," they skip straight to this step. Some report that this approach has been very helpful for their families in that it involved their teen in the decision-making process, allowed everyone including the teen to express their views about the problem, and ultimately encouraged their child to take some responsibility for their actions.



SET UP A CONTRACT


Some parents suggest the idea of setting up a contract with the teen. The contract specifies the behavior of concern and it also specifies the consequence that the family agrees should happen. In addition to the negative behavior, some of these same parents stressed the importance of introducing a positive behavior on the contract as well. The positive behavior is something the family would like to see happen. It might be something the teen already does occasionally and would be appreciated if he did it more of (like help with some specified chore) and the positive consequence for this behavior (e.g. a chance for something the teen would like to see happen).
BACK TO TOP
Once you've decided on a consequence that you and your family determine is reasonable, be prepared to carry it out should the behavior occur again. This demonstrates to your teen that you are serious and can be trusted to carry out what you have said.
BACK TO TOP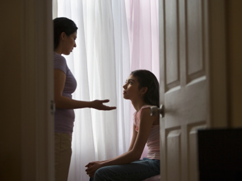 Too often parents get caught up in all the things they would like to change about their teens. As one parent recently said, "The problems seem to overwhelm you sometimes. I think at those times I forget to focus on the things that my kids are doing that actually aren't so bad at all. In fact they're really good!" Another parent commented, "We shouldn't be afraid to let our kids know that we care even if they don't always seem ready to reciprocate."
Try to find things that you like about what your teen is doing. Be sure to let them know that you've noticed those things and that you like what you see. At the same time that you're working on something that you don't like, try to find at least one thing that you really like and make sure to comment on that. You might even try to work out a positive consequence (something your child would like) for doing more of something you would like to see happen. (Remember that positive consequences come in many forms, not just in material things. Time spent with a parent doing something both of you enjoy is only one of many examples of a good consequence that sometimes gets overlooked in our busy lives.)
BACK TO TOP
Teens are at an extremely vulnerable time in their lives as they struggle for the independence of adulthood and yet still have a lot of growing up to do. We know from current brain research, they are also still developing reason and logic during the adolescent years, so if you're concerned about some of their logic and some of their decisions, we have to consider that their brains are still developing.
It can be frustrating at times. However, as parents of teens everywhere will assure you, you are not alone!
A group of parents of teens we once convened agreed, "You have to keep trying. You may not get it right the first time, or even the second time, but don't give up!"
Perhaps one high school age teen said it best. When asked what advice he would give to parents of younger teens, he said, "Keep talking. Sure we say yeah, yeah, yeah. It may seem like we don't care and we're not listening. But don't stop talking and showing that you care. We really are listening!"
BACK TO TOP