ONLINE SAFETY
Safety Tips For Teens And Tweens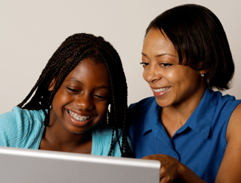 In this 21st century world, the Internet is here to stay! It's exciting! It's a place for your child to network with their friends and meet new friends! It's also a great place to learn new things!
However, it's also a place where we hear daily that children are being exploited or harmed by someone they met online. So what' s a parent to do? Teaching the safety rules for crossing streets and not talking to strangers has suddenly become much more difficult and complicated now that our children are out there navigating the Internet highway.
Remember, YOU are your child' s most important teacher! No one can replace you in giving your child those all important life lessons. There's no need to feel helpless and out of control. Parents can take action. This section offers tips and hints for getting started along with valuable resources.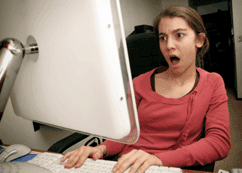 Just as you need to discuss sex and relationships openly and honestly with your children, you now have something else to consider…online and cell phone activity. Here are some talking points you may want to think about:
MESSAGES/PHOTOS ARE NOT PRIVATE.


Do your children understand that the messages and pictures they send over the web or their cell phones are not really private or anonymous?



MESSAGES/PHOTOS CAN BE FORWARDED TO ANYONE.


Do they know that once a message has been sent, it can be forwarded to any number of people, even people that they would never want to see this message or photo.



ONCE IT'S POSTED, YOU CAN'T DELETE IT!


Once it's posted, you can't take it back! Older versions of a site, for instance, may still exist on people's computers even though you had hit the "delete" button and thought it was erased from a site. Your phone is the same! Your message isn't really deleted even though you hit "delete." It still can be easily retrieved by law enforcement as some cases involving teens who have sent nude or semi-nude photos have already proven.



BE SURE TO TALK ABOUT SEXTING.


According to the National Campaign for Teen Pregnancy Prevention, 20% of teens have sent electronically or posted online, nude or semi-nude pictures or video of themselves. Sexting is a felony and can get your child in a lot of trouble.

Those who post photos of themselves or are in possession of such photos after receiving them can be charged with participating in child pornography. Young teens as well as those of legal age in the U.S. have already suffered some major consequences, including being listed as sex offenders.



YOUR CHILD'S FUTURE COULD BE AT STAKE!


Does your child understand that some of these messages/photos can affect their future? It is not uncommon for school administrators and potential employers to check out online profiles and other information online about your child.
BACK TO TOP
You most likely have always wanted to know more about people and places where your child is spending time when he leaves home. Well, now he/she is spending a lot of time in some new places; these new places are on the Internet and most likely your child is visiting them regularly. What do you know about these places or sites?
As one teen told us recently, "a parent who knows about technology is scary! They really know what you're doing and can check you out whenever they want to!"
So parents, now is the time for you to learn the "rules of this new road." To help you get started, check out our tutorials for some very popular places for teens, such as:
Facebook
MySpace
Twitter
Second Life
BACK TO TOP
Don't be afraid to visit your child's Facebook page or any other site where he/she is posting online. Remember, if everyone else is able to see it, then why not you? Talking about the types of information he/she is posting is very important. Discuss with your child what should be considered public and what should be private. Although your views may differ, you need to ask and be prepared to listen and discuss this issue.
BACK TO TOP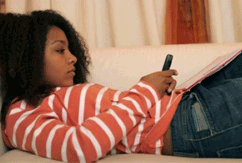 One of the most exciting things about social networking is meeting and talking regularly with a lot of new "friends." Talk to your child about cyberspace "friends." Who does (s)he consider a "friend?" As parents, we like to know the people our kids are hanging out with. Wouldn't you also like to know who their cyberspace friends are? Discuss your child's cyber friends with him.
BACK TO TOP
Many parents of teens report that their children are addicted to their phones and computers. Some have reported finding their kids logging on late at night or sending text messages when they should be sleeping or when you're trying to talk to them. These parents report that once they set some limits, the situation changed dramatically.
Examples include:
Requiring that all mobile phones must be left on the kitchen counter by 10:00pm each night and cannot be used again until the next morning.
Allowing computers to be used only in public areas in the house, such as the kitchen or family room (i.e. no laptops in bedrooms).
Turning off phones at family meals or during family discussions.
Spelling out what is considered appropriate and expected "electronic" behavior and checking in periodically to remind about those expectations.
While the parents reported that their teens complained at first about the new house rules, the parents said they felt good about the changes they had made. They thought that setting up these rules showed their children that they cared and despite the complaints, they said that it was important to let their kids know that they were paying attention.
They also noted it was important not to give in to pressure to change the rules. Over time their kids got used to the rules once they found that they couldn't convince their parents to change them.
BACK TO TOP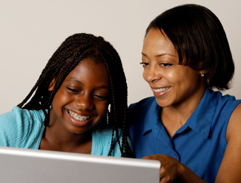 These safety tips are based on recommendations by the Federal Trade Commission.
CAN ANYONE SEE IT?


Talk about the importance of restricting access to the information you post. You can restrict access to your information by only a select group of people (his friends, team, clubs, etc.). Be sure to check out the site's privacy policies. Some sites allow anyone to see what you post; others allow only a select group to view it.



ONCE POSTED, CAN'T DELETE!


This is a shocker to most teens. Once a message or photo is posted, you can't take it back! Older versions of a website, for instance, may still exist on people's computers even though you hit the "delete" button and thought it was erased from a site. Remember the same holds true for the phone. Deleted messages can be retrieved!



DON'T SHARE PERSONAL INFO.


It's not a good idea to post personal information that can identify you or locate you offline. This includes your full name, birth date, address, phone number, Social Security number, or bank and credit card numbers. The Federal Trade Commission advises that you should also be cautious about sharing other personal information that could help locate you offline. "This could include the name of your school, sports team, clubs and where you work or hang out."



CHOOSING A SCREEN NAME


Don't choose a screen name that says very much about you. Using your name or age, for example, can help to locate you offline.



POSTING A PERSONAL PHOTO


Ask yourself whether this is a photo that you would be happy to share with anyone. Remember once online, photos can be altered and also shared in ways that may surprise you.



FLIRTING WITH STRANGERS ONLINE


People can easily lie about who they really are and this can lead to some serious consequences.



MEETING AN ONLINE FRIEND IN PERSON


This can lead to some very serious consequences. If you decide to meet this person, do your homework to try to figure out what you can about who this is. Check with people you know; check online search engines. If you do meet them, meet in a public place, during the day with friends you trust. Be sure someone who is responsible and trustworthy (an adult, sibling) knows where you're going and when you can be expected to return.



SOMETHING DOESN'T FEEL RIGHT.


Trust what you're feeling and tell an adult you trust. Consider reporting it to the police and the social networking site. Your actions may help prevent someone else from becoming a victim.
BACK TO TOP
Connect Safely: Smart Socializing Starts Here
This website is an interactive resource about social networking on the web with resources and information for educators, parents, and teenagers. The site includes tips, news, and resources for navigating safely on social networking sites. In addition, there is a discussion forum where users can discuss important issues and concerns with one another.
Get Net Wise
The resources on this website help parents educate themselves and their children about Online safety. Information is provided about filtering software and web sites considered safe for children and teens Check out this site to see their large online collection of instructional how-to video tutorials designed to show parents how to keep online experiences safe and secure. Instructional videos range from setting your search engine to filter pornography in its search results to activating your computer's security settings.
I Keep Safe. Org
This website provides educators and parents with tools and guidelines that promote safe internet use for children. Resources include videos, tutorials, lesson plans and educational materials (for family and educators), and information about some of the risks associated with children being online.
i-Safe.org
You can join this organization and learn more about Online safety. I-safe makes information especially for parents available by contacting its website. Founded in 1998, i-safe has been endorsed by the U.S.Congress and is a nonprofit whose purpose is to protect the online safety of youth.
NetSmartz Workshop
This website provides children and teenage users with age-appropriate, interactive activities to teach how to stay safer on the Internet. In addition, the website includes tools for parents and educators about teaching safety on social networking sites and the internet.
OnGuard Online: Stop, Think, Click
This site provides quick facts about social networking sites, a parent's guide and ways to help kids socialize safely online, and resources where parents can go for more information. It also includes information for parents about what to do if their child feels threatened by someone or uncomfortable with something going on online.
Parent Further: Online Safety
This site is provides parents and educators with information about how to "e-parent". The resources include information about teens and computers for parents.
Prevent Cyberbullying & Internet Harassment
This site includes resources for parents and children/teenagers about online harassment. This site describes what cyberbullying involves, people that are targeted, a description of cyberbullies, as well as resources about what to do when a teen is cyberbullied. In addition, there is a discussion forum where teens and/or parents can engage in discussions with others about cyberbullying.
The National Campaign for Teen Pregnancy Prevention
This site has recommendations for parents based on a survey it helped to conduct on the subject of sexting. This survey of teens revealed 20% of teens have sent electronically or posted online, nude or semi-nude pictures or video of themselves. The National Campaign offers tips for parents and for teens on sex and tech in both English and Spanish.
BACK TO TOP