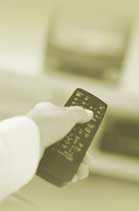 VIOLENCE ON TELEVISION
The following information is from "Merchandising Mayhem," part of a three-part study by the Center for Media and Public Affairs.
In broadcast television series, a total of 3,381 acts of violence were identified within 284 series episodes(broadcast, cable, and premium cable TV). Over half of these acts (1,754) could be described as serious violence. Fully 80 per cent of the total violence recorded in the study occurred on broadcast TV.
CBS had nearly five times as much violence in its programming (635 acts total) as the much-criticized Fox network (only 137 acts total).
Cable networks had noticeably less violence than did broadcast networks. The most violent cable network, USA, had the same number of acts (112 acts) as the least violent broadcast network, ABC (112 acts).
Among the most violent TV series were Walker, Texas Ranger (CBS) with 112 violent acts per episode, and HBO's Oz, with 76 violent acts per episode. Also particularly violent was Buffy the Vampire Slayer (59 acts per episode), which is featured on YTV and has a huge teen and preteen following.
In most TV series, the violence depicted shows no consequences. For example, no physical harm is depicted in 75% of series, no psychological trauma in 90%, and no judgment about the morality of the act in 87%. Positive and negative motives for violent actions were roughly equal (45 and 55 per cent, respectively). "Good guys" were slightly more likely than "bad guys" to be the instigators of violent activities (46 per cent vs. 41 per cent).
The total number of violent acts in the movies studied totaled 2,319, with about three-fifths of those qualifying as serious acts of violence. Overall, movies averaged about 46 violent acts per film.
The most violent film studied, WWII drama "Saving Private Ryan," accounted for 30 per cent of all the serious incidents noted in the study of movies. Of the films 275 violent acts, almost all were serious (262). However, it should be noted that the film's emphasis was on accurately depicting the atrocities of war. It was, by far, the most investigative and artistic film in the survey. By contrast, the next most violent film, at 147 acts, was The Mask of Zorro, based on a popular 1950's TV series, and aimed at a 'family' audience.
In 188 different music videos, 1785 separate acts of violence were depicted, nearly one-third of them being serious in nature. However, much of the violence observed was concentrated in relatively few videos. The ten most violent music videos accounted for half of all violence shown within the study sample. The Beastie Boys's "Body Movin'" was the most violent video, with 21 acts of violence.
---
VIOLENT CONTENT ON TELEVISION
In 1993, the National Cable Television Association (NCTA) funded a $3.5 million, three-year research study. The two universities studied the content of randomly sampled cable and network TV programming 17 hours per day, seven days each week for nine months (October through June) for three years. Beginning in June 1994, drama, comedy, movies, music videos, children's show, cartoons and reality programs (news magazines, documentaries, police shows and talk shows) were analyzed. Note: excluded from the study were news, sports and entertainment sports programs.
In 1996, the report concluded that:
57 percent of TV programs contained violence.
Perpetrators of violent acts go unpunished 73 percent of the time.
About 25 percent of violent acts involve handguns.
40 percent of all violence included humor.
Forty-seven percent of violent situations present no harm to the victims and 58 percent depict no pain.
Only 4 percent of violent programs show nonviolent alternatives to solve programs.
Premium movie channels such as Time Warner's HBO and Viacom's Showtime had the highest proportion (85 percent) of violent programming. The broadcast networks had a much lower percentage of violence (44 percent).
The typical preschooler who daily watches about two hours of cartoons will be exposed to 10,000 violent incidents per year, of which 500 are at high risk of modeling aggressive attitudes and behaviors.
Sources: American Academy of Pediatrics, http://www.netreach.net/~kaufman/children.html
---
For a wealth of violence-related facts, see the Child Trends Data Bank