Affiliate News

WCPC Affiliate Alexes Harris appeared on KING 5 to provide context around racial disparities in the criminal justices system and the protests following the grand jury decisions not to indict police officers in the deaths of Michael Brown and Eric Garner. Watch the interview here.
Poverty News
Poverty and Income Inequality Increase in Washington State
After holding steady for two years, new data from the US Census Bureau show that the poverty rate in Washington state rose from 13.5% to 14.1% between 2012 and 2013. The number of Washingtonians living in poverty also rose during that period, from 915,278 people to 967,282.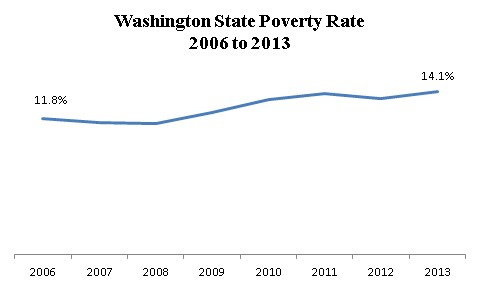 Most states saw no change in their poverty rates or numbers, but New Jersey and New Mexico joined Washington as the three states with increases in both poverty rates and the number of poor people.
The new data also show that median income in Washington ($58,405) was unchanged from the year before, although a measure of income inequality in the state increased.
"This increase in the poverty rate alongside higher income inequality shows that the economic recovery has not reached many low-income Washingtonians," said Jennifer Romich, WCPC director and associate professor of social work. "The poverty rate is an indicator of how well the most vulnerable do in our economy. The overall national picture suggests that economic growth is failing to reach everyone," Romich said. Read the full WCPC press release about the new income and poverty data here.
U.S. Poverty Rate drops slightly between 2012 and 2013 but the number of poor Americans holds steady at 45.3 million
According to a new U.S. Census Bureau report, the poverty rate has dropped for the first time since 2006. The overall poverty rate for 2013 was 14.5 percent, slightly lower than the 15 percent poverty estimate for 2012. Although the poverty rate has declined, it is still 2 percentage points higher than the poverty rate in the year before the Great Recession. The number of Americans estimated to be poor held steady between 2012 and 2013 at 45.3 million. Read the full report here.
New Research
Doing What's Right for the Baby: Parental Responses and Custodial Grandparents' Institutional Decision-Making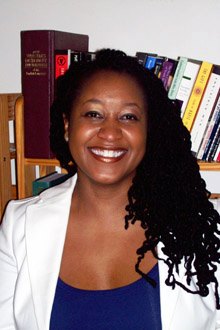 An increasing number of children are living with grandparents in skipped-generation households with no parent present for reasons including parental death, incarceration, and parental neglect or abuse. Black families are overrepresented among skipped-generation households. The majority of these arrangements are informal, with no state involvement, although other options like formal adoption or kinship foster care could provide caregivers with access to benefits and increase their legitimacy with respect to institutions with which they interact. WCPC Affiliate LaShawnDa Pittman and explored how parent reactions to child welfare threats experienced by their children shaped the type of care arrangement that caregivers sought.  Learn more here.