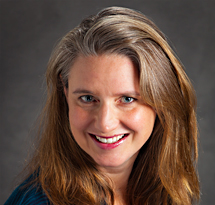 WCPC center director, Jennie Romich, speaks with KUOW about what 20 years of welfare reform has meant for Washington families. While there are less poor families currently on welfare than there were 20 years ago, the number of families living in deep poverty in Washington state has gone up dramatically. Romich states, "If the concern is the financial well-being of poor families, it has not been a success. Read the article HERE.
New Research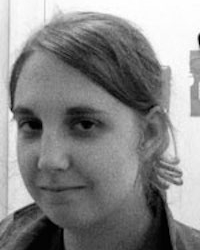 Efforts to reduce prison time for nonviolent offenders have met with mixed success. In addition to ideological opposition to more lenient sentences, observers have pointed to other factors that may be blocking criminal justice reforms. In the August 2016 FLASH, we feature research by WCPC Affiliate Rebecca Thorpe that examines the relationship between district-level perceived economic dependence on prison infrastructure and legislators' support or resistance to sentencing reform.  Learn what she found, including how the presence of prisons in rural areas was amoung the strongest predctors of support for more punitive policies  HERE.

There is growing recognition among researchers and policymakers that income instability, and particularly frequent fluctuations in income, may have negative consequences for children and for adolescents in particular. In the December 2015 Poverty Research Flash,  we feature research by WCPC Affiliate Heather Hill and colleagues Lisa Gennetian, Sharon Wolf, and Pamela Morris that examines the relationship between intra-year household economic instability and adolescent educational outcomes, such as engagement in school, expulsions, and suspensions. Learn what they found, including how the relationships between income instability and adolescent outcomes vary by income and race, HERE.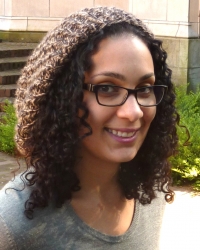 In addition to adverse consequences for individuals who are incarcerated, incarceration may negatively affect prisoners' children and their families, as well as their close friends and neighborhoods.  Using data from the 2006 General Social Survey, WCPC Affiliate Hedwig Lee and colleagues Tyler McCormick, Margaret T. Hicken, and Christopher Wildeman produce national estimates of the number and percentage of Black and White men and women aged 18 and older who have a family member, someone they trust, an acquaintance, or a neighbor in prison. Although rates of connectedness vary across the measures and types of ties the researchers examined, a pattern emerges in which Blacks are more likely to be connected to incarcerated individuals and to have a larger share of their social networks incarcerated relative to their White counterparts. For example, 44 percent of Black women and 32 percent of Black men reported having at least one family member in prison, compared with 12 percent of White women and 6 percent of White men. Read more HERE.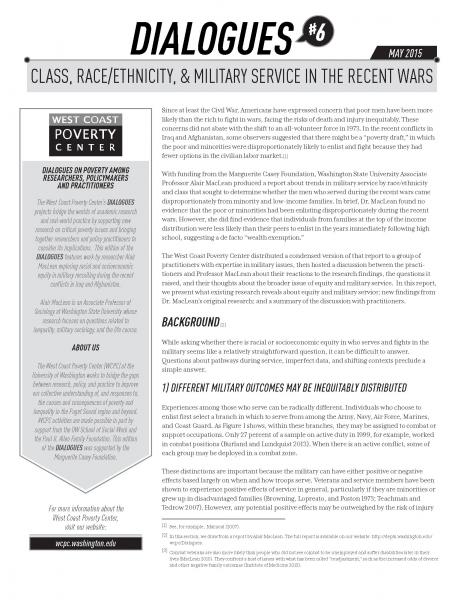 In this DIALOGUE, we explore the socioeconomics of recruitment and service in the military. We build on research by Washington State University Associate Professor Alair MacLean that asked whether the men who served during the recent wars in Iraq and Afghanistan came disproportionately from minority and low-income families. In brief, Dr. MacLean found no evidence that the poor or minorities had been enlisting disproportionately during the recent wars. However, she found that individuals from families at the top of the income distribution were less likely than their peers to enlist in the years immediately following high school, suggesting a de facto "wealth exemption." The WCPC invited five practitioners and policy experts to discuss Professor MacLean's work and its implications. The research findings resonated with these practitioners and stimulated further discussion about socioeconomic differences, race/ethnicity, and recruitment issues in the military. Read more about this dialogue here.
Affiliate News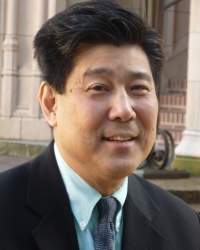 WCPC affiliate, Ross Matsueda, Blumstein-Jordan Professor of Sociology, CSSS faculty affiliate and founding CSSS associate director (1999-2006), has just been elected to the Washington State Academy of Sciences. This is the highest academic honor awarded in our state. Many congratulations to Ross!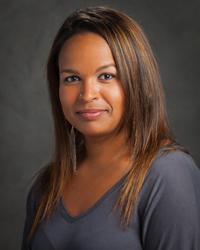 Research by former WCPC Social Policy Research Fellow Maria Rodriguez, a UW doctoral candidate, was recently featured in the Department of Housing and Urban Development's Region 10 newsletter, HUDlines. Rodriguez's work, as part of the recently-released Washington State Foreclosure Mapping Report, examines the 2008-2013 foreclosure crisis zip code by zip code in Washington State. Read about it here.
Poverty News
Poverty and Income Inequality Increase in Washington State
After holding steady for two years, new data from the US Census Bureau show that the poverty rate in Washington state rose from 13.5% to 14.1% between 2012 and 2013. The number of Washingtonians living in poverty also rose during that period, from 915,278 people to 967,282.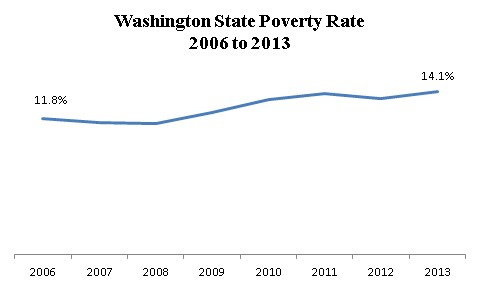 Most states saw no change in their poverty rates or numbers, but New Jersey and New Mexico joined Washington as the three states with increases in both poverty rates and the number of poor people.
The new data also show that median income in Washington ($58,405) was unchanged from the year before, although a measure of income inequality in the state increased.
"This increase in the poverty rate alongside higher income inequality shows that the economic recovery has not reached many low-income Washingtonians," said Jennifer Romich, WCPC director and associate professor of social work. "The poverty rate is an indicator of how well the most vulnerable do in our economy. The overall national picture suggests that economic growth is failing to reach everyone," Romich said. Read the full WCPC press release about the new income and poverty data here.