Invited Plenary Speakers
TUESDAY, March 26
Are We Ready? Hazard Resilience and What it Means for Working Waterfronts
Moderator:
Ron Sims, Former Deputy Secretary of U.S. Housing and Urban Development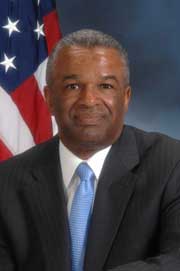 Appointed by President Obama and unanimously confirmed by the U.S. Senate, Ronald Sims served as the Deputy Secretary for the U.S. Department of Housing and Urban Development from 2009 to 2011. As the second most senior official at HUD, Sims managed the day-to-day operations of an agency with 8,500 employees and an operating budget of nearly $40 billion.

Prior to his appointment at HUD, Sims served for 12 years as the elected Executive of Martin Luther King, Jr. County in Washington State, the 13th largest county in the nation with 1.8 million residents and 39 cities including the cities of Seattle, Bellevue and Redmond.

As County Executive, Sims was nationally recognized for his work on the integration of environmental, social equity and public health policies that produced groundbreaking work on climate change, health care reform, affordable housing, mass transit, environmental protection, land use, and equity and social justice.

Sims was appointed in 2011 by Washington State Governor Chris Gregoire to serve on the Board of Regents of Washington State University. The board of regents is the
university's governing body. He was also appointed by Governor Gregoire to serve on the Puget Sound Leadership Council, a seven-member citizen group that governs the Puget Sound Partnership, a state agency coordinating with federal, state, local, tribal and private resources in restoring the ecological health of Washington state's largest estuary.

Born in Spokane, Washington, Sims is a graduate of Central Washington University.
PANELISTS:
Bill Needelman, AICP, Senior Planner, City of Portland, Maine
For the last 13 years, Bill Needelman has been a senior planner with the City of Portland, Maine. While with the City, he has worked with numerous waterfront-planning initiatives ranging from small development permits to neighborhood-scaled master plans. A significant percentage of Billís municipal planning career has concentrated on balancing working waterfront preservation with the realities created by struggling marine economies on a largely privately owned waterfront. Signature projects in Billís portfolio include the Eastern Waterfront Master Plan, infrastructure planning for Ocean Gateway international marine passenger terminal, redevelopment of the city-owned Maine State Pier, and recent mixed-use policy and zoning development for the Central Waterfront. Bill has a geology degree from Boston College and as a life-long Portlander, he and his family have deep roots in the City of Portland, its waterfront, and the islands of Casco Bay.
Eric Holdeman, Principal, Eric Holdeman & Associates
Eric Holdeman is the Principal for Eric Holdeman and Associates. His areas of expertise include building regional coalitions between agencies, governments, the private sector and non-profits. Disaster planning, regional planning, port security operations, Emergency Operations Center (EOC) design and construction, multi-media public education programs, Joint Information Center (JIC) formation and operations, media relations, social media, meeting facilitation and integration of technology into emergency management and homeland security programs are just a few of the areas in which he has extensive experience.
Eric has authored numerous articles for professional journals and opinion pieces for local, regional and national newspapers. He is a writer for Emergency Management Magazine where he contributes feature articles and also has a regular column, "Eric's Corner." An experienced and accomplished public speaker, he is sought after to present at national and regional conferences. Eric also blogs on emergency management and homeland security topics at www.disaster-zone.com which is nationally the most popular blog on emergency management.
Eric is a member and Past President of the Washington State Emergency Management Association (WSEMA). He is on the Advisory Council for the Center for Regional Disaster Resilience and the Pacific Northwest-Advanced National Seismic Safety Region Advisory Committee. Additionally, he serves on the Advisory Board for the University of Washington's Masters in Strategic Planning for Critical Infrastructures.
Steve Goldbeck, Chief Deputy Director, San Francisco Bay Conservation & Development Commission
Mr. Goldbeck is the Chief Deputy Director at the San Francisco Bay Conservation and Development Commission (BCDC). Mr. Goldbeck has twenty-seven years' experience at BCDC and has been overseeing the Commission's climate change and sea level rise response program for the last three years, including helping to prepare the coastal sector of the California State Adaptation Strategy. He served as the BCDC legislative coordinator for over a decade and was the Commission's lead staff member on dredging and sediment management issues for over 15 years.
State Senator Kevin Ranker, Washington State
Senator Kevin Ranker possesses an extensive and diverse background developing and advancing public policy, community development strategies and conservation initiatives both in the United States and internationally. For several years he has focused his expertise on the advancement of coastal and ocean policy with a particular emphasis on the combination of coastal economic development, energy policy and conservation. As a Washington State Senator, Kevin has advanced key legislation focused on climate, energy, coastal and marine management, transportation, agriculture and equal rights. Legislative highlights include the sponsorship and co-sponsorship of comprehensive marine management, oil spill response and preparedness efforts and landmark legislation making Washington the seventh state to recognize full marriage equality. Previous to the Senate, Kevin served as a San Juan County Commissioner and was a Senior Fellow at the Ocean Foundation. In 2011, he received a White House appointment to serve as an Advisor to President Obamaís National Ocean Council. He lives on Orcas Island with his wife and daughter while his son proudly serves in the U.S. Navy. Kevin is an avid runner, sailor, paddler, fisherman and surfer.
---
WEDNESDAY, March 27
What is the National Working Waterfront Network? (An introduction)

Natalie Springuel, Maine Sea Grant
Natalie Springuel is a marine extension associate with the University of Maine Sea Grant College Program, based at College of the Atlantic in Bar Harbor. Springuel's extension programs address working waterfronts and coastal access, maritime heritage, and sustainable tourism planning. She was the coordinator of the second National Working Waterfronts Symposium (2010) in Portland Maine, and is a co-founder of the National Working Waterfront Network. She has been active with Maine's Working Waterfront coalition since its inception, and is a lead author of the report "Access to the Waterfront, issues and solutions across the nation," and the website, "Accessing The Maine Coast, Everything you wanted to know about rights and responsibilities of accessing the Coast of Maine."
PANEL: Announcing a Sustainable Working Waterfront Toolkit, From Research to Implementation

Moderator:
Nick Battista, Marine Programs Director, Island Institute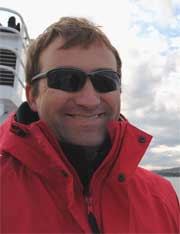 Nick Battista is the Marine Programs Director at the Island Institute in Rockland Maine. Nick oversees marine programs staff and Institute programming focused on working waterfront preservation; marketing and branding of ethically harvested groundfish, shrimp and lobsters; groundfish permit banking; building capacity of Maine fisheries organizations and businesses; fisheries mapping (Mapping Working Waters); offshore wind energy; and marine spatial planning. He works particularly closely with the Instituteís policy director on shaping relevant state and federal fisheries policy developments.
A native Mainer and graduate of Colby College, Nick also holds a law degree from the Roger Williams University of Law in Bristol, Rhode Island and a masterís degree in marine affairs from the University of Rhode Island in Kingston. He most recently served as legislative aide and field representative for marine, natural resources, energy, environment and taxes for Maine Congresswoman Chellie Pingree.
PANELISTS:
Jack Wiggin, Director, Urban Harbors Institute, University of Massachusetts Boston
Jack Wiggin is the director of the Urban Harbors Institute at the University of Massachusetts Boston where he is responsible for development and management of the Institute's research agenda and technical assistance projects on port and urban waterfront planning and decision making and ocean and coastal policy and management. Jack has 30 years of experience in government, the private sector, and academia developing and implementing coastal and marine policy, planning and management strategies at the national, state, and local levels of government in the US and abroad. He is an adjunct faculty member in the Environmental, Earth and Ocean Sciences Department teaching courses on planning and land use law. He serves on numerous coastal- and ocean-related advisory boards. He has a MS in Urban Studies and Planning and is a member of the American Institute of Certified Planners.
Bob Swett, Coordinator, Florida Sea Grant Boating and Waterway Planning Program
Dr. Bob Swett is an Associate Professor at the University of Florida and the Florida Sea Grant specialist on boating and waterway management issues within Floridaís Cooperative Extension Service. His programmatic mission is to build a comprehensive extension and research program that fosters responsible use and management of Floridaís waterways.
Lisa Ayers Lawrence, Marine Education Program Leader, Virginia Sea Grant Marine Extension Program
Lisa Ayers Lawrence is the Marine Education Program Leader for the Virginia Sea Grant Marine Extension Program at the Virginia Institute of Marine Science. Ms. Lawrence specializes in the development of educational resources to increase the coastal and ocean literacy of the K-12 community, seafood industry and consumers, and coastal and ocean stakeholders.
Stephanie Showalter Otts, Director, National Sea Grant Law Center
Stephanie Showalter Otts is the Director of the National Sea Grant Law Center and the Mississippi-Alabama Sea Grant Legal Program at the University of Mississippi School of Law. Stephanie received a B.A. in History from Penn State University and a joint J.D./Masters of Studies in Environmental Law from Vermont Law School. She is licensed to practice law in Pennsylvania and Mississippi. As Director, Stephanie oversees a variety of legal education, research, and outreach activities, including providing legal research services to Sea Grant constituents on ocean and coastal law issues. Her duties also include the supervision of law student research and writing projects and providing assistance to organizations and governmental agencies with interpretation of statutes, regulations, and case law. Stephanie also holds an adjunct position at the University of Mississippi School of Law teaching such courses as Ocean and Coastal Law, Natural Resources, and Wetlands Law and Regulation. Her research on natural resources, marine, and environmental law issues has been published in a variety of publications. Stephanie has conducted extensive research on marine and freshwater invasive species.
Hugh Cowperthwaite, Fisheries Project Director, Coastal Enterprises, Inc.
Hugh received a B.A. in Environmental Science & Policy Applied Ecology from the University of Southern Maine. Hugh's work with commercial fisheries began in high school working as a lobster boat sternman. At CEI, Hugh is responsible for CEI's Fisheries and Waterfront programs, which involve coordinating lending, business counseling and other technical assistance with commercial fishermen, shellfish growers and waterfront businesses that maintain commercial fishing access. He currently oversees a $6.75 million state bond funded program called the Working Waterfront Access Protection Program (www.wwapp.org/). Hugh currently serves on the Maine Technology Institute, Aquaculture and Marine Technology Board and was one of the founding members of the Maine Working Waterfront Coalition and the National Working Waterfront Network.
Kristen Grant, Marine Extension Associate with Maine Sea Grant and University of Maine Cooperative Extension
As Southern Maine Marine Extension Associate with Maine Sea Grant and University of Maine Cooperative Extension, Kristen has worked in that region of the state since 1999. The majority of Kristen's work focuses on the interactions between the people, the resources, and the ecosystems of the coast. Her work includes a range of activities to build the capacity of coastal communities to plan and adapt for their future, such as understanding erosion trends and planning for coastal hazards, addressing coastal access and waterfront development issues, and engaging community stakeholders. To this work, Kristen brings a Master of Science degree focused on Environmental Education, and has an extensive background in outreach education and community development.
---
THURSDAY, March 28
Plenary Session
National Political Landscape: What Now?

Jeffery Gabriel
Jeffrey S. Gabriel, Jr. is Legislative Counsel for the National Marine Manufacturers Association (NMMA), the nation's leading recreational marine industry trade association. He returned to NMMA in March 2009 to add an additional hand to the association during a time of great economic crisis and upheaval, particularly for the boating industry. After nearly two decades as a Government Relations professional he has gained a valuable perspective on the nature and process of our federal system of government, and how it affects to lives of citizens on a daily basis. Over the course of Jeff's career he has worked at a high capacity on Capitol Hill as well as in the private sector. He has worked as a close advisor to former Senator Arlen Specter (R-PA) in the mid 1990s and as Legislative Director for former Congressman Chris Carney (D-PA-10). In his present capacity as Legislative Counsel for the National Marine Manufacturers Association, Jeff manages a very active portfolio of issues that includes manufacturing, transportation, energy, environment, and trade policy. Jeff received his Bachelor of Arts in Political Science from La Salle University; a Master of Arts in International Affairs from the George Washington University; and a Juris Doctor from George Mason University. He is a member of the District of Columbia Bar.


PANEL: Challenges of Working Waterfronts Nationwide
Moderator: Dick Vortmann, National Sea Grant Advisory Board, former President National Steel and Shipbuilding Company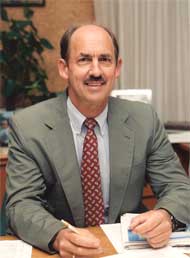 Richard H. Vortmann retired after a 30-year career with National Steel and Shipbuilding Company (NASSCO) based in San Diego, California (a 5,000 employee, $1 billion company) where he served as President for 22 years. He also retired after six years as Vice President of General Dynamics Corporation (GD). He most recently completed an assignment as Interim President and CEO of the San Diego Regional Chamber of Commerce. Vortmann recently completed a 7-year term on the Board (including 2 years as Chairman) of Scripps Health, a $2 billion San Diego hospital system; Vortmann is a member of the Dept. of Commerce Sea Grant College Advisory Board, and a Member of Council, American Bureau of Shipping. Previously he served as Chairman of both the American Shipbuilders Association and the Shipbuilders Council of America, and Vice Chairman of the National Academies of Science Marine Board.
Vortmann was born in San Francisco, California. He earned a Bachelorís degree in finance in 1966 and an MBA in 1967 from the University of California, Berkeley, where he also played basketball. He taught on the Business School faculty of his alma mater from 1967 to 1969 while doing postgraduate work before entering private industry.
PANELISTS:
Peter Philips, President, Philips Publishing Group
Peter is president of Philips Publishing Group, publishers of trade and consumer magazines for the maritime, fishing and tourism industries. Titles in the Trade Group include Pacific Maritime Magazine, aimed at West Coast commercial vessel and terminal operators; The Fishermen's News, the oldest commercial fishing publication on the Pacific Coast; and Foghorn, the official publication of the national Passenger Vessel Association.
Peter currently serves as president of the Seattle Marine Business Coalition, which represents the interests of Seattle marine industrial land users, and is a past president of the Port of Seattle Chapter of the National Propeller Club, and past president of the French American Chamber of Commerce. He is a fourth generation Seattleite with a BA in History from Whitman College, and has been employed in the publishing field since 1985. He is married to Denise with a daughter, Camille.
Ryck Lydecker, Assistant Vice President for Government Affairs, BOATUS
Ryck Lydecker is Assistant Vice President for Government Affairs for the Boat Owners Association of The United States, the nation's largest recreational boater organization (520,000 members) and Associate Editor of Boat/U.S. Magazine. He has represented recreational boating on the Sport Fishing and Boating Partnership Council (U.S. Dept of the Interior) since 2000 and also serves on the Atlantic Intracoastal Waterway Association BOD. He is a member of the National Sea Scouting Committee, the external advisory committee of Virginia Sea Grant and has held positions in public affairs with the University of Minnesota Sea Grant Program and NOAA.
Bill Dewey, Taylor Shellfish, Manager of Public Policy and Communications
Bill Dewey has worked for over thirty years as a shellfish farmer in Washington State. He is Manager of Public Policy and Communications for Taylor Shellfish Company, the largest producer of farmed shellfish in the country, and owns and operates his own manila clam farm in Samish Bay. Bill has taken an active role throughout his career on public policy matters affecting the shellfish farming community.
Rob Snyder, President-Elect, Island Institute, Maine
Rob is responsible for working with island and remote coastal leaders to identify innovative approaches to community sustainability. In addition, he works with the Institute's energy, fisheries, education, community service, publications, and economic development staff to structure responses to emerging challenges faced by these communities along the coast. Rob's background is in cultural anthropology and his research focuses on informal science education, science technology and society, and the cultural politics of natural resource management. He has conducted research on these topics in Maine; the Rocky Mountain States; Quepos, Costa Rica; and Yunnan, China.
---
Questions? Contact:
Ms. Syd Fredrickson
Conference Coordinator
UW Conference Management
206-543-1537
wwater13@u.washington.edu