CoSSaR
September 27, 2017
CoSSaR Researcher Scott Miles to Participate in Mexico Earthquake Reconnaissance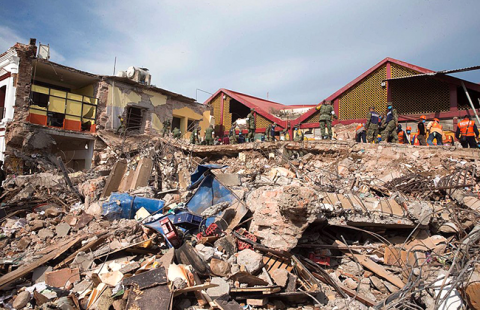 Dr. Scott Miles, who was recently quoted in the Seattle Times for his work with Washington's Seismic Safety Committee will be leading a reconnaissance research team to Mexico from October 1 – 10, 2017. Sponsored by the Earthquake Engineering Research Institute's Learning from Earthquakes Program, Dr. Miles, two seismologists, and a sociologist will study the roles, impacts, and experiences associated with Mexico's earthquake early warning system after the recent earthquakes.
Dr. Miles and his team will be conducting research in Mexico City and Oaxaca city. Mexico City experienced both major earthquakes, has the highest population of any city in Mexico, and has the highest density of warning sirens. Because of the city's size, it is also likely to have the most users of the warning system's smartphone app. As the capital city, Mexico City is also the location of major agencies, such as the national civil defense agency. In contrast, Oaxaca has less bureaucratic support, a different demographic and cultural context, and a lower density of warning sirens–and it was the most heavily impacted city by the first major earthquake.
The team members will be conducting exploratory research to better understand the human, social, political, and technical roles and responses that occur after the triggering of Mexico's earthquake early warning system. They will begin their field work in Mexico City on October 2, and travel to Oaxaca on October 6.
Photo by Presidencia de la República Mexicana (Visita a zona de Oaxaca afectada por sismo) [CC BY 2.0 (http://creativecommons.org/licenses/by/2.0)], via Wikimedia Commons