On January 29, 1994 the Harry Bridges Center for Labor Studies brought together ILWU veterans, Pacific Northwestern activists, and academics to honor and remember the legacy of Harry Bridges and the tradition of dissent he inspired on the waterfront.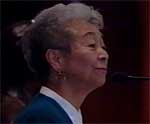 In the words of past Harry Bridges Chair David Olson, Nikki Bridges is the "keeper of the flame, constantly rekindling our understanding of who Harry was and what he stood for, and why he has such a remarkable hold on the loyalty of those who knew him best and those of us who only knew him from a distance."
Nikki Bridges was born Noriko Sawada in 1923 in Gardena, California. During World War II, Sawada and her family were forced to spend three years in an Arizona interment camp for Japanese Americans on the West Coast. After her release, she became active in labor and civil rights issues.
Sawada met Harry Bridges in Nevada in 1958 and the couple decided to marry soon after, forcing the state of Nevada to overturn a law against interracial marriage. For the next thirty years, both Nikki and Harry committed themselves to the labor movement, civil rights, and economic justice. During these years, Nikki also pursued a writing career and was published in Harpers and Ms. Magazine. After Harry's death in 1988, Nikki remained active in economic justice and civil rights issues, and keeping the memory of her late husband alive. In 1992 she helped endow the Harry Bridges chair at the University of Washington. Nikki Bridges passed away in February 2003.