On January 29, 1994 the Harry Bridges Center for Labor Studies brought together ILWU veterans, Pacific Northwestern activists, and academics to honor and remember the legacy of Harry Bridges and the tradition of dissent he inspired on the waterfront.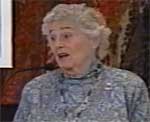 For thirty years Jean Gundlach served as the administrative assistant of the ILWU Coast Committee. In practical terms this meant that she worked day-in and day-out with Harry Bridges.
Gundlach was born in Missouri and moved to Seattle in the 1940s. In 1946 she began work as secretary of the Committee for Maritime Unity, and later worked for the United Fisherman and Allied Workers of America (UFAWA). When the UFAWA merged with the ILWU in the 1960s, Gundlach went to work for the ILWU and Harry Bridges.
Throughout her life, Gundlach has been devoted to progressive causes, working with migrant farm workers in the 1950s and even leading a "walk out" when Harry and the ILWU titled officers did not treat staff as they should. In the 1990s Gundlach was instrumental in forcing then-UW president William Gerdberding to issue a formal apology to the victims of the Canwell Committee trials. In 1992 she was a central in the creation of the Harry Bridges Chair in Labor Studies and in 2008 she was awarded the Harry Bridges Center for Labor Studies' Robert Duggan Distinguished Supporter of Labor Studies Award. Jean passed away December 11, 2009.
Here she shares memories of her work with Harry Bridges. (4 minutes)