On January 29, 1994 the Harry Bridges Center for Labor Studies brought together ILWU veterans, Pacific Northwestern activists, and academics to honor and remember the legacy of Harry Bridges and the tradition of dissent he inspired on the waterfront.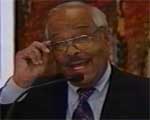 Jack Tanner was a dedicated civil rights activist, constant supporter of the ILWU, and the first African-American in the Pacific Northwest to serve on the federal bench. Tanner was born in Tacoma in 1919 and served in the Army during World War II. After returning from the Pacific theater, Tanner attended the University of Puget Sound and later the University of Washington's School of Law. In law school Tanner joined the NAACP and served as its regional director from 1957 to 1965 and was later appointed to the organization's national board. A dedicated civil rights attorney, Tanner not only represented African Americans but also Native Americans in their struggles to enforce treaty rights. In 1966, he became the first African American candidate for Washington State governor. In 1978, Tanner was appointed to the 9 th Circuit Court and in 1992 he was elevated to senior court judge. Tanner remained on the bench until his death in 2006.
But before he rose to prominence as judge, a crusader for civil rights, and a dedicated activist, Tanner worked on Tacoma's docks as a member of the ILWU. In this talk Tanner discusses Harry Bridges and the ILWU's tradition of interracial unionism.