Timing
This page lists a number of scenarios as to how all of these lessons might be laid out in a real class situation. We will include estimated time needed for each lesson. Our web site is meant to complement existing curricula and resource materials.
Scenario I
Beginning of Year:
Drawing Lab - Drawing is an essential part of biology and a skill that will be useful throughout the year. Start the period with a short drawing exercise, once a week, to develop and maintain this skill. One period.
Brooders Vs. Spawners - Different life forms use different reproductive strategies. Include this lesson with your relevant lessons on ecology. One to two periods.
Cell and Development Unit:
Microscope - This lesson will reinforce introductory lessons you have done with the microscope. One period.
Size Under The Microscope - This lesson provides a structured approach to measurement of microorganisms. One period.
Mixing The Gene Pool - Why is sexual reproduction an advantage? This lesson complements lessons on genetics. One to two periods.
Dilution Labs - These are intended to teach the essential skills of making and using linear and serial dilutions for mixing reagents and diluting sperm for experiments. Three periods.
Students will need some understanding of mitosis and meiosis before proceeding to the Primary Labs.
Primary Labs: all use sea urchin gametes
These lessons are often followed by additional lessons on development and reproduction. A survey of contrasting adaptations from asexual reproduction to human reproduction is recommended.
For students wishing to do work on their own time or a longer term project, look at the Extended Research ideas.
Scenario II – sample high school syllabus
This sample syllabus is provided by our mentor teacher, Pam Miller, who teaches at Seaside High School. A typical class consists of 30 students from very divergent backgrounds: culturally, ethnically and ability wise.
Note that the unit plan does not use every lesson plan we designed. The support lessons may or may not be needed by your students. Selection of lessons will depend on prior knowledge and skills.
Pam Miller's Outline for Developmental Biology Unit of Biology II
Prior Units:
Science & the Scientists - an historical perspective/ the development of scientific thought.
The Dynamic Cell - chemistry, structure, function, & cell cycles
Genetics - traditional Mendelian genetics, molecular genetics, human genetics
Developmental Biology / Sea Urchin Labs:
Background Reading - "Reproduction & Development", Nature of Life
Film: Developmental Biology
Video Segment - "Reproduction in the Rocky Shore", from Monterey Bay Aquarium video
Student Brainstorming Questions - "What do you want to know about developmental biology?"
Introduction to the Stages of Development:
Brief lecture/illustrations on overhead projector
Prepared slides of urchin, frog, & chicken development
----unfertilized eggs
----early cleavage
----blastula
----gastrula
----pluteus of urchin
----in frog & chicken - neurula
Laserdisk Views of Urchin, Frog Development
Stills & videos
Laboratory Activities
Fertilization of sea urchin eggs
Review lab procedures & assign responsibilities
Inject urchins, harvest egg & sperm
View eggs & sperm as a class using video microscope
Individual viewing of eggs, sperm & fertilization
Collect fertilized eggs, aerate & view throughout next week, recording & drawing stages to document
Experiments - variables in development
Film: The Search for the Organizer, experiments of Spemann, Gurdon
Medaka Egg Development
The seasons, length of day, and reproduction cycles
Stage of development
Variable in development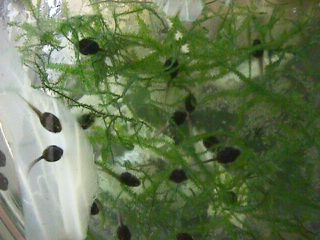 In Vitro Fertilization of Frog Eggs:
Review lab procedures & assign responsibilities
Inject frogs, dissect male frogs, prepare sperm suspension
Harvest eggs
View eggs & sperm as a class using video microscope
Individual viewing of eggs, sperm and fertilization
Collect fert. eggs, aerate & view throughout next week, recording & drawing stages to document.
Variables & experimentation
Presentation Material:
David Epel's Articles - present as partners
Classic Article Gurdon - "Transplanted Nuclei and Cell Differentiation"
Video - reading & analysis questions
Human Development

Male/female hormones & development - biofeedback
Film: Hormones
Oogenesis & spermatogenesis
Slide program - Human Conception & Early Embryology
3 germ layers & development
Stages of human development and birth
Film: Miracle of Life
The placenta & its function

Fetal Circulation & Changes in the Heart at Birth
Steroids
Lab - dog/cat uterus & fetal development, visiting veterinarian
Analysis of Fetal Health
In Vitro Fertilization & Ethical Issues
Article - "Sons & Daughters", jigsaw presentations & discussion
Metamorphosis
Control of Development - recent research, jigsaw articles, Internet abstracts
Aging & Death
Plants:
Asexual Development
Sexual Development Flower Lab
Algae Lab
Monterey Bay Aquarium Field Trip