UW-AAUP urges National Human Rights Council intervention on behalf of UW doctoral student Waleed K. Salem
7 September, 2022
The UW Chapter of the AAUP wrote to the National Human Rights Council on behalf of Waleed K Salem, a doctoral student in Political Science at the University of Washington in Seattle, who was arrested on baseless charges in May 2018 while conducting field work for his doctoral dissertation on the Egyptian judiciary.  Released from Tora prison after seven months of detention, he has remained incarcerated in Egypt.  He has twice been barred from boarding a plane to the U.S. (in May 2020 and May 2021), and on the second attempt his passport was confiscated.  He remains unable to pursue his academic work, complete his doctorate, or to reunite with his fourteen-year-old daughter, whom he has not seen in person in more than four years. 
See the full letter here. 
AAUP proposed Class C Resolution on Faculty Conduct/Grievance/Restorative Justice Legislation at the University of Washington
14 May, 2022.
WHEREAS, the University administration has abused and possibly wielded illegally the current Faculty Code, especially Section 25-71, in cases concerning faculty conduct, bringing grievous harm to dozens of UW faculty in recent years;
Whereas University administration revised Faculty Code and curtailed processes for faculty to challenge allegations of misconduct and pursue grievances. This act was censured by the full Faculty Senate, which passed a (nonbinding) Class C Resolution rejecting the changes (Concerning faculty disciplinary and dispute resolution processes, passed May 14, 2020).
WHEREAS, the UW administration cannot produce a comprehensive or ordered list of faculty who have had 25-71 charges brought against them, having delegated the matter to individual units without any centralized analysis;
WHEREAS, the current process of bringing charges against faculty members fails to define "harm," which is determined at the discretion of administrators, does not mandate a has no fact finding process, element, and confuses the charge of wrong-doing with the demonstration of assumes guilt;
WHEREAS, a better approach to resolving inter-faculty and faculty-administration conflicts would be to employ a restorative and transformative justice approach;
WHEREAS, a restorative and transformative justice approach to resolving such conflicts would entail [some brief description of key elements] a process overseen overseen by trained facilitators, not themselves a party to the conflict, which addresses whether a harm was committed, by whom, and what forms of redress are sought;
WHEREAS, the Faculty Senate-led task force has developed a proposal on Faculty Discipline and Dispute Resolution that improves upon existing code but does not further the greater goal of restorative and transformative justice;
Therefore, BE IT RESOLVED, the Faculty Senate should set aside the [NAME OF THE PREVIOUS TASK FORCE PROCESS] and initiate a task force to develop a conflict resolution process based on restorative and transformative justice. This task force should comprise representatives from across the three campuses and include individuals who have been harmed by current practices.
---
AAUP statement on Class A Senate resolution on faculty contributions to equity and inclusion
Posted to AAUP-UW Listserver on April 15, 2022
Dear Colleagues,
Recently, Cliff Mass posted to this list a petition, which alleges that the proposed Class A legislation mandating Diversity, Equity, and Inclusion statements as part of the promotion process violates academic freedom. Since Professor Mass's petition cites AAUP principles, the Executive Board of the UW-AAUP chapter wishes to make crystal clear that we strongly disagree with the analysis of the legislation offered in the petition. We do not believe that the proposed Class A legislation in any way compromises academic freedom and unequivocally support its passage.
At the level of institutional values, "diversity, equity, and inclusion" strike us as fundamentally aligned with the principles of academic freedom. We assume we can agree that mono-cultural institutions with no stated commitment to the equitable and inclusive treatment of under-represented faculty are far more likely to violate principles of academic freedom than institutions which value faculty diversity.
In terms of the proposed legislation itself (thank you to Emily Bender for asking and to Abie Flaxman for sharing the actual language), we find no merit to the claim that the proposed legislation imposes a political litmus test. The requirement to describe one's contributions to DEI at UW is no more "compelled speech" than (for example) the requirement to describe one's contribution to student learning and engagement in one's teaching statement. Faculty remain at liberty to define in their own terms what DEI means for their teaching, mentoring, research, as well as institutional and professional service. What the legislation compels all of us to do is think about what these values mean for us, which seems altogether appropriate (if not long overdue) in the current historical moment.
There are certainly some questions that this new legislation raises, which tie to much larger, structural concerns: Will the actual promotion or merit pay decisions at the unit level reward DEI work? Currently, we are asked to demonstrate "merit" on an annual basis in order to achieve 2% salary increments that lag behind the cost of living (or in other words, year by year, the salaries of "meritorious" faculty take a hit). We are also in a spiral of faculty workload escalation, in which the absence of adequate resources to support such things as student mental health, student access, new modalities of hybrid teaching, and, yes, diversity, equity, and inclusion means that the work of addressing these vital concerns is simply off-loaded onto individual units and faculty, producing what have become truly alarming levels of burnout. These are serious concerns on which UW-AAUP will continue to focus its attention. However, we stress that the issue is not whether to embrace the values of diversity, equity, and inclusion, but to ensure that we have the means to support and reward this work.
Respectfully,
The UW-AAUP Executive Board
Eva Cherniavsky
---
AAUP statement on donor attempt to impose faculty support for Israel as a condition of her endowment for Israeli Studies Program
March 11, 2022
Dear President Cauce,

Not quite a week ago, several of us on the UW-AAUP Executive Board were astonished to receive a barrage of email from colleagues at other institutions across the U.S. These messages expressed concern and dismay at the news that UW had returned to the donor, Becky Benaroya, the endowment that, since 2016, has supported the UW's Israel Studies Program. As a result, the program's director, Liora Halperin, was stripped of her chaired position and the program itself was essentially stripped of funding.
We believe chapter 26 of the Faculty Code requires that appropriate faculty governance bodies review any decision to eliminate or reorganize a program. It is our understanding that representatives of the organization Stand with Us Israel (a political advocacy group with no ties to or standing within the university) were involved in the discussion of the decision to return to the endowment, and even invited into negotiations about the matter. However, it would appear that faculty governance bodies were not consulted.
Moreover, the facts of the case raise serious concerns about the violation of Professor Halperin's academic freedom and, indeed, of the crucial principle that academic programs are not beholden to the ideological positions of university donors.
show more
Here are the facts as we understand them: In 2016, Seattle philanthropist Becky Benaroya donated five million dollars to the UW to create an Israel Studies Program that would be housed within the UW's already highly reputed Stroum Center for Jewish Studies. The UW provided a 2.5 million dollar match. This endowment supported the creation of the Jack and Rebecca Benaroya endowed chair in Israel Studies, to which Professor Halperin was recruited in 2017, and provided funds for vibrant public programming. In addition, endowment revenue was used to hire a part-time staff person, provide graduate student support, create a post-doctoral position, and support the training of undergraduate students in Hebrew.
In May 2021 Professor Halperin (as well as several other faculty at UW), signed a letter along with several hundred Jewish Studies and Israel Studies scholars nation-wide, condemning the renewed Israeli bombardment of Gaza, the evictions of Palestinians from their homes in East Jerusalem, and other ongoing acts of state violence. The content of this public letter did not accord with Ms. Benaroya's views and, as a result, Professor Halperin was summoned to a series of meetings to discuss the direction of the program. Reporting in the publication Jewish Telegraphic Agency suggests that the donor was also unhappy with the use of the term "Israel/Palestine" in course descriptions and other program materials – a term (and a concept) widely employed within scholarly work on modern Israel.
It bears emphasis that nothing in the terms of the endowment stipulated that the program (or its faculty) were committed to the support of Israeli state policy – and of course, the endowment agreement could not legally have done so. As the JTA article notes, "the endowment language instructs the program 'to promote the study of Israel through multiple disciplinary perspectives' and 'to integrate the study of Israel into a global context, highlighting the comparative and international relevance of Israel in the Middle East and beyond.'" The program unquestionably met this mandate – indeed, no one would seem to be disputing this point.
Inasmuch as the terms of the agreement were met, we can see no grounds for the donor's intervention in the Israel Studies curriculum, its programming, or in Professor Halperin's statements of conscience on Israeli state policy, and we are simply astounded and alarmed that Professor Halperin would have been summoned to what amount to disciplinary meetings with the donor's ideological partner (Stand With Us).
Still more alarming is what ensued – an event that to the best of our knowledge is without precedent at this institution: Although the terms of the endowment had been honored and, in fact, under Professor Halperin's able and innovative direction, the Israel Studies program had flourished, you made the decision, on behalf of the UW, to return the endowment to the donor without a concomitant agreement to make the program whole with institutional or other donor resources.
The effect of this decision is plainly punitive: Professor Halperin loses her chair and (after a period of three years) will lose her research funding; the funding for the Israel studies program is gutted and while it may perhaps continue to exist on paper, in the absence of actual resources, the students it supported financially and the faculty it supported intellectually are arbitrarily stripped of what the program afforded, and indeed stripped of the confidence in a collaborative endeavor that accrues when one knows that resources are not contingent from year to year. In this context, it is especially disturbing to hear that the return of the endowment has been described to Professor Halperin as an effort to protect her from outside interference in her work. Had the UW opted to fund the program by other means, such a rationale might have some credibility. But something is seriously amiss at the UW if we are now "protecting" donor-supported researchers and programs by defunding them.
In an open letter in support of Professor Halperin now accumulating signatures from faculty across the country, the authors write:

The right to free expression is the foundation of the modern university. But the actions of the University of Washington administration in response to donor discontent over the letter Prof. Halperin signed marks a dangerous capitulation and violation of that bedrock principle. Ideas generated within the academy—and by academics outside of the university–may break with received patterns of thought. That kind of iconoclasm is not to be discouraged or penalized; it is a key part of the advancement of knowledge for the betterment of society.
We can hardly put the case better than that. In this context, then, we write to request an explanation.

As all terms of the endowment were met, we ask on what grounds was this wholly exceptional decision made to return the endowment?

Why were outside political and ideological organizations invited into the conversations?

Once the decision was made to return the endowment, was the UW concerned to honor the commitments made to Professor Halperin, to the students in the program, and to the program's other constituents and therefore to support their work by other means? And if so, why have these commitments not been honored?

Was there any consultation with appropriate faculty governance bodies in this decision to effectively terminate a program?

We acknowledge the increasingly bold and intrusive power of donors in the era of insufficient public support for higher education. Nonetheless, this decision will undoubtedly prove highly damaging to the University of Washington's academic reputation, marking us an institution where ideologically-driven donors can first create academic units to suit their interests, and then withdraw funding from such units when the faculty fail to jump to their demands. This was a highly ill-advised set of decisions, and the AAUP urges an immediate review and reconsideration of the entire matter.
---
show less
---
A win! Faculty Regent will be added to the UW Board of Regents
March 11, 2022
The AAUP and UW Faculty Forward worked for several years to advance legislation to establish a seat for UW Faculty on our Board of Regents. Finally, the 2022 Washington State Legislature adopted legislature adopted HB 1051, with the following provisions:
· Governor appoints a faculty member to the board of regents at the research universities (UW and WSU, presumably), with the approval of the State Senate.
· Governor will choose a faculty member from a list of 2-5 candidates provided by the Faculty Senate
· Board of Regents expands from 10 to 11 with the addition of a full-time or emeritus faculty member six members is a quorum)
· Faculty member shall hold a 6-year term
· Faculty member may not vote on hiring, discipline or tenure of specific faculty members
There is no treatment of how the faculty member, if they are working full time as faculty, would cover the cost of their time.
---
UW AAUP Executive Board commentary on the proposed revisions to the UW's Faculty Code on faculty discipline and grievance policies
March 11, 2022
Rehistoricizing the Background
The current draft of the UW Faculty Disciplinary Taskforce neglects to mention events critical to fully understanding a key motivator for the faculty code revision process now underway. Under the guise of "house-keeping," UW administrators, including the President, improperly tampered with the UW Faculty Code (and, thus, state law) without involving official shared government structures, including the SEC and the full Senate. These revisions curtailed processes for faculty to challenge allegations of misconduct and pursue grievances. This act was censured by the full Faculty Senate, which passed a (nonbinding) Class C Resolution rejecting the changes (Concerning faculty disciplinary and dispute resolution processes, passed May 14, 2020). This led to a faculty-led process to recommend comprehensive revisions to the faculty code in relation to faculty grievances, allegations of misconduct and interpersonal conflict.
show more
Uprooting Hierarchies of Harm and Punishment
The Faculty Disciplinary Task Force has worked diligently for nearly two years to achieve five key objectives: 1) separate the faculty grievance process from the faculty misconduct process and establish separate kinds of sanctions and structures; 2) clarify transitions between procedural steps and stages of each protocol; 3) outline clear structures and actions within each protocol; 4) identify decision-makers at each stage of each protocol; and 5) create mechanisms to engage in continuous improvement of processes and policies while implementing the protocol outlined in the faculty code through mechanisms of feedback and evaluation of outcomes for consistency and fairness.
On careful review, the AAUP Executive Board finds embedded at the heart of both the original and revised chapters of the Faculty Code, six core contradictions that undermine Senate objectives, and prevent proposed changes from truly protecting faculty from present or future harm and restoring affinity when it has been broken by conflict and unaddressed grievances. Rather, we assert that a complete reframing of the endeavor is needed, a reframing which will facilitate addressing, undoing and even preventing some of the harm built into the title of the task force and the current approach itself.
Throughout the Code, the definitions of "University rules and regulations", and definitions of "faculty misconduct", "wrong-doing" and "seriousness" of both, are vague, subjective or absent altogether, yet these concepts are assumed to have shared meaning across all sites and actors, and to be accurately and evenly deployed, especially by administrators, to initiate, implement and escalate processes of evaluation and sanction. This makes inconsistent and capricious any evaluation or assessment of allegations, or pursuit of sanctions for allegations, for conduct that has "broken University rules or regulations" (25-51), is "repeated or escalating" or, "as alleged, negatively impacts the work or academic environment" (28-56A 71-21: 871-1). We believe the proposed (and existing) language risks the perpetuation of deep structural and institutional inequities along all axes of devalued difference, regardless of intentions.
This vacuum of clarity leaves the process open for weaponization by those with power over others as a form of control, harm and retaliation based on the consolidation and production of domination, pleasure in some cases, community, prestige, self-worth and self-promotion through control and punishment.
Meanwhile, the list of "grievances" that faculty can bring forward regarding harmful treatment by administrative policies, and the actions and inactions of non-faculty administrative actors, is very prescriptive and narrowly defined. The language throughout the proposed changes is biased towards administrative and management perspectives, and is not open to faculty experience or autonomy to define harm. The protocol for controlling faculty grievance options does not make adequate space for addressing harm to faculty by professional staff administrators or Unit faculty administrators (such as department chairs) who are also a source of harm to faculty.
While what is labeled "faculty-conduct-" related procedures has now been separated from "faculty grievance processes," this separation tends to overlook the interconnections between them: after all, an important category of grievance involves faculty who have been wrongly and harmfully charged with "misconduct" by faculty administrators abusing their power.
The overarching umbrella of faculty safety and harm, moving in whichever direction it is being alleged, is the umbrella under which misconduct, grievances and interpersonal conflict all fall. We call for a new, overarching framework to hold these related and often overlapping processes[st4] . Through such a framework we can imagine a restorative and transformative justice approach to all breaches of safety, loss of affinity and experiences of harm and conflict related to faculty at UW.
Despite the existence of "faculty panels", and the role of Conciliators and Conciliator Boards in "University Alternative Dispute Resolution Resources" (27-42 D), both ultimately serve at the behest of the administration who can assign and remove conciliators without any clear set of reasons or faculty or conciliator recourse. Administrative decision-makers continue to wield decision-making power in and control over most, and especially major sanctioning stages of both processes.
There is a missing, critical first stage before any informal or formal processes are engendered by an allegation of harm or conflict, that leads immediately to a restorative and transformative process to evaluate the nature of the allegations, which themselves may be a mechanism and site of harm to faculty. Instead, Unit Level review processes, the level where a large percentage of faculty claims and counterclaims of harm/conflict are part of each protocol, are currently the first step of dealing with making reports and allegations, processes which may, themselves, be the site of faculty conflict and harm. Therefore, the Unit, whether department, program or Dean's level, may need to recuse themselves or be removed in the presence of other resources for establishing the legitimacy of any allegation of harm/conflict/grievance. Another step for reporting and reviewing allegations must be available to all faculty.
The current "grievance" and "conduct" processes facilitate and focus on the escalation of imposing sanction in the case of misconduct procedures. Simultaneously, both processes facilitate and focus escalation of avoiding sanction of the institution and its administrators for harm they perpetrate on faculty. This observation can be widened to include the orientation of the current UCIRO and Ombud's Office towards protection of administrative interests at the expense of faculty, and whose ultimate objectives seem to be geared to avoidance of legal suit against the institutional and not faculty protection, restoration, reconciliation, repair or transformation in the face of and aftermath of institutional and interpersonal harm and conflict.
In the current moment of reckoning with, analysis and critique of the US prison industrial complex and carceral injustice system, we are called to build new systems of community safety for the survival and thriving of all people. This system must be based on "radical freedom, mutual accountability, and passionate reciprocity" instead of dehumanization, isolation, punishment and disposability. In order to achieve this goal, it is crucial to challenge not only existing, but new and emerging forms of domination, discipline and escalation of punishment, and to take up new tools and approaches that center de-escalation, reconciliation, restoration, reparation and transformation. At this moment, by revisioning the Faculty Code we have such an opportunity.
Reframing for Processes Faculty Equity and Justice
The following framework institutionalizes an equity-based framework of restorative and transformative justice for addressing faculty conflict and harm. This framework is centered on creating and sustaining an environment at UW of academic freedom that is race, gender, class and disability accessible, equitable, just, safe and welcoming for all faculty in all their endeavors, including research, teaching, learning and service. It acknowledges as foundational that claims and experiences of, and responses to conflict and harm, emerge in historically patterned ways. These patterns are perpetuated by new and longstanding institutional practices of social hierarchy and affect members of a community in uneven and inequitable ways.
Therefore, this approach seeks to address the structural and systemic issues underlying faculty conflict and harm that arise in relationships and communities at UW with a commitment to transforming them – Transformative Justice (TJ). A Transformative Justice approach to conflict and harm necessitates committing to the institutionalization of expert resources and to the exhaustive pursuit of restorative justice for those who experience harm, cause harm, and the communities affected by the identified harm and conflict. Restorative Justice (RJ) is a term that includes a broad range of approaches, activities and applications, but all of which have at the core, commitment to bringing together those who have been harmed with those who have done harm in the presence of community members affected by the conflict and committed to accountability, to see if there can be a mutual process of accountability, reconciliation, restoration and reparation, but minimally accountability and reparation, even when reconciliation and restoration are elusive or impossible.
Through truth-telling and listening to understand and contextualize, restorative justice sessions can: 1) surface remorse, empathy, responsibility, accountability as well as the structures of inequity that condition them; 2) enable interactions that tend to the wounds of the wounded and begin healing processes for what can be healed; 3) inspire imaginative proposals for restoration of what has been lost and repair for what has been damaged; and 4) whenever possible, facilitate wounded and wounders working together to build bridges that create conditions to prevent future harm.
This last step in the work that seeks to transform conditions that led to conflict and harm and co-create means for equity, dignity, justice and collective action, rather than restoring oppressive, inequitable conditions to what they were before the harm, is what is increasingly called Transformative Justice (TJ).
Growing Affinity
Given the above framing considerations, we suggest that besides embedding the two protocols for addressing faculty harm in a restorative, transformative justice oriented approach to harm and conflict, we must also shift language throughout the faculty code in consistent ways to reflect this new orientation. Such revisions are needed to help align the structure and content of the Faculty Code policies with the overall reframing of the processes. Below are the kinds of systemic changes needed to realign, restructure and integrate the values and practical implications of the new framework into the Faculty Code..
In every place where there is an assumption that sanctions are the only option, there should be a preliminary step that assumes the potential for restorative and transformative justice leading to community accountability through reconciliation, restoration, reparation and transformation (RRRT).
All steps and processes that outline escalation of sanctions and formalization of punishment and isolation of faculty (including written warnings) must have the concrete mandate to offer RRRT and de-escalation to all parties.[st9]
All processes that end with decision-making power in the hands of administration that may itself be the source of conflict and harm to faculty must be revised to allow for true shared governance between faculty and administration. [st10] In this context, shared governance means implementation of restorative, transformative justice pathways where faculty and administration participate on equal terms and in which both faculty and administration are held accountable.
All steps and processes that outline escalation of sanctions and formalization of punishment and isolation of faculty (including written warnings) must have the formal mandate to option RRRT and de-escalation to all parties first until exhausted before any escalation or punishment.
All processes that begin or end with decision-making power in the hands of administration that may itself be the source of conflict and harm to faculty must be revised to allow for true shared governance between faculty and administration, and for implementation of an equally shared accountability process for assessing and addressing harm and conflict through restorative, transformative justice pathways in which both faculty and administrative actors (faculty or non-faculty) are held accountable to center faculty self-determination and accountability to the collective good,
All instances of administrative acts that de facto create further harm to any faculty pursuing a claim or claims of harm must be removed and revised to be an opportunity for exhaustive for restorative and transformative justice leading to community accountability through reconciliation, restoration, reparation and transformation (RRRT).
---
[st1] The phrase "a rule or regulation of the University, its schools, colleges, or departments" is taken from the current Code Section 25-71:B (FCG, Faculty Code, Chapter 25, Tenure of the Faculty (washington.edu) ). There is no current compendium. The dispute resolution task force did not work creating such a collection. There is a separate working group, based in the President's Office, tasked with doing so. Section 28-61 of the draft requires specification of the rules/regulations at issue. Moreover, Chapter 28 provides for faculty input in punishment cases. I don' see that much more can be done beyond this.
The phrase "negatively impacts the work or academic environment" stems from more general language in 25-71:A that "[T]he University is governed by rules and regulations which safeguard its functions, and which, at the same time, protect the rights and freedoms of all members of the academic community." The phrase was originally chosen because there was an argument that the current Section 24-33 (FCG, Faculty Code, Chapter 24, Appointment and Promotion of Faculty Members (washington.edu) ) and Regent's Policy 2:2 (BRG, Regent Policy No. 2, Statement of Ethical Principles (washington.edu) ), which it was felt would justify a unit involvement, did not state rules or regulations. Perhaps more can be done here, but I'm afraid that the sort of precision you might want will not be forthcoming and may not even be theoretically possible according to post-modern theory. Put more bluntly, any phraseology can be perverted.
show less
---
19 January 2022 Message to AAUP's faculty listserver from AAUP president Eva Cherniavsky, and the UW faculty union organizer, Alex Miller
Dear Colleagues,
We thought you might be interested in knowing that the UAW 4121, which represents Academic Student Employees at UW, has filed a grievance regarding safe working conditions for ASEs. The supporting petition can be found at https://docs.google.com/forms/d/e/1FAIpQLSe5QiRQ42YmLGfujIOzG73FdevvWo5X_x2OnepOehvWMdmzgQ/viewform
The issues raised in the petition resonate with concerns raised on other listserv, and it may be that some of you are interested in signing on.
In this context, it seems worth underscoring how collective bargaining rights allow faculty and other university constituencies to have a real say in our working conditions. At Western Washington University, for example, the MOU with United Faculty of WWU specifies that "no instructor will be required to teach a section including both remote and in-person students," and will be compensated if they choose to do so for programmatic reasons. The MOU also stipulates that the university will provide all supplies, including masks, and that it will make on-campus testing available to all vaccinated faculty on a voluntary basis (or, if not possible, will provide transportation to a testing site). Oregon's faculty union, United Academics, has continued to advocate for its members, amplifying the concerns of faculty from under-represented backgrounds and successfully lobbying for paid leave beyond FMLA. Finally, AFT Washington bargained to receive compensation for moving classes online in 2020 at Seattle Colleges, Shoreline Community College, and Green River College.
It's also worth noting that the Rutgers faculty union just negotiated a 5% raise for faculty which goes into effect this month. At Western, faculty received 3% this year, retroactive to last spring, and will receive another 4.25% next September. In recognition of how faculty have gone above and beyond while teaching during the pandemic, Oregon's union recently negotiated front loaded salary increases of 5%, 3%, and 2% over the next three years. While faculty everywhere are struggling with escalating workloads related to remote "pivots," supporting students in crisis, formulating and implementing pandemic-related policies, and so forth, it's notable that at unionized institutions, compensation is not continually falling behind regional cost of living, but exceeding it.
Best,
Eva Cherniavsky, UW-AAUP
Alex Miller, Ethnic Gender and Labor Studies, UWT
---
Errors in UW faculty retirement contributions
On Nov 30, 2021, at 3:03 PM, Amy Hagopian <hagopian@uw.edu> wrote:
Dear AAUP faculty list server subscribers,
The UW Chapter of the American Association of University Professors has been tracking how the UW proposes to cure its errors in our retirement account contributions.
We are fortunate that two of our members, Laboratory Medicine & Pathology professor (and associate dean) Marshall Horwitz and Accounting professor Rajib Doogar, have investigated the problem and documented both the causes and solutions. What's next is for the UW to deliver on those solutions, but it's not yet clear whether or how that will happen.
Professors Horwitz and Doogar testified to the UW Board of Regents Nov. 9 (I was there to cheer them on, see photo below), and they followed up with some correspondence with UW administration. Below is an update on the details.
For those whose eyes glaze over even at the suggestion of an accounting problem (thank the lord for the Doogars of the world who are fascinated by these things), the bottom line is the UW acknowledges there is a problem, is in the process of retaining an accounting firm (KPMG) to look into it, has no plan yet to correct its errors, and will not consider allowing any input from the Faculty Senate Council on Benefits and Retirement in defining the scope or supervising the audit. There's not even a plan to prevent the problem from continuing while past errors are corrected.
Recap of the problem
Following an initial post from Dr. Ed Lazowska on this listserv, Dr. Marshall Horwitz discovered problems with his own retirement account, which upon investigation he realized could also affect some of the approximately 7000 other staff and faculty (and retirees) who participate. He found four problems, which he brought to the attention of the AAUP, and subsequently presented to the Faculty Council on Benefits and Retirements Nov. 1*:
1. UW matching contributions were short-changed (in Marshall's case, more than $14,000, unadjusted for years of growth)
2. A faulty cap on contributions before the IRS limit is reached (in Marshall's case, underfunding his account by $4,000 without compounding)
3. Failure to exempt UW employees from IRS contribution limits when appropriate to do so
4. Making illegally excessive contributions, placing some participants at risk for back taxes and penalties for unwittingly violating tax laws.

By the way, Washington State University has a similarly structured retirement plan and pre-emptively handles Problem 1 on behalf of its faculty and staff, while the UW's cure is something more along the lines of, "this is an employee responsibility to figure out."
Testimony to the Regents
Professor Horwitz described for the Regents his experience of attempting to work with UW administration on this problem. He had assumed Mindy Kornberg, HR VP, would be grateful to learn of these problems in time to solve them before they turned into a PR or legal liability. But instead of promptly agreeing to an audit, they hired a white shoe Boston law firm (Ropes and Gray, who they initially would not name).
Dr. Horwitz testified that "Budgeting matching contributions should be easy to calculate on an enterprise-wide scale—Where did that money go, if not into the accounts of UW employees?" Unfortunately, the UW incorrectly maintains employees are responsible for keeping tab of their contributions, but has not alerted us to these issues so that we may more carefully check (and how to check!).
He implored the Regents to address this problem with some urgency, and with the full involvement of the plan participants (who are vital to the UW's mission of teaching, research, and patient care).
Bothell Associate Professor (tenured, with UW since 2013) Rajib Doogar also testified. He is a gubernatorial appointee to the Washington Board of Accountancy, where he serves as the incoming Chair, and his area of research is in the functioning of US audit markets.
He testified to the importance of not letting errors linger. He said:
The problems that Marshall has outlined for you concern me for four reasons. As an accounting professor it took me about an hour to identify the basic fix, 5-10 hours to program an initial solution and then some more hours of back and forth with various parties to come up with the correct family of solutions for the UW plan.
So it bothers me that the ensemble of problems he has laid out all stem from the same basic process failure and have gone unattended for mutiple years, specifically across mutiple financial reporting and audit cycles. I find this to be troubling because it indicates a lack of attention at the senior levels of the administration tasked with management of the payroll, HR and legal processes to (a) freeing UW faculty and staff to focus on the real and value-added component of their jobs, and (b) to fixing a lost shoe-nail before it becomes a lost cause.
Aside from the insights about the tone at the top, because both the scope of the problem and its financial implications remain unascertained over multiple years, the University's internal controls over the payroll system, and possibly its financial reporting can be questioned and affect its standing in the capital markets. Finally it opens up a suite of litigation and reputational risks that could readily have been timely mitigated much earlier. These are all concerns about the overall welfare of UW that I have and that I know you too will care about.
Follow up to the testimony
Horwitz corresponded with VP Mindy Kornberg following the Regents presentation, attempting to clarify which of three ways (allowed by the IRS) the UW intends to use to correct mistakes. The pathways available are laid out by the IRS' Employee Plans Compliance Resolution System (EPCRS), and include 1) Self-Correction, 2) Voluntary Correction, and 3) Audit Closing Agreement (https://www.irs.gov/retirement-plans/epcrs-overview). They differ with respect to the severity and duration of the problems and how much information, if any, is disclosed to the IRS. It was Horwitz's impression that the duration of the problems restricts the UW options to only those pathways requiring IRS supervision of the audit.
Apparently the UW has refused to commit to a pathway, and consequently is avoiding notification of the IRS, while awaiting a report from the firm KPMG.
Worth noting: Under Interpretation 101-3 of the American Institute of Certified Public Accountants (AICPA) Code of Conduct an auditor can do work such as the UW is requesting of KPMG here, but it requires someone internal to the UW to review the work and take responsibility. As such it is important to ensure that any work KPMG does be performed under the direct supervision of the President and the Board of Regents—and in a way transparent to faculty and staff charged with overseeing the retirement plan (i.e., the Faculty Council on Benefits & Retirement)–and not UW employees with direct or ultimate supervision responsibilities over payroll operations.
We will keep you updated, Amy Hagopian (AAUP Secretary)
*Link to Horwitz's FCBR presentation, response from HR VP Mindy Kornberg, and discussion: https://www.washington.edu/faculty/councils/fcbr/events/
The PowerPoint (along with a transcript in the notes of each slide): https://1drv.ms/p/s!AlgrJWjJY7iGgcpVauFOsvN_w3iCyw?e=3bBl7bAmy Hagopian, PhD
---
AAUP forum on the future of the University of Washington police force.
Video of Nov. 18, 2021, event on YouTube: https://youtu.be/tyhLmYpPTcc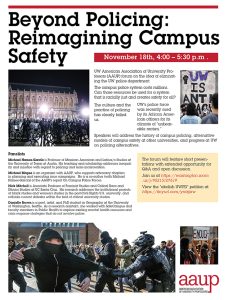 ================================================================================
Letter to UW President Cauce, Faculty Senate Chair Angotti, incoming Faculty Senate Chair Laws, Incoming Faculty Senate Vice-Chair Reddy, and the UW Board of Regents, dated 23 July 2021.
Recent communication (both on and off our listserv) from our UW-AAUP membership and list subscribers, alongside countless conversations we have held with colleagues in our units and networks, has made apparent to us the extent of faculty worry and dismay at the conditions of our planned return to campus in the fall. The UW-AAUP Executive Board joins our members and colleagues in affirming that the currently existing plans and guidelines for an autumn return are inadequate, as we do not have in place the measures necessary to ensure faculty and students have the safety and support we need and deserve. READ MORE HERE.
And President Cauce's response 2 August 2021, reassuring us the experts have things well in hand, no need for the faculty to be worried…READ HERE.
And now our reply to President Cauce: With all due respect, it appears to us that your reply devotes considerable space to addressing concerns we did not raise – and leaves largely unanswered the many concerns we did. …READ HERE
July 2021–AAUP's UW Board corresponds with Provost Richards on expectations for fall teaching. Read these letters here:
1) AAUP board's original letter: Regarding instruction in Fall 2021, we have received guidelines only from the Center for Teaching and Learning (https://teaching.washington.edu/topics/preparing-for-autumn-2021/). Most of the CTL recommendations are open to a range of interpretations READ MORE HERE
2) Provost Richards' reply:The intent was to provide suggestions – not directives – on ways to accommodate remote learning in an existing in-person course. These suggestions do not include creating two courses, but instead incorporating evidenced-based approaches to teaching that were already designed and incorporated by many instructors prior to the pandemic. READ MORE HERE
3) AAUP's reply to Provost's reply: Thank you for your reply to the AAUP board letter requesting clarification on expectations of faculty for delivering our courses simultaneously in both online and in-person versions in the fall. As you may be aware, the questions we posed in our earlier message emerged from our discussion on our faculty listserv. READ MORE HERE
See our meeting schedule HERE.
Join our Listserver HERE.
Recording of the event here for those with a UW Net ID (Zoom link expires July 23, 2021): https://docs.google.com/document/d/172MZX979FrdiXrSNARNr1I0-E3dnK495I3SshiDMywM/edit?usp=sharing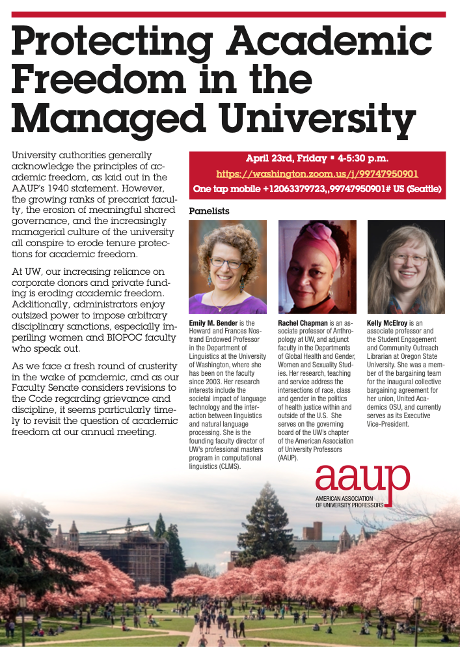 University authorities generally acknowledge the principles of academic freedom, as laid out in the AAUP's 1940 statement. However, the growing ranks of precariat faculty, the erosion of meaningful shared governance, and the increasingly managerial culture of the university all conspire to erode tenure protections for academic freedom. At UW, for example, administrators enjoy outsized power to impose arbitrary disciplinary sanctions, especially imperiling women and BIPOC faculty who speak out. A recent issue of the AAUP's Journal of Academic Freedom explores the implications of a shift from the "governed" to the "managed" university.
As we face a fresh round of austerity in the wake of pandemic, and as our Faculty Senate considers revisions to the Code regarding grievance and discipline, it seems particularly timely to revisit the question of academic freedom at our annual meeting.
Emily M. Bender is the Howard and Frances Nostrand Endowed Professor in the Department of Linguistics at the University of Washington, where she has been on the faculty since 2003. Her research interests include the societal impact of language technology and the interaction between linguistics and natural language processing. She is the founding faculty director of UW's professional masters program in computational linguistics (CLMS), established in 2005.
Rachel Chapman is an associate professor of Anthropology at UW, and adjunct faculty in the Departments of Global Health and Gender, Women and Sexuality Studies. Her research, teaching and service address the intersections of race, class and gender in the politics of health justice within and outside of the U.S. She serves on the governing board of the UW's chapter of the American Association of University Professors (AAUP).
Kelly McElroy is an associate professor and the Student Engagement and Community Outreach Librarian at Oregon State University. She was a member of the bargaining team for the inaugural collective bargaining agreement for her union, United Academics OSU, and currently serves as its Executive Vice-President.
One of the speakers on our annual meeting panel will be UW Linguistics faculty member Emily M. Bender, has collaborated with Dr. Timnit Gebru at Google on the ethics of AI research. Check out the NY Times piece on Dr. Gebru, linked here.
UW Faculty Senate adopts resolution on merit reviews
Class C Resolution adopted 25 Feb 2021; Language includes: "The merit evaluation system should provide more agency and flexibility to faculty to choose the work they believe illuminates their meritorious contribution to students, colleagues, their department, the university, and/or the community during times when the normal operation of the university, or their regular function as a faculty person are interrupted or compromised. In particular, departments, units, and schools should work with faculty to approve alternative structures/systems/procedures for student evaluation of teaching during these unprecedented times (as allowed under Faculty Code Section 24-57, Subsection A)." Read more.
AAUP's reflections on the proposed new faculty grievance policies in the Faculty Code – 22 Feb 2021
The Faculty Senate has been working on revising the sections of the Faculty Code pertaining to grievances and disciplinary processes. The current proposal for revising the Code around grievance proceedings makes some very valuable improvements, particularly with respect to codifying a structure of mediation that might, in many cases, forestall the need to proceed to a formal grievance. But UW-AAUP believes further changes are required to ensure the grievance process, and all related processes, repair harm and restore justice, rather than erode community and exacerbate injustice.
This is a phased project: one portion of the work, in the form of a Class A resolution regarding grievance proceedings, is up for consideration at the Senate meeting this coming Thursday, February 25, at 2:30 at 2:30 (on zoom or dial 1.408.638.0968, agenda on line). If approved by the Senate, it would come to a faculty vote in Spring. Other portions of this work are still in progress, including faculty disciplinary processes. See more: UW AAUP statement on faculty grievance revisions Feb2021
UW's Planning and Budgeting analysis for the current legislative session
Governor Inslee's 2021-23 biennial budget assumes new revenue from the creation of both a capital gains tax and a tax on health insurers. The proposed budgets would increase state funding for the University of Washington Medical Center and Harborview Medical Center, and would fulfill a number of the University administration's priorities. Still, the budget requires furloughs and suspends regular merit increases for University staff throughout the biennium. The Governor did not propose any changes to the state's current tuition policy. UW's analysis here.
Bill Lyne, our faculty colleague at Western Washington University and President of the state's faculty union (United Faculty of Washington) shared his analysis of Gov. Inslee's alarming reversal on higher ed funding in the biennium:
https://www.ufws.org/2020/12/21/the-ways-of-white-folks/
Announcing Scholars for a New Deal for Higher ed
https://scholarsforanewdealforhighered.org/our-work/
White paper: A TRUE NEW DEAL FOR HIGHER EDUCATION: HOW A STIMULUS FOR HIGHER ED CAN ADVANCE PROGRESSIVE POLICY GOALS
Austerity is not an option: some resources
National AAUP is organizing a New Deal for Higher Education campaign. Organizing meeting 1/16–stay tuned for reports.
"Making the Invisible Visible" University Institutional Debt Research Workshop-January 13 from 1- 5 PM eastern = 4 – 8 pm Pacific. Register here.
Nation article by Eleni Shirmer (part of the PHEW and Debt Collective): https://www.thenation.com/article/society/student-debt-university-credit/
Recorded webinar – The Neoliberal University: How to Defend Education, Programs, and Jobs – sponsored by Haymarket Books and Spectre.
Chronicle brief on faculty burnout (in which UW faculty quoted). You can download it here https://connect.chronicle.com/CovidFacultyResearchBrief.html
Some other news clips and commentary:
How Covid-19 Exposed the Cracks in a Public-Private Housing Deal at a university: https://www.chronicle.com/article/how-covid-19-exposed-the-cracks-in-a-public-private-housing-deal?cid2=gen_login_refresh&cid=gen_sign_in
U.S. Sen. Elizabeth Warren Pushes For Answers From Georgia Dorm Operator – https://www.gpb.org/news/2020/09/02/us-sen-elizabeth-warren-pushes-for-answers-georgia-dorm-operator
Housing Developer Pressured Universities on Fall Plans in Rhode Island – https://www.insidehighered.com/news/2020/08/07/housing-developer-reminded-universities-about-project-debt-they-mulled-fall-plans
Reopening Plans for Georgia's Public Universities Are Under Fire from Students and Faculty – https://www.rollingstone.com/culture/culture-news/georgia-public-university-dorm-covid-19-precaution-masks-distancing-corvias-1039809/
UW Faculty Senate Class C legislation, encouraging faculty caregiver supports, passes 3 Dec 2020
This Faculty Senate Class C Resolution promotes measures to support instructors (part-time, full-time, graduate students) and faculty influenced by the COVID pandemic; it passed out of the Senate on 3 Dec 2020. Noted, of course, this is unenforceable without a collective bargaining agreement, which would require having a UNION.
1 Sept, 2020: AAUP calls for caregiver accommodations
UW can only continue to ensure excellence in teaching, research, service, and community partnerships if it provides sustainable, safe, and accessible assistance to caregiving faculty. We call for the following principles and action steps in achieving this goal: Equity is essential, Creativity is our strength, Policies alone are not enough, Lead from the top and Flexibility is key. See full statement: AAUP statement on childcare 2020Sep 1
UW AAUP Chapter signs on to Decriminalize UW Petition (September 2020)
#GeorgeFloyd #Breonna Taylor #CharleenaLyles #JTWilliams #TommyLe #ShaunFuhr #MannyEllis
As members of the University of Washington (Seattle) community, we call on President Ana Mari Cauce and Provost Mark Richards to take immediate action to ensure the health and safety of people on campus, particularly Black and other persons of color, by protecting them from police violence by 1) the Seattle Police Department and 2) the UW Police Department.
Specifically, we call on UW to break all ties (both informal and formal in the form of contracts, agreements, and MOUs) with Seattle Police Department by taking the following steps:
Immediately stop handing over people detained by UW Police Department to SPD custody.
Stop using SPD to respond to public safety needs, including referrals for welfare checks under the Safe Campus program.
Stop using SPD for additional security for any events, including football games, concerts, and ceremonies.
Further, we call on UW Seattle to reimagine a Safe Campus as follows:
Disarm UWPD officers.
Ban the use of police dogs, which many communities of color in the US associate with the terror of state violence.
Publicly commit to not hiring former police officers with disciplinary records as UW Police Officers.
Petition is here: https://docs.google.com/document/d/1S4RPR9wfPdwEjcLLWUNJ3ESQCytslcBn9A_6RIxvxpc/edit
July, 2020: AAUP supports letter urging UW leadership to invest in caregiver accommodations
We are writing with an urgent request to University leadership and the Faculty Senate of the University of Washington, deans, and department heads. COVID-19 has uncovered many aspects of our institutional practice that have historically rendered certain labor invisible and left others more vulnerable. Now, more than ever, the structure and expectations of research productivity and teaching quality overwhelmingly privilege those who do not have to consider caring for family members. SEE MORE
Does UW need all the fiscal reserves we are hoarding?
Using a template provided by Howard Bunsis, Professor of Accounting at Easter Michigan University and a nationally recognized expert in higher education finances, and inputting figures from UW's 2019 audited financial report, we have attempted (in the attached document) to calculate UW's true unrestricted reserves, which we estimate at 1.98 billion. Do we need all that money? AAUP statement on avoiding austerity in the wake of COVID 2020
August 2020: Inquiry on AAUP list server prompts UW administration response about what is (and is not) discoverable from faculty email through the state's public records act.
from our UW president, Ana Mari Cauce: I understand that there have been lots of concerns about how we access emails for public records requests and/or legal proceedings. Unfortunately, the answer is not a straightforward one – we work through schools and colleges, which have their own procedures. I've tried to boil things down to the main issues. 2020.08.20 Public Records AAUP Response

August 2020: AAUP registers support for restorative justice approach to conflict in UW School of Medicine
Dear UW Leadership,
The board of the University of Washington chapter of the American Association of University Professors has become aware of a situation concerning climate, student/faculty/administration relations, due process, and ongoing issues of anti-Black racism in the School of Medicine (SOM). The situation that has unfolded in the SOM highlights the dearth of resources for managing conflicts between students and professors (among colleagues, or with administration), especially when the underlying driver is racism.We write this letter to support the people at the heart of this struggle who are working to uphold the values of racial justice, shared faculty governance, and academic freedom. See full exchange of communications: BAMM – UWSOM 2020 controversy, and our letter: AAUP letter re UWSOM concerns Aug2020
July 2020: The DigiPen Institute of Technology faculty creates a local AAUP chapter, inducts officers.
DigiPen Institute of Technology faculty have voted to create a local chapter of the American Association of University Professors (AAUP), and induced officers elected during their first chapter meeting. DigiPen is a private, for–profit university in Redmond, Washington. DigiPen offers bachelor's and master's degree programs in Computer Science, Animation, Video Game Development, Game Design, Sound Design, and Computer Engineering.
Avoiding financial catastrophe for the UW during the epidemic.
Analysis of options provided by our friends at the Economic Opportunity Institute.EOI Memo to Legislators July 2020
Only Free College Can Save Us From This Crisis — The situation on demands bold action on par with the New Deal, By Christopher Newfield Chronicle of Higher Ed article here
Christopher Newfield blogs on governance troubles: https://bit.ly/3l7k5mW and budget troubles: https://bit.ly/31DrJwm.
UW is participating in the national Public Higher Ed Network, where public universities across the country talk about strategies to keep their institutions alive during the coming austerity pressures. For example, Penn State community is organizing under the Coalition for a Just University (CJU/PSU), using regularly meetings to bring people together, holding a virtual rally, demanding a compact and presenting their own modeling system for the spread of the virus on campus – about which the university admin flipped out. Jerry from Shippensburg Univ has been working with K-12 educators under the group PA for a Safe Return to Schools to educate them on the law and reopening especially in terms of ADA and FMLA. Join Slack, or check out this statement about what a union can and should be. Please complete this form to join the network, chaired by Barbara Madeloni.
April-May, 2020: AAUP urges Faculty Senate to interrupt the termination of the UW's Intensive English Language Program.
Dear Professor Sandison, Thank you for your reply on the issue of whether the Continuum College may close the Intensive English Program without triggering the RCEP process in the Faculty Code. Unfortunately, this interpretation of the Faculty Code is difficult to reconcile with the actual contributions of IELP.
Faculty Code Section 26-41 (Section A) on "Reorganization, Consolidation, and Elimination Procedures" (RCEP) calls for a process to be launched for termination of any "distinct option in the University Catalog," which this certainly is. The relevant Catalog entry is HERE. The entry for IELP advertises five levels of instruction, and "experienced instructors with advanced degrees in teaching English as a second language." SEE MORE
…And state legislators agree! SEE THEIR LETTER HERE.
See an analysis of the administrative bloat in the Continuum College, which decimated IELP. UWC2-salaries-org chart
March 23, 2020: AAUP Board Communication to UW administration during COVID-19
For over a century, the AAUP has advocated for a strong university, operating on principles of shared governance and in service to the public good. In that spirit, we write to ask for immediate measures we deem essential to sustain our institution through this crisis. The UW is on the front lines of the COVID-19 epidemic and vital to the economy of our region; its continuing institutional strength will be key to the recovery of the State of Washington. SEE MORE
March 21, 2020: AAUP Statement of Support for our brave, beloved UW health workers!
THANK YOU to the heroic teams at UW Medicine and the schools of Nursing and Public Health who are doing so much to protect us all as we live through the pandemic.
Here are some ways to follow their work:
UW Virology lab website dashboard, which has tested about 25,000 people (finding 7.5% positive): http://depts.washington.edu/labmed/covid19/
Twitter feed from the UW Virology lab, with regular vignettes throughout the day. Go to Twitter and follow: @UWVirology
UW Medical Center's nurses' union (WSNA) website has regular updates
Harborview's 1199 Nurses' union page, HERE.
Another link to follow–Inside Higher Ed's catalogue of university responses.
And AAUP national's Statement on COVID-19 and the Faculty Role in Decision-Making
February 6: AAUP forum in conjunction with Faculty Forward, New Titles for UW lecturers? Parity for lecturers will require more than a name change, but it's a start…
Panel included: Linda Hurley Ishem, urban studies (UW-Tacoma), Aaron Katz, public health (UW-Seattle), Carrie Lanza, social work (UW-Seattle), Annie Nguyen, interdisciplinary A&S (UW-Tacoma), Moderator: James Rush Daniel, Dept of English (UW-Seattle), Eva Cherniavsky, host on behalf of AAUP & Faculty Forward. See notes on discussion: Notes of 6Feb2020 AAUP lecturer forum
January 20, 2020: AAUP Statement of Support for UPass benefits for all UW employees.

We, the undersigned, write to you to request fully subsidized transit passes for all University of Washington employees. UPASSForAllStatement
---