2021 Annual STD and AIDS Research Symposium
The Annual STD and AIDS Research Symposium, co-hosted by the UW Center for AIDS & STD (CFAS) and the UW/Fred Hutch Center for AIDS Research (CFAR), is our premier showcase for featuring emerging HIV and STD research talent within our community. We held the 18th Annual STD & AIDS Research Symposium virtually on October 28th, 2021. We look forward to seeing you next year!
About
The Developmental Core supports career development of promising junior HIV investigators, leadership development of independent HIV investigators, and fosters multidisciplinary collaborations with an emphasis on diversity, equity and inclusion.
The core connects and helps to optimize the success of CFAR members representing myriad expertise with cross-cutting funding, training, networking and mentoring activities.
Activities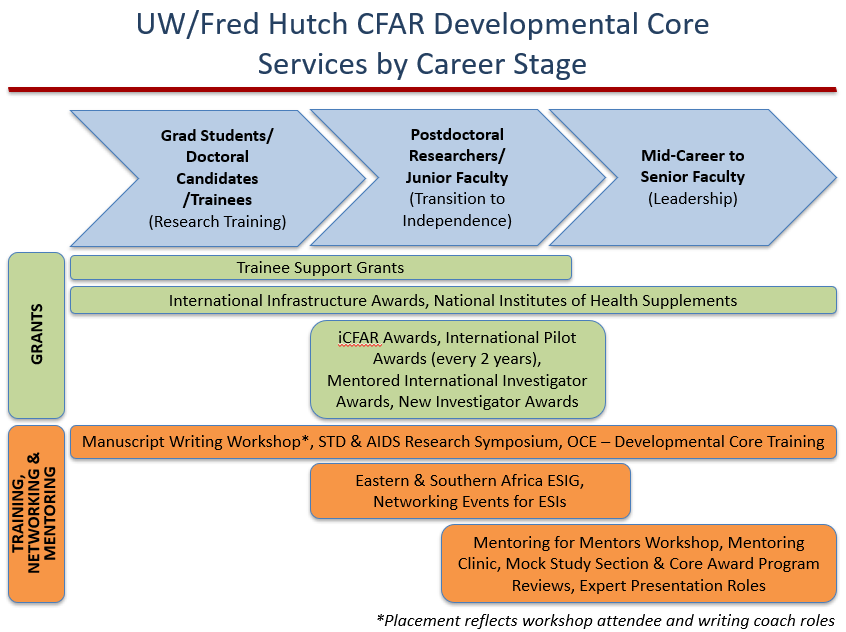 The Developmental Core provides funding for awards in research and training funding to junior faculty and other HIV/AIDS researchers. The 2020-21 funding calendar is available here as an example.  Awards programs include:
New Investigator Awards
In 2021, we awarded 7 New Investigator Awards representing multiple CFAR institutions - including UW, Fred Hutch, Seattle Children's, and the University of Hawaii - as well as a variety of types of science: clinical and epidemiologic investigation, basic laboratory discovery, and implementation science. Information about previous awards may be found here.
Investment of Catalytic Funds to Access (iCFAR) Resources Awards
The iCFAR program is designed to encourage investigators, especially those junior or new to the UW/Fred Hutch CFAR, to access CFAR Core services, data, and/or specimens for short-term innovative HIV-related pilot projects that will likely generate sufficient data for subsequent applications for future research funding. These grants are intended to fund services in excess of what can routinely be provided by a Core.
International Infrastructure Awards
These awards benefit several investigators at a single site and provide opportunities for new research through enhancement of clinical, laboratory, and administrative capacity.  Information about previous awards may be found here.
International Pilot Awards
These are awarded for development and implementation of innovative HIV/AIDS-related research projects. Studies are prioritized by potential for obtaining pilot data for development of NIH grant proposals. Information about previous awards may be found here.
Mentored International Investigator Awards
The purpose of this award program is to encourage international junior investigators (at an advanced stage of training or recently independent) to conduct independent research with close mentorship from senior faculty. This research should ultimately lead to acquiring preliminary data to obtain funding to continue their HIV/AIDS research careers.
National Institutes of Health CFAR Program Supplements
The National Institutes of Health sponsors CFAR-affiliated researchers through multiple "Supplement" award programs offered typically through annual RFA cycles.  At present, these include:
Administrative Supplement Awards support innovative research projects and shared instrumentation that address key gaps, advance HIV/AIDS research, and build research capacity.  The program includes Research Supplements to Promote Diversity in Health-Related Research (PA-20-22), which sponsor opportunities to develop research careers and improve participation for individuals from groups with low representation in the biomedical, behavioral, clinical, and social sciences.
 
Ending the HIV Epidemic: A Plan for America (EHE), a community-based research initiative focusing on four key pillars to end the HIV epidemic in the United States: Diagnose, Treat, Protect, and Respond. The purpose is to collaborate with community partners to develop locally relevant plans for diagnosing, treating and preventing HIV in areas with high rates of new HIV cases.
Trainee Support Grants
For the 2021-22 fiscal year, we plan to award 8 trainees (eg., graduate students, fellows, junior faculty, post-docs) financial support for a variety of activities to support their career development, including manuscript publication charges and fees relating directly to attending scientific meetings and workshops for which the applicant is scheduled to present.  Visit our TSG program page for more details on eligible costs.
People
| | |
| --- | --- |
| | Grace John-Stewart, Core Director |
| | Jennifer Lund, Core Associate Director |
| | Andrew Mujugira, Core Associate Director |
| | Warren Phipps, Core Faculty |
| | Alison Roxby, Core Faculty |
| | Anna Wald, Core Faculty |
| | Joseph Zunt, Core Faculty |
| | Linh Newcomb, Grant and Finance Manager |
|   |   |