Amateur painters, from Su Shi and his friends on, had favored painting bamboo and flowering plum in ink monochrome, in part at least because those skilled in the use of the brush for calligraphy could master these genres relatively easily. Bamboo, plum, orchid, pine, and other plants had over the centuries acquired a rich range of associated meanings, largely from poetry. In Song and especially Yuan times, scholar painters began to systematically exploit these possibilities for conveying meaning through their pictures.
Orchids, ever since Qu Yuan in the Warring States Period, had been associated with the virtues of the high-principled man. The orchid is fragile, modest, but its fragrance penetrates into hidden places.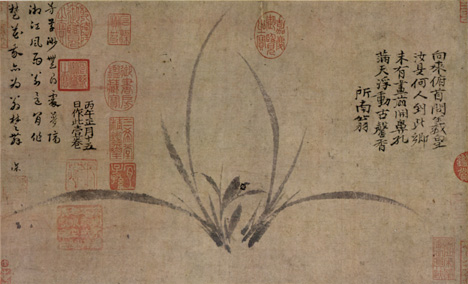 Zheng Sixiao, the painter of this picture, wrote the poem on the right, a friend the one on the left.
Note that there is no ground in this painting. When asked why he omitted it, Zheng said that the barbarians had stolen the ground.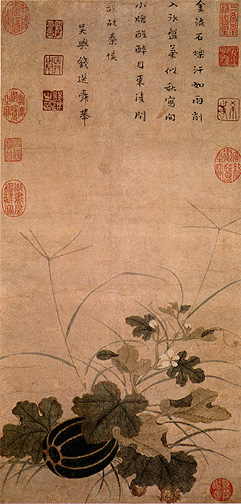 The artist here has inscribed a poem on the painting that refers to the coolness and refreshing quality of the autumn melon for one who is experiencing the full heat of summer.
Because of this poem, well-educated viewers of this painting would think of literary references to melons, giving the painting deeper meaning.
Just from looking at this painting, would you have guessed that it carried any larger meaning?