CIC Student Guide Online
Lab Basics
At least once a week, your CIC class will be held in a Local Area Network (LAN) computer classroom. The LAN connects the computer you are working on to all other computers on the network and gives you access to both a common network location (your class folder) and the internet. The LAN connection works differently than the typical home internet connection, so here are some basics to help you get acquainted with the features of the LAN. It is especially important to remember that anything you save on the LAN is only available during class time or open hours, so you will need to decide how you plan to get your work from the LAN classroom to your personal computer. This page will help you understand how to get access to files on the LAN, how to manage those files so you keep them safe, and how to save your work so it will work in the LAN and so you can take it home after class.
CIC LAN Use Policies
First, some ground rules. The CIC has special observances for the LAN classrooms. Make sure you are aware of what is expected of you every time you are in the LAN, public hours or class hours.
The computer classrooms are available only to students currently enrolled in computer-integrated courses.
Absolutely no food or drink is allowed in the LAN classrooms. Please keep your work area tidy. Recycling containers and trash cans are located at the front of both computer classrooms.
Printing is restricted to CIC course essays, peer reviews, homework and handouts. Students may not print work for other courses, online readings, or other lengthy documents.
Do not sit on the desktops that connect pod workstations. While sturdy, they are not designed to support human weight.
Accessible stations are located in the front center pod. Disabled students have priority for these stations. The desktops on the accessible stations should only be adjusted to accommodate wheelchairs or other equipment.
Use of both LAN classrooms is limited to currently installed software. You may not install or use any of your own software on the network, nor may you download software or games from the Web.
The network cannot be accessed via modem.
Do not manipulate any of the hardware. Unplugging cables can cause the system to crash and people to lose files. If you are having a problem with your station, consult your teacher or the technical support staff.
Do not turn off the computers or screens unless told to do so by your instructor or by a technical support person. Do not touch the monitor screen directly with your hands or fingers.
Under no condition should any person alter the icons on the desktop. This includes creating additional shortcuts.
As a matter of courtesy, always log off after you have finished working.
Copyright law prohibits you from duplicating software in the English Department LAN for your own use.

Logging on to the Network
Logging in to the CIC LAN requires a different user name and password than the one you use to log into the general access computer labs on campus. Your instructor will provide this username and password on the first day of class.

Understanding Network Drives
In order to move around easily within the CIC computer network, you need to have a basic understanding of how and where information is stored. In particular, you need to understand the distinctions among four different places where you can save information: a floppy disk, the internal hard drive, a ZIP disk, a CD-ROM, and the network. Each of these locations is designated as a different drive. Although there are numerous drives on our computers, there are only a few with which you need to be familiar.
C: DRIVE (internal hard drive)
Each of our computers also has an internal hard drive. Information stored on the C: drive is accessible only to a user at that particular terminal. Since you will not always be using the same machine every day and will often need to share your files with your classmates, do not save your files to the C: drive.
F: DRIVE (memory stick/USB drive/flash drive)
One simple way to transfer files between multiple computers (i.e. your home computer and the LAN machines) is to use a USB/Flash drive. When you insert a USB/Flash drive into the computer, the information on that drive can be found on the F: drive. You can transfer/save documents here as you would for any other drive.
L: DRIVE (local area network, OR LAN)
Every class in the CIC program has its own public space on the Local Area Network, or LAN. Any file that is intended for class use should be saved in your class folder on the L drive, since files on the L drive can be accessed from any terminal in both computer classrooms.
Now that you are familiar with the drives, be sure you save your work to the right one. Avoid saving to the C: drive, as it is the least stable. Saving on the L: Drive will put work in your class folder, but also makes it public to everyone in your class. The D: and E: drives will save to your memory device, flash drive, floppy disk, etc., so you can back up your lab work and take it with you when you leave the LAN. Your instructor will most likely instruct you on where and when to save your material. When in doubt, select either the L: drive or your own device, the D: or E: drives.
You should also get in the habit of backing up all of your files online. There are several ways to do this; you can email a copy of the file to yourself or save documents in an online storage space such as Dropbox or Onedrive.

Working with Files in the LAN
Now you are logged in and you know a little bit about drives, now you are ready to work with files in the LAN. Windows 8 makes it very easy to manage files. Yyou can access all of your files by simply clicking on This PC in the Start Menu. This lets you view all the files to which you have access, whether they are located on the hard drive or stored on a disk.

OPENING FILES
To open a file, just double-click on the icon for the file in the This PC window. You can also open files by choosing Open from the File menu.
In the computer classroom, we sometimes copy—and therefore save—files to and from disks because it allows us to see multiple drives simultaneously. To copy to or from a disk, click and drag files or folders from one location to another.
MOVING AND COPYING FILES ON THE NETWORK DRIVE
You can move a file by clicking on the file's icon and dragging it to a new location. To copy a file, click on the file's icon and choose Copy from the Edit menu. You can put the copied file in a new folder by clicking on that folder's icon and choosing Paste from the Edit menu.

FINDING A MISPLACED FILE
If you have logged into the computer properly, your work will be automatically stored in your class directory. However, we make mistakes, and looking for a lost file can drive you crazy. Windows provides an easy way to find a file: the Search function. To find a misplaced document, open This PC from the Start Menu. Click the Search button

on the icon toolbar. You will be presented with a search companion window.
Basic Search Options:
At the top of the window, you can see the options available for searching. Two of the easiest are:
Last time it was modified: You can search the computer for files created or modified on a particular date or within a particular period of time by clicking on Date modified.
The document name: You can search for the document by exact or partial file name. If you forgot to name the file, the computer named it using the first few words of the document.

OTHEr Search Options:
A word or phrase in the document: If you cannot remember the file name, you can search by typing some of the text contained in the document (your name, the essay's title, etc.).
Look in: You can search for the document by location. If you forgot to save to your class folder, the C: drive should be the first place you look. Remember, though, that you will need to search the C: drive of the exact computer you were working on when you created the document. If you saved to the wrong subfolder in your class folder, you can choose to search your class folder on the L: drive.
What size is it?: You can look for small, medium, or large files. Most word-processed documents will fall in the small to medium range.
More Advanced Search Options:
The series of More advanced search options checkboxes allows you to search within subfolders (within all subfolders in a single class folder, within all class subfolders on the C: drive, etc.) and to do case sensitive searches.

Saving Documents: File Names and Extensions
Now that you know how to work with files using Windows Explorer, you need to know how to name your files and what formats to use to prevent data loss. In the next section you will learn a simple naming system to help mark each file as yours and how to save your work for maximum compatibility with computers in an out of the LAN
FILE NAMING SYSTEM
You aren't the only person who uses your computer in the LAN. This means that keeping files organized is very important. In CIC we use a simple naming system to prevent files from being overwritten and to make searching for them easier.
Each file name in CIC consists of three components: a root name, a personal identification, and an extension. You will need to name your files according to this system. For example, a CIC file name might look like this: EssayT.doc
Root Name: For each class assignment, your instructor will ask you to use a particular root file name. The root name will identify the work and also prevent you from overwriting your own work. In our example, Essay is the root. For work that is not part of a class assignment, you will often have the option to choose your own root name.
Personal identification: Your instructor will assign you a personal identification code, probably a letter of the alphabet. Any file that you create needs to include this identification, which is placed immediately after the root name. In our sample file name, the student's assigned letter—T—identifies the author of the document. Since you will have a unique identification and, therefore, unique file names, your work will be safe from overwriting. Naming your files properly isn't enough. You must also save them in the right place.
Extensions: Windows-based programs will automatically add an extension to the file name of each document. These extensions identify the type of document. Do not change these extensions, or the computer may not be able to read your file. In our example, .doc is the extension and indicates that this is a Word document.

ORGANIZING FILES
Naming your files properly isn't enough. You must also save them in the right place. Your files should always be placed in your class directory (the LAN folder) in a folder that your instructor has created or a personal student folder. If you keep a copy of everything you do in class on the LAN, your work will always be available to you.
If you are not sure where to save your files, ask your instructor for help. Remember to make a personal copy before you begin working.

MAKING A PERSONAL COPY OF AN INSTRUCTOR'S FILE
Sometimes you will need to make a personal copy of a file that your instructor has created, such as a handout, notes, or writing assignment sheet. This is something like making a photocopy of a master document; it allows everyone to have a copy containing his or her changes. To make a personal copy, choose the Save As function from the File menu, and rename your file according to class conventions before saving.

File Conversion
If you use anything but Microsoft Word at home, you will need to convert your documents to a format you can use on CIC computers. In addition, you will need to save documents created in the lab in a format you can use at home. These conversions are very easy if you pay attention to a few important details. Please note that you should follow the same procedure whether working at home or in the lab.
IBM-Compatible PCs
Under the File menu, select Save As and choose Rich Text Format (.*rtf) from the pull-down menu in the Save as Type box. You may lose some formatting markers, but you will be able to work with the document. If you do not have this option, save your file as Text Only (*.txt).
MACs
In the lab, select Save As from the File menu, and choose Rich Text Format (.*rtf) in the Save as Type box. On the Macintosh, select Save As from the File menu, and choose Rich Text Format (RTF) in the Format box.
Apple's own word processing program, Pages, allows you to save documents in Word or Rich Text Format. To do so:
Select Export from the File menu:

Choose Word or RTF from the options that appear and click the Next button:

Name your file, select the location you want to save to, and click the Export button. A window confirming the export will appear.

You will return to your Pages document. Note that the document will be untitled, as you haven't saved it in the default ".pages" format. If you want to save a copy in ".pages" format as well, select Save as from the File menu.
If you are transferring files via disk, you must use an IBM-formatted disk. Macintosh computers can read IBM-formatted disks; however, IBM machines cannot read Macintosh disks.
Naming Your Files to Convert
When you save files that you want to convert, you do not need to add an extension (for example, .doc or .rtf) to the file name, as Windows automatically adds these extensions. Since no file can have more than one extension, your file name must not contain any periods (the computer will read a period as part of a file extension). Also, your original file name should not contain spaces, as some older home systems may not recognize spaces.

Taking Files Away from the LAN
Its a given that you will eventually have to take work away from the LAN or bring work back to it. Remember that there is no way to access the LAN from anywhere but in the MGH classroom. This means you won't be able to work on your files unless you save some place you can get to from another computer. Here are some options for taking your work away with you and for bringing it back:
Email: You can simply open your email account, start a new message, and add your work as an attachment. Most people already know how to do this, which makes it an obvious choice. But, emailing documents takes up your limited storage space on the university servers, is restricted by file size standards, and is subject to data loss and corruption.
Cloud Storage: You can also save files in an online storage system such as Onedrive or Dropbox.
Floppy Disk: Most computers don't even have these drives any more, but some students still use this method. Although it works, floppy disks cannot store much data and are easily broken and corrupted.
Flash Drive Memory Stick: As these devices have become less expensive they have become the physical transfer method of choice. They can store a good bit of data, are generally sturdy, and work on most computers. The problem with these is that they are small and easily lost or forgotten. If you like carrying your data around on a physical drive, this is probably the best choice.
File Transfer Protocol: We at the CIC recommend becoming familiar with SSH File Transfer. It is free to download, on every campus computer, and saves your files to a remote server where they won't disappear until you delete them. Below we will walk you through setting up your remote server account, managing files with SSH, and getting SSH on your home computer.
Catalyst File Manager: File Manager is a web-based tool which allows you to access your UW Server space (your Dante account) without requiring you to use an FTP client (as described below). For smaller files, this method is more convenient--there is no software to download and it is accessible from any web-connected computer. For larger files or larger transfers, however, this method is slower than SSH File Transfer. Instructions for File Manager are found in the "Catalyst Tools" section of the Student Guide Online.
SAVING AND TRANSFERRING FILES WITH FTP
First things first, you will need to get FTP software on your home computer. To get a free copy available to UW students for your home computer, click here. If you own a Macintosh, you can use Fetch or Fugu to securely transfer files. To get a free copy available to UW students, click here.
Second, you will have to make sure your university account is set up to let you use your server space.
Go to the UW Computing page and click on the link for "Manage your UWNetID resources". Sign in with your UWNetID and password.
In the left hand column, click on "Turn Services On or Off." The page this links takes you to displays what NetID services are currently available and which are currently activated.
Check to see if your "Dante Account" is listed in "Services that are on:". If it is, you are good to go. Exit out of the browser.
If it is not, you will need to check the box next to it and click "Continue". It will show a cartoon of a guy typing on a computer. When he finishes, you should be all set.
How SSH FTP Works
Now you are all set to transfer files to your space on the remote UW server. Let's take a moment to discuss what is actually going on.
Basically, a file transfer program accesses space you have as students on a particular server, such as Dante, by logging in with your UW Net ID and password. Therefore, it is a good way to keep a backup copy of your work which can be accessed from your home computer and the LAN. If you are revising a document multiple times and in different places, always remember to upload the most recent version!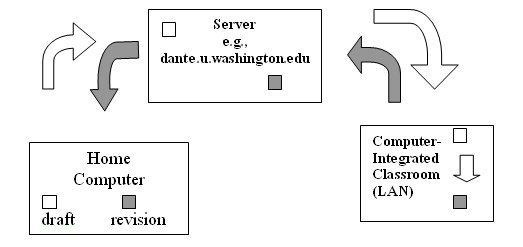 Uploading Files from Home or Lab with SSH FTP
Click the SSH Secure File Transfer icon on the task bar—it looks like a manila folder with blue bubbles in front of it. You may also access the program by selecting Programs-->UWICK Applications-->SSH Secure FTP-->Secure FTP from the Start menu.
Click the Quick Connect button. A series of log-on windows will appear. In the first window (shown below), enter "dante.u.washington.edu" and your own UWNetID.


Next, enter your UWNetID password.



Once connected, you will see a list of folders in your Dante space in the right-hand window. The left-hand window contains a list of the drives and programs available on the machine you are currently using.
To move files from a lab or home computer to Dante, click My Computer in the left-hand window and locate the document on the C: or L: drive. Click and drag the file into the right-hand window.



If you are uploading a new version of a document previously stored in your Dante space, a box will appear asking if you want to overwrite the old file with the new version.
If you have multiple files to upload, hold down the Ctrl key, click on each file, and drag the group into Dante.
You can organize your Dante space by creating folders for different classes or projects. To create a folder, click on the new folder icon above the right-hand box, or choose Operation and New Folder from the top menu.
To disconnect from the current host without exiting the program, choose File and Disconnect from the top menu bar, or click on the disconnect icon .
To disconnect and quit, choose File and Exit from the top menu bar.
Downloading Files to Home or Lab with SSH FTP
Follow steps 1 through 3 above.
Click My Computer in the left-hand window to locate the folder where you want to save the file (for example, "My Documents" on a home computer or your student folder on the CIC L: drive). Click and drag the file from Dante into the selected folder.
Disconnect and quit using steps 8 through 9 above.
DOWNLOADING FILES WITH FUGU FOR MAC
Macintosh users can open Fugu from the Dock or the Applications window (the program icon is a black and white blowfish). In the Connect to field, enter dante.u.washington.edu and type your UW Net ID in the Username space. You do not have to fill in the Port and Directory fields.
Enter your password when prompted and click Authenticate.
You will see a divided window the Dante—the Remote pane—on the right and your home machine—the Local pane—on the left.
Drag the items you want to download from the Remote pane to the Local pane. You may have to use the drop-down box in the Local pane to select the folder to which you want to download the file.
TRANSFERRING FILES WITH FILE MANAGER
File Manager is a Web-based file management tool which allows you to securely access your UW Server space (your Dante account). Since File Manager is Web-based, you can upload, work with, and download files from any Internet-connected computer with a Web browser. For smaller files (such as Word documents), File Manager is very convenient--there is no software to download and it is accessible from any web-connected computer. For larger files or larger transfers, File Manager may be slower than an FTP transfer. For detailed instructions on using the tool, see the File Manager page.