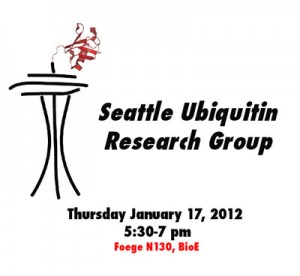 The next Seattle Ubiquitin Research Group meeting will be held on Thursday January 17th, 2017. This meeting will be held in Bioengineering N130 at 5:30 pm.
"Exploring signal coordination of ubiquitin-like modifiers
through the study of a yeast SUMO-targeted ubiquitin ligase"
Michelle Oeser
Gardner Lab, UW Department of Pharmacology
"Structural investigation of a novel E2-substrate interaction"
Vinny Vittal
Klevit Lab, UW Department of Biochemistry
BEER and pizza will be served.