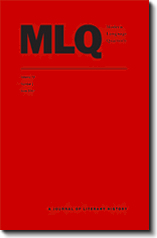 Modern Language Quarterly publishes scholarly essays and book reviews pertaining to literary history. The journal is published by Duke University Press and housed at the University of Washington, Seattle.
Tables of contents (from 1990 onward) and abstracts (from 2000) can be accessed and searched on this site through the issue index; tables of contents for upcoming issues are also available for preview.
Current issue
MLQ's current issue is September 2015 (76.3) , available online from Duke.
Announcements
MLQ hosted the conference Scale and Value: New and Digital Approaches to Literary History on May 15-16, 2015, at the University of Washington's Simpson Center for the Humanities. Look for a special issue dedicated to the conference topic in 2016. Find more information here.
MLQ has transitioned to an author-date citation style, which first appeared in the March 2013 issue. Initial submissions may be prepared in accordance with any recognized citational format. Once an essay is accepted, the author will be asked to apply MLQ's current style guide.
Submissions should be accompanied by a statement promising exclusive right to consideration for four months. In practice the journal's normal response time is much more rapid.