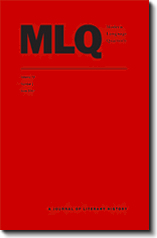 Modern Language Quarterly publishes scholarly essays and book reviews pertaining to literary history. The journal is published by Duke University Press and housed at the University of Washington, Seattle.
Tables of contents (from 1990 onward) and abstracts (from 2000) can be accessed and searched on this site through the issue index; tables of contents for upcoming issues are also available for preview.
Current issue
MLQ's current issue is June 2019 (80.2) , available online from Duke.
Announcements
MLQ's first issue of 2016, "Historical Poetics," features essays from Yopie Prins, Andrea Brady, Naomi Levine, Dino Felluga, Caroline Levine, and Simon Jarvis, originally presented at the 2014 University of Chicago conference, Poetic Genre and Social Imagination: Pope to Swinburne. The special issue, guest-edited by V. Joshua Adams, Joel Calahan, and Michael Hansen highlights the diversity of approaches to the study of poetics in history.
In May of 2015, MLQ hosted the conference Scale and Value: New and Digital Approaches to Literary History. A special issue dedicated to the topic was released in August 2016, featuring essays by Mark McGurl, Sharon Marcus, Heather Love, James English, Ted Underwood and Jordan Sellers, Gunter Leypoldt, and Richard So and Hoyt Long. These essays explore how new and digital approaches to literary history engage questions of literary value.
MLQ has transitioned to an author-date citation style, which first appeared in the March 2013 issue. Initial submissions may be prepared in accordance with any recognized citational format. Once an essay is accepted, the author will be asked to apply MLQ's current style guide.
Submissions should be accompanied by a statement promising exclusive right to consideration for four months. In practice the journal's normal response time is much more rapid.