Welcome from the Editor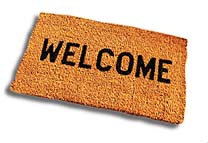 Welcome. The origin of the word is Old English, from "wilcuma," an exclamation of kindly greeting. Willa meant "pleasure, desire, choice," and cuma meant "guest," or one who came (cuman). We wish to welcome your interest in the University of Washington. We welcome your questions, your presence, your academic interests and growth. Read more...

Tips for Getting the Most Out of Transfer Thursday

Upcoming UW and Departmental Application Deadlines

Transfer Student Reception During Dawg Daze
More than 500 new transfer students attended a welcome reception the day before classes began this fall as part of Dawg Daze, the UW's week of welcome for new and returning students. Students gathered in the Husky Union Building and sat at tables according to their past colleges. Read more...

Upcoming UW Visits to Community Colleges
Can't make it to campus? Don't worry, the office of admissions visits community colleges throughout the state. Read more...

Transfer Students: Interested in Architecture?
Prospective transfer students interested in the UW's Architecture program should consider taking the architecture prerequisite courses (Arch 210, 211, 350, 351, 352) as a non-matriculated student. Read more...

Department Update: Biology
The department of biology has recently altered some if its requirements for the completion of a Bachelor of Science or a Bachelor of Arts in Biology. The most important thing to know for prospective transfer students is that these changes will not affect any course equivalencies or the ability for incoming student to declare the major if they meet the current requirements. Read more...

Searching for Scholarships
If your goal is to attend the University of Washington-Seattle, and you would like to find funding for your undergraduate years and beyond, here are some thoughts to get you started. Read more...

Transfer Student Interview

Interview with Transfer Student Alain Clark. Read more...

Outside the Classroom: Living at UW
Like all University of Washington students, transfer students have a wide variety of housing choices. Many transfer students from local community colleges stay put exactly where they already live and commute to campus. Read more...

Admissions Update
Advisers and Students: Exciting things are happening at the University of Washington and in transfer admission. Read more...

Weekly Business Information Session has new time and place

Department Update: Electrical Engineering
The Department of Electrical Engineering is excited to announce changes to our undergraduate curriculum that will impact students planning to transfer in future quarters. Read more...

Department Update: Anthropology
Effective Autumn Quarter 2006, the Anthropology Department has revised its major requirements. The major still requires 55 credits, but with two significant changes: 1) allowance of one 100-level Anthropology course; and 2) addition of a course to satisfy the Anthropology statistics requirement. Read more...

CC Advisers: Have You Met Your Gateway Liaison?
The Undergraduate Gateway Center at the University of Washington is home to a cadre of academic counselors who primarily serve undeclared or undecided students. We are also the host of Transfer Thursday, where prospective students come to find out more about programs of interest at the UW as well as admission procedures. Read more...