AUTUMN 2006 | Issue No. 7
IN THIS ISSUE:

Print-ready PDF version
UW VIRTUAL TOUR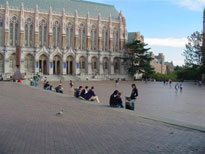 TRANSFER THURSDAYS
Thinking about transferring to the UW? If you are,
Transfer Thursday is your gateway to transfer information
. At a Transfer Thursday session, you can speak to an admissions counselor who will tell you all about applying to the UW. You can also meet with an undergraduate academic advisor who will help you prepare for your intended UW major. Bring your questions and your unofficial transcript(s). It's one-stop shopping for the prospective transfer student.
Where:
University of Washington
171 Mary Gates Hall
When:
Every Thursday 1:00 - 4:00.
Admissions sessions
begin at 2:30!
For more information:
(206) 543-2550 or click
here
.
CREDITS
Megan McConnell
Editor
Mike McCain
Technical Designer
Contributors:
Diane Guerra
Terry Hill
Susan Inman
Jean Joichi
Megan McConnell
Helene Obradovich
Jason Patterson
Vega Subramaniam
The Transfer eNewsletter is a project of the UW Undergraduate Advising GatewayCenter.
Undergraduate
Gateway Center
171 Mary Gates Hall
Weekdays 8 a.m. - 5 p.m.
CC Advisers: Have You Met Your Gateway Liaison?
By Megan McConnell, Academic Counselor, UAA Advising
The Undergraduate Gateway Center at the University of Washington is home to a cadre of academic counselors who primarily serve undeclared or undecided students. We are also the host of Transfer Thursday, where prospective students come to find out more about programs of interest at the UW as well as admission procedures.
One of each adviser's many responsibilities is serving as a liaison with one or more community colleges around the state. Our goal is to visit each community college in the state once a year, if possible, and even if a visit is not possible, to establish a working relationship with advisers and faculty at the assigned college(s) to provide advising information.
Some of the things your liaison may do:
Visit your college during the College Tour or another time.
Set up a meeting with advisers and faculty to discuss web resources for exploring majors, finding out transfer equivalencies, and graduation requirements; to help you help students prepare to come to Transfer Thursday; to provide statistics on community college enrollments at UW campuses; and to provide any updates on prerequisite changes or new program developments.
Offer a student information session on "Preparing for Majors at the UW."
Answer via phone or email any questions that may arise about UW majors and policies (recognizing that we will refer any admissions-related questions to Admissions).
Meet with you if you come to the annual UW/Community College Advising Conference.
So, if you are a community college adviser and you don't know who your current liaison is, here's the skinny: