AUTUMN 2006 | Issue No. 7
IN THIS ISSUE:

Print-ready PDF version
UW VIRTUAL TOUR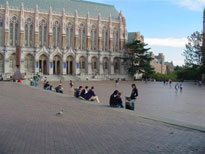 TRANSFER THURSDAYS
Thinking about transferring to the UW? If you are,
Transfer Thursday is your gateway to transfer information
. At a Transfer Thursday session, you can speak to an admissions counselor who will tell you all about applying to the UW. You can also meet with an undergraduate academic advisor who will help you prepare for your intended UW major. Bring your questions and your unofficial transcript(s). It's one-stop shopping for the prospective transfer student.
Where:
University of Washington
171 Mary Gates Hall
When:
Every Thursday 1:00 - 4:00.
Admissions sessions
begin at 2:30!
For more information:
(206) 543-2550 or click
here
.
CREDITS
Megan McConnell
Editor
Mike McCain
Technical Designer
Contributors:
Diane Guerra
Terry Hill
Susan Inman
Jean Joichi
Megan McConnell
Helene Obradovich
Jason Patterson
Vega Subramaniam
The Transfer eNewsletter is a project of the UW Undergraduate Advising GatewayCenter.
Undergraduate
Gateway Center
171 Mary Gates Hall
Weekdays 8 a.m. - 5 p.m.
Tips for Getting the Most Out of Transfer Thursday
Attend a Transfer Thursday session at UW late in your freshman year or early in your sophomore year
Take an unofficial copy of all of your transcripts, including high school, if you have it. UW advisers need to see what you've been doing at the community college.
Take a copy of your educational plan (your associate's degree planning sheet is fine) for the remainder of your time at the community college.
Visit your community college adviser before attending Transfer Thursday.
Before going to Transfer Thursday, do some research about programs/majors you're considering. Make a list of prerequisites and questions and talk to a UW adviser about them.
Visit the Transfer Thursday listing of upcoming information sessions and see when (or if) your intended major is doing an information session, then come to campus on that Thursday. Not all programs offer information sessions, and even those that do don't usually offer them every Thursday, so a little advance planning will allow you to do "one stop" shopping.
Be prepared to attend the 2:30 admissions session and have a list of questions you need answered about the admissions process.
Be prepared to write down the answers to the questions you ask.
Go back to your community college advisor and share what you found out.
Practical Hints
Be prepared to stay a few hours. There is an admission session at 2:30 that is important. You can see an advisor either before or after.
Parking on campus costs $11 when you arrive. You will receive a partial refund when you leave if you stay for only a few hours. On street parking is limited to one hour. Better yet, take the bus!
Transfer Thursday can be hard on little children. If you're not able to arrange for childcare, perhaps you can bring someone with you to help. If not, bring something for your child to do and some snacks.
It is a big campus—wear comfortable walking shoes.
Be sure to visit with the UW representative when he or she visits your campus. Your advising office will know when they will be there. Alternatively, you can check our schedule of upcoming community college visits here.