AUTUMN 2006 | Issue No. 7
IN THIS ISSUE:

Print-ready PDF version
UW VIRTUAL TOUR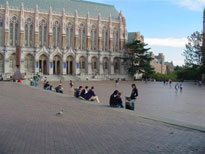 TRANSFER THURSDAYS
Thinking about transferring to the UW? If you are,
Transfer Thursday is your gateway to transfer information
. At a Transfer Thursday session, you can speak to an admissions counselor who will tell you all about applying to the UW. You can also meet with an undergraduate academic advisor who will help you prepare for your intended UW major. Bring your questions and your unofficial transcript(s). It's one-stop shopping for the prospective transfer student.
Where:
University of Washington
171 Mary Gates Hall
When:
Every Thursday 1:00 - 4:00.
Admissions sessions
begin at 2:30!
For more information:
(206) 543-2550 or click
here
.
CREDITS
Megan McConnell
Editor
Mike McCain
Technical Designer
Contributors:
Diane Guerra
Terry Hill
Susan Inman
Jean Joichi
Megan McConnell
Helene Obradovich
Jason Patterson
Vega Subramaniam
The Transfer eNewsletter is a project of the UW Undergraduate Advising GatewayCenter.
Undergraduate
Gateway Center
171 Mary Gates Hall
Weekdays 8 a.m. - 5 p.m.
Admissions Update
By Susan Inman, Adviser, Environmental Health
Advisers and Students:
Exciting things are happening at the University of Washington and in transfer admission.
Husky Promise
The University is committed to ensuring that low- and lower middle-income students can afford to choose the UW. To ensure the UW remains affordable, beginning autumn quarter 2007, the Husky Promise guarantees that full tuition will be covered by grant or scholarship support for low- or lower middle-income students who are Washington residents. These grants and scholarships do not have to be repaid. Students who qualify for the Husky Promise can be assured that if tuition increases, the University of Washington has them covered! This amazing new program will benefit an estimated 5,000 students at the Seattle, Bothell, and Tacoma campuses, transfers included.
Transfer vs. Freshman Admission Trends
We are pleased to report positive outcomes and forecasts for students entering UW Seattle from Washington community colleges. For autumn 2006, the Seattle campus offered admission to 70% of all Washington community college applicants. This compares to offer rates of 68% for high school applicants and only 29% for applicants from other four-year universities. Community college students are not only encouraged to apply to the University of Washington: they clearly continue to be successful in gaining admission.
Perhaps you've heard that 5,438 freshmen enrolled on the UW's Seattle campus this fall -- its largest class ever. If you're concerned whether space will be left for transfers in the coming academic year, don't be. First of all, the freshman class includes Running Start students coming from Washington community colleges who have earned at least 40 college credits. Second, the University dedicates a proportion of new spaces each year, at least 30%, to undergraduates coming directly from Washington community colleges. We remain committed to being open and accessible to transfers.
Comprehensive Review
It is a great time to consider transfer to the University of Washington. In our comprehensive approach to reviewing transfer applications, we consider many factors – both personal and academic – so we can select a class that represents a diversity of perspectives, backgrounds and talents. We are encouraged by the increase of underrepresented and first-generation college students at the UW in the past two years. Now, with the introduction of Husky Promise, not even the inability to pay should prevent any community college student from considering the UW.