AUTUMN 2006 | Issue No. 7
IN THIS ISSUE:

Print-ready PDF version
UW VIRTUAL TOUR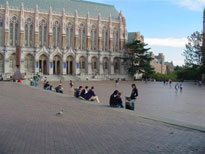 TRANSFER THURSDAYS
Thinking about transferring to the UW? If you are,
Transfer Thursday is your gateway to transfer information
. At a Transfer Thursday session, you can speak to an admissions counselor who will tell you all about applying to the UW. You can also meet with an undergraduate academic advisor who will help you prepare for your intended UW major. Bring your questions and your unofficial transcript(s). It's one-stop shopping for the prospective transfer student.
Where:
University of Washington
171 Mary Gates Hall
When:
Every Thursday 1:00 - 4:00.
Admissions sessions
begin at 2:30!
For more information:
(206) 543-2550 or click
here
.
CREDITS
Megan McConnell
Editor
Mike McCain
Technical Designer
Contributors:
Diane Guerra
Terry Hill
Susan Inman
Jean Joichi
Megan McConnell
Helene Obradovich
Jason Patterson
Vega Subramaniam
The Transfer eNewsletter is a project of the UW Undergraduate Advising GatewayCenter.
Undergraduate
Gateway Center
171 Mary Gates Hall
Weekdays 8 a.m. - 5 p.m.
Department Update: Electrical Engineering
By Helene Obradovich, Academic Counselor, Electrical Engineering
The Department of Electrical Engineering is excited to announce changes to our undergraduate curriculum that will impact students planning to transfer in future quarters.
A change with which many transfer students may already be familiar is to our admission prerequisites. We dropped a few prerequisite classes, making it easier for many students to apply to our program without having to worry about making sure to get those last classes done by the application deadline. PHYS 123, Math 307 and CSE 142 are no longer required to apply to the EE major. They are still required to graduate, however, so if they fit into your schedule we would still recommend that you complete them as part of your overall course planning.
The biggest - and most recent - change has to do with our overall curriculum/graduation requirements. Whereas previously nine specific EE core (200- and 300-level) courses were required of all EE majors, now there are only three common core classes that all EE students must take. Beyond that smaller required core, students choose a "major concentration area" on which to focus. Thirteen different areas exist from which students may choose - including areas such as wireless communications, sustainable electric energy, biomedical instrumentation, analog circuits and embedded computing systems. Each major concentration area includes a set of required coursework that give a student an in-depth experience in that area. The new curriculum also offers more elective flexibility both inside and outside of EE courses. Students can focus their EE coursework as narrowly as they wish or keep their experience broad-based.
Why change the EE curriculum at this point in time? EE has always been a diverse engineering discipline, but it is becoming even more diverse with applications in many different areas. Boundary lines are increasingly blurred not only between EE and other engineering disciplines, but also between EE and many natural and life sciences. The department recognized that EE majors come with a variety of interests - some want to pursue a particular branch of EE in depth, while others wish to gain a broad background in all aspects of EE. Some students intend to go straight into an EE-related job upon graduation while many others choose other professions such as medicine, law and even teaching. We expect that these curricular changes will provide students a larger number of ways in which to get the experience they want as an EE major.
Undergraduate advisers in EE are happy to talk with prospective transfer students about the new curriculum, the impact of the change in admission requirements and other aspects of transfer planning. Students can reach us via email at undergrad@ee.washington.edu or by phone at 206-543-2142. We also encourage prospective students to browse our department website at www.ee.washington.edu (of particular interest is the link for "student info").