AUTUMN 2006 | Issue No. 7
IN THIS ISSUE:

Print-ready PDF version
UW VIRTUAL TOUR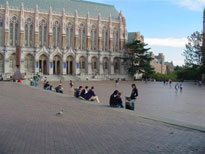 TRANSFER THURSDAYS
Thinking about transferring to the UW? If you are,
Transfer Thursday is your gateway to transfer information
. At a Transfer Thursday session, you can speak to an admissions counselor who will tell you all about applying to the UW. You can also meet with an undergraduate academic advisor who will help you prepare for your intended UW major. Bring your questions and your unofficial transcript(s). It's one-stop shopping for the prospective transfer student.
Where:
University of Washington
171 Mary Gates Hall
When:
Every Thursday 1:00 - 4:00.
Admissions sessions
begin at 2:30!
For more information:
(206) 543-2550 or click
here
.
CREDITS
Megan McConnell
Editor
Mike McCain
Technical Designer
Contributors:
Diane Guerra
Terry Hill
Susan Inman
Jean Joichi
Megan McConnell
Helene Obradovich
Jason Patterson
Vega Subramaniam
The Transfer eNewsletter is a project of the UW Undergraduate Advising GatewayCenter.
Undergraduate
Gateway Center
171 Mary Gates Hall
Weekdays 8 a.m. - 5 p.m.
Department Update: Anthropology
By Diane Guerra, Academic Counselor, Anthropology
Effective Autumn Quarter 2006, the Anthropology Department has revised its major requirements. The major still requires 55 credits, but with two significant changes: 1) allowance of one 100-level Anthropology course; and 2) addition of a course to satisfy the Anthropology statistics requirement.
As the result of a foundation course initiative, the faculty are developing new Anthropology courses at the 100 level. These foundation courses will serve as introductions to the discipline by way of specific topics. Therefore, students now have the option of including one 100-level Anthropology course (ANTH, BIO A, or ARCHY), whether taken at the UW or another institution, as part of their major. In addition, Soc 220 has been added to our list of acceptable courses to meet the Anthropology statistics requirement. We hope these changes will give students more flexibility to complete their major in a timely way.
Please visit us at our homepage, stop in to see us, or e-mail to get more specific details about the major requirements. Our coordinates are as follows:
http://depts.washington.edu/anthweb/
Denny 247
206-543-7772
djguerra@u.washington.edu
jmarts@u.washington.edu