AUTUMN 2006 | Issue No. 7
IN THIS ISSUE:

Print-ready PDF version
UW VIRTUAL TOUR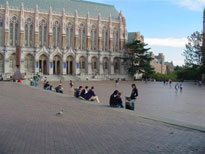 TRANSFER THURSDAYS
Thinking about transferring to the UW? If you are,
Transfer Thursday is your gateway to transfer information
. At a Transfer Thursday session, you can speak to an admissions counselor who will tell you all about applying to the UW. You can also meet with an undergraduate academic advisor who will help you prepare for your intended UW major. Bring your questions and your unofficial transcript(s). It's one-stop shopping for the prospective transfer student.
Where:
University of Washington
171 Mary Gates Hall
When:
Every Thursday 1:00 - 4:00.
Admissions sessions
begin at 2:30!
For more information:
(206) 543-2550 or click
here
.
CREDITS
Megan McConnell
Editor
Mike McCain
Technical Designer
Contributors:
Diane Guerra
Terry Hill
Susan Inman
Jean Joichi
Megan McConnell
Helene Obradovich
Jason Patterson
Vega Subramaniam
The Transfer eNewsletter is a project of the UW Undergraduate Advising GatewayCenter.
Undergraduate
Gateway Center
171 Mary Gates Hall
Weekdays 8 a.m. - 5 p.m.
Welcome from the Editor
By Megan McConnell, Editor, Transfer eNewsletter
Welcome. The origin of the word is Old English, from "wilcuma," an exclamation of kindly greeting. Willa meant "pleasure, desire, choice," and cuma meant "guest," or one who came (cuman).
We wish to welcome your interest in the University of Washington. We welcome your questions, your presence, your academic interests and growth.
This issue of the Transfer eNewsletter revolves around a theme of welcome. It is most obviously present in our article on the new welcome reception we are hosting for transfer students during Dawg Daze each September. The concept is implicit in our cover story on the new ways the UW is making a world-class education affordable for students, as well as our piece on scholarship advice. We want you to find the most affordable way to come pursue your degree, and we'd like to help in whatever way we can.
We've included several articles updating you on changes in graduation requirements in several departments. These changes don't really affect transfer students in the choices you are making at your community colleges, but they affect you once you get here, and we think part of welcoming you is helping you to know the most you can about the academic majors and programs you are beginning to select now.
Our article about Transfer Thursdays this issue focuses on ways you can get the most out of that weekly event. Come prepared, and you'll get more done, is the line of thinking. This is another way in which we welcome your interest and your questions.
And finally, we hope our summary of upcoming application deadlines helps makes it easier for you to pull together and submit all the materials you'll need for whatever academic path you are choosing. It is yet another way in which we put out the welcome mat for you.
Welcome. Please come join us. We look forward to meeting you.