Autumn 2013 | Issue No. 25
UW VIRTUAL TOUR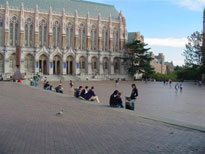 TRANSFER THURSDAYS
Thinking about transferring to the UW? If you are,
Transfer Thursday is your gateway to transfer information
. At a Transfer Thursday session, you can speak to an admissions counselor who will tell you all about applying to the UW. You can also meet with an undergraduate academic advisor who will help you prepare for your intended UW major. Bring your questions and your unofficial transcript(s). It's one-stop shopping for the prospective transfer student.
Where:
University of Washington
141 Mary Gates Hall
When:
Every Thursday afternoon.
Click here to view the scheduled activities
.
For more information:
(206) 543-2550 or click
here
.
CREDITS
Donna Sharpe
Editor
Jennifer Stock
Web Producer
Contributors:
Emily Batlan
Stanley Choi
Caitlin Dean
JoAnne Edwards
Joyce Fagel
Susan Inman
Julie Johnston
Leslie Mabry
Meghan Oxley
Adam Shinn
Sehee Thomas
Carlos Williams
The Transfer eNewsletter is a project of UAA Advising.
Update On Academic Satisfactory Progress
The University of Washington seeks to allow fair access to as many eligible applicants as possible each year while enabling students to experience the full range of opportunities at UW. As such, UW expects each student to continuously make academic progress toward a degree. Academic progress includes declaring a major by the time you are a junior and graduating within a reasonable time period. The graduation satisfactory progress policy states, "Students shall graduate with their first baccalaureate by the time they have completed 30 credits beyond the credits required for the first degree or concurrent degrees." For most degree programs the credit limit of "30 credits beyond the credits required" equals 210 credits, 30 beyond the 180 credits required.
Last May, the faculty of the University of Washington revised implementation of the satisfactory progress policy to add a quarter timeframe, 12 quarters, before the credit limit is enforced. Quarters counted for satisfactory progress are labeled as Academic Satisfactory Progress quarters. Entering UW as a transfer student your record will be evaluated to determine the number of Academic Satisfactory Progress quarters you have completed before enrolling at UW. On your application you project the courses you will complete prior to enrollment at UW. Using your projection, the Admissions Office determines your projected class level which will be used to calculate the number of Academic Satisfactory Progress quarters completed. That number will appear on your UW unofficial transcript. See the Student Guide section on Academic Satisfactory Progress for more details.
Once enrolled at UW, all Autumn, Winter, and Spring quarters you complete at UW will be added to your Academic Satisfactory Progress quarter total. Summer quarters and quarters you withdraw from the University will not count in the total.
If you transfer to UW with 90 credits or more, you will be given a timeframe of six quarters before the 210-credit limit is imposed, so it is critical for you to arrive ready to begin your major. The UW has always encouraged transfer students to be major-ready upon entry to UW; this revised policy makes such preparation even more important. Check the Academic Planning Worksheets to ensure you are completing all admission requirements for your intended major.
(Running Start students who arrive with their cohort are considered freshmen and consequently have a timeframe of 12 quarters before the 210-credit limit is imposed. The same is true for students with AP and IB credit—if they use the freshman application for entry, their timeframe will be assessed as 12 quarters.)
The University expects that you plan your time at UW to take advantage of the opportunities that will enhance your education while also meeting your goals within the limits set by the faculty. Your academic adviser can assist you in this planning. We recommend prospective transfer students come to Transfer Thursday and remember to ask about satisfactory progress when discussing their plans with the adviser.