Autumn 2013 | Issue No. 25
UW VIRTUAL TOUR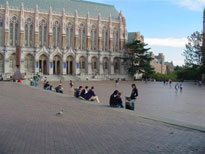 TRANSFER THURSDAYS
Thinking about transferring to the UW? If you are,
Transfer Thursday is your gateway to transfer information
. At a Transfer Thursday session, you can speak to an admissions counselor who will tell you all about applying to the UW. You can also meet with an undergraduate academic advisor who will help you prepare for your intended UW major. Bring your questions and your unofficial transcript(s). It's one-stop shopping for the prospective transfer student.
Where:
University of Washington
141 Mary Gates Hall
When:
Every Thursday afternoon.
Click here to view the scheduled activities
.
For more information:
(206) 543-2550 or click
here
.
CREDITS
Donna Sharpe
Editor
Jennifer Stock
Web Producer
Contributors:
Emily Batlan
Stanley Choi
Caitlin Dean
JoAnne Edwards
Joyce Fagel
Susan Inman
Julie Johnston
Leslie Mabry
Meghan Oxley
Adam Shinn
Sehee Thomas
Carlos Williams
The Transfer eNewsletter is a project of UAA Advising.
The New, Competitive Entrepreneurship Minor
Because start-ups only start with an idea
Some people are just born to change the world. They see opportunities everywhere--from the daily annoyances to the grand challenges that face our society. But we can tell you that it takes more than a great idea. It takes the savvy skill set, knowledge, and energy of an entrepreneur. If you're a visionary with the passion and determination to shape the future, get the business know-how with the Foster School's new, competitive Entrepreneurship Minor for undergraduates.
Open to all non-business majors, this 31-credit competitive minor offers students the opportunity to leverage their unique talents, as well as their new-found business knowledge, to achieve their start-up goals.
Prerequisites*
Microeconomics
Financial Accounting
Managerial Accounting
Required Coursework
Intro to Entrepreneurship
Creating a Company I & II
AND choose 4 credits from:



Software Entrepreneurship
Business Plan Practicum
Environmental Innovation Practicum
Entrepreneurial Marketing
Venture Investing
Special Topics
Students who pursue the minor are creative and motivated, and looking for ways to apply the knowledge they've gained from their major to an entrepreneurial endeavor. The Entrepreneurship Minor will challenge your creativity and critical thinking skills, while providing you with the knowledge and experience every entrepreneur needs.
Applications are accepted each quarter. The Winter Quarter deadline is January 25, 2014. The Spring Quarter deadline is April 25, 2014.
*Some of you might be wondering why there are accounting classes as prerequisites for the Entrepreneurship Minor. Here's why: Every successful entrepreneur knows that cash is king. You need to know where your money comes from, where it goes, and how to use the numbers to tell the financial story of the start-up. You need to understand the language of accounting.
In Financial Accounting, you will practice the art of creating balance sheets, income statements, and cash flow statements from underlying transactions. In Managerial Accounting, you will learn to analyze and evaluate accounting information as part of the managerial process of planning, decision making and control. These are the skills that allow entrepreneurs to understand the true state of affairs of their business. As a student, these classes will give you skills that you will depend upon throughout your entrepreneurial career.
Questions about the program? Email Adam Shinn at abshinn@uw.edu.