Autumn 2013 | Issue No. 25
UW VIRTUAL TOUR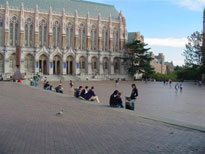 TRANSFER THURSDAYS
Thinking about transferring to the UW? If you are,
Transfer Thursday is your gateway to transfer information
. At a Transfer Thursday session, you can speak to an admissions counselor who will tell you all about applying to the UW. You can also meet with an undergraduate academic advisor who will help you prepare for your intended UW major. Bring your questions and your unofficial transcript(s). It's one-stop shopping for the prospective transfer student.
Where:
University of Washington
141 Mary Gates Hall
When:
Every Thursday afternoon.
Click here to view the scheduled activities
.
For more information:
(206) 543-2550 or click
here
.
CREDITS
Donna Sharpe
Editor
Jennifer Stock
Web Producer
Contributors:
Emily Batlan
Stanley Choi
Caitlin Dean
JoAnne Edwards
Joyce Fagel
Susan Inman
Julie Johnston
Leslie Mabry
Meghan Oxley
Adam Shinn
Sehee Thomas
Carlos Williams
The Transfer eNewsletter is a project of UAA Advising.
Landscape Architecture Update: BLA Information Sessions
This year the Landscape Architecture Department is holding information sessions during this academic year to provide students an opportunity to learn about our program, the application process, and what the profession of landscape architecture has to offer. There will also be portfolio examples available for prospective students to view. If you have any questions or are unable to attend any of these sessions please contact JoAnne Edwards at slocan@uw.edu or visit the department office on the 3rd floor of Gould Hall. Enjoy this academic school year and we look forward to seeing you at one of our information sessions.
Thursday, January 23rd, 2014, 1:30-2:20, Gould 142
Thursday, February 20th, 2014, 1:30-2:20, Gould 142
Thursday, May 22nd, 2014, 1:30-2:20, Gould 142