SPRING 2006 | Issue No. 6
IN THIS ISSUE:

Print-ready PDF version
UW VIRTUAL TOUR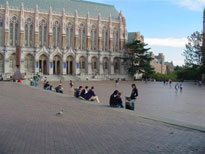 TRANSFER THURSDAYS
Thinking about transferring to the UW? If you are,
Transfer Thursday is your gateway to transfer information
. At a Transfer Thursday session, you can speak to an admissions counselor who will tell you all about applying to the UW. You can also meet with an undergraduate academic advisor who will help you prepare for your intended UW major. Bring your questions and your unofficial transcript(s). It's one-stop shopping for the prospective transfer student.
Where:
University of Washington
171 Mary Gates Hall
When:
Every Thursday 1:00 - 4:00.
Admissions sessions
begin at 2:30!
For more information:
(206) 543-2550 or click
here
.
CREDITS
Megan McConnell
Editor
Mike McCain
Technical Designer
Contributors:
Janice DeCosmo
Michelle Hall
Terry Hill
Susan Inman
Beret Kischner
Jamie Lee
Megan McConnell
Michelle Trudeau
The Transfer eNewsletter is a project of the UW Undergraduate Advising GatewayCenter.
Undergraduate
Gateway Center
171 Mary Gates Hall
Weekdays 8 a.m. - 5 p.m.
Martin Family Foundation Honors Scholarship Program
The Martin Family Foundation Honors Scholarship Program was established to enable community college students of exceptional ability and outstanding achievement to complete their baccalaureate degrees at the University of Washington, Seattle campus. Amount: Up to $18,000, a maximum of $6,000 per year subject to continuing high scholarship at the UW, award may be renewable each year for up to a total of three years of undergraduate support.
Application Deadline: July 7, 2006
For more information:
http://www.washington.edu/students/ugrad/scholar/students/incoming/martin.html