SPRING 2006 | Issue No. 6
IN THIS ISSUE:

Print-ready PDF version
UW VIRTUAL TOUR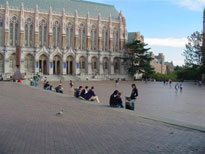 TRANSFER THURSDAYS
Thinking about transferring to the UW? If you are,
Transfer Thursday is your gateway to transfer information
. At a Transfer Thursday session, you can speak to an admissions counselor who will tell you all about applying to the UW. You can also meet with an undergraduate academic advisor who will help you prepare for your intended UW major. Bring your questions and your unofficial transcript(s). It's one-stop shopping for the prospective transfer student.
Where:
University of Washington
171 Mary Gates Hall
When:
Every Thursday 1:00 - 4:00.
Admissions sessions
begin at 2:30!
For more information:
(206) 543-2550 or click
here
.
CREDITS
Megan McConnell
Editor
Mike McCain
Technical Designer
Contributors:
Janice DeCosmo
Michelle Hall
Terry Hill
Susan Inman
Beret Kischner
Jamie Lee
Megan McConnell
Michelle Trudeau
The Transfer eNewsletter is a project of the UW Undergraduate Advising GatewayCenter.
Undergraduate
Gateway Center
171 Mary Gates Hall
Weekdays 8 a.m. - 5 p.m.
Admissions Update: Details, Details, Details
By Susan Inman, Adviser, Environmental Health
The success of an applicant is in the details. Every year we see applications that are missing a few integral things that sink an otherwise perfect ship. So how can you be one of the many transfer students who will enjoy attending classes at the University of Washington Seattle? Pay attention to the details! We uncover some of the most common admission problems below.
The personal statement plays an integral role in our understanding the applicant and in making an admission decision. The statement is really an opportunity for the applicant to create a compelling context for their application. We not only encourage but expect an applicant to tell us about the aspects of their life that are not apparent from information provided in the rest of the application file. They are welcome to share their passions and commitments, hopes, personal challenges, hardships overcome, and cultural awareness gained. The personal statement is the best means we have of getting to know an applicant, so they need to address all prompts and tell us who they are.


To be eligible for admission to the UW all applicants must satisfy some basics called the core subject requirements. One such requirement, which can be satisfied by high school or college work, is in foreign language. In addition, the comprehensive review process for transfer admission considers whether students interested in majors in the College of Arts & Sciences or the School of Social Work have completed some or all of the foreign language graduation requirement before they transfer. Applicants who can complete through the 103-level, or equivalent, of a single foreign language at the community college should do it. If they canít, they should tell us their plans for completing language at the UW.


We encourage students to broadly explore courses offered at the community college. Eventually all college students need to choose a major and we are interested in learning about that choice and what steps have been taken to make that major path a reality. Applicants will benefit in the review process if they are clear about their intentions and goals.


There are three main types of majors at the UW Ė open, minimum requirement, and competitive. Applicants should understand which type of major they are pursuing and take whatever steps are necessary to declare or apply to that major. Competitive majors, for example, may require a separate departmental application by a separate deadline before applicants would expect to hear from the University. Some competitive majors admit only once or twice a year, not every quarter, so timing can be important when deciding when to apply for admission.


It is apparent that some students do not prufread their applications. Check and double check materials for important information including name, Social Security Number, contact information, schools attended, and projected courses. We also suggest writing several drafts of the personal statement and having another pair of eyes read it over before submission.


An application file is reviewed only after it is complete. Gather and send supporting documents, such as high school transcripts and all college transcripts, in advance of the admission closing dates. After the application deadline, update the Office of Admissions if any important information you provided on the application changes.
Remember, the application is an important step on oneís path to pursuing a University of Washington degree. Take time to time to understand the application, ask questions about the process, and polish the details!