SPRING 2006 | Issue No. 6
IN THIS ISSUE:

Print-ready PDF version
UW VIRTUAL TOUR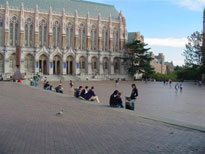 TRANSFER THURSDAYS
Thinking about transferring to the UW? If you are,
Transfer Thursday is your gateway to transfer information
. At a Transfer Thursday session, you can speak to an admissions counselor who will tell you all about applying to the UW. You can also meet with an undergraduate academic advisor who will help you prepare for your intended UW major. Bring your questions and your unofficial transcript(s). It's one-stop shopping for the prospective transfer student.
Where:
University of Washington
171 Mary Gates Hall
When:
Every Thursday 1:00 - 4:00.
Admissions sessions
begin at 2:30!
For more information:
(206) 543-2550 or click
here
.
CREDITS
Megan McConnell
Editor
Mike McCain
Technical Designer
Contributors:
Janice DeCosmo
Michelle Hall
Terry Hill
Susan Inman
Beret Kischner
Jamie Lee
Megan McConnell
Michelle Trudeau
The Transfer eNewsletter is a project of the UW Undergraduate Advising GatewayCenter.
Undergraduate
Gateway Center
171 Mary Gates Hall
Weekdays 8 a.m. - 5 p.m.
Transfer and Returning Interest Groups Help Transfer Students in Many Ways
By Terry Hill, Program Coordinator, First Year Programs
Incoming transfer students often feel like they are revisiting their freshman year once they get to UW. The campus seems extremely large, the grading system changes, the type of workload changes, and they know very few people when they get here. Unlike first-year students, transfer students feel as if they should already know this stuff, given their past college experience. Very few people like the feeling of being lost and not knowing where to turn to find the answers to the questions they don't even know to ask. The UW has a unique way of helping students find their place on campus and help transfer students hit the ground running. For almost 15 years now, the Transfer and Returning Interest Groups (TRIG) program has been helping transfer students succeed and minimizing the effects of the dreaded "Transfer Shock."
The TRIG program is intended to provide a supportive structure where students will be challenged to discover ways to become integrated into the new UW environment and see the practical application of many UW resources and services in light of their own past experience and future goals.
Goals

Students will feel supported and learn to evaluate their reaction to transition and maximize the support resources available to them through the UW and the communities they are a part of.
Students will learn about the many intellectual, cultural, and social opportunities that are uniquely available to them at UW.
Students will explore the purpose of higher education and the unique mission of a research institution.
Students will learn ways in which the UW can help meet their own individualized goals and the expectations and goals that the UW has for all students.
Students will become familiar with the campus and local environment.
How do we do this?

TRIG students will examine their past life course and identify future life goals.
Students will also examine their reaction to change and transition and find ways to maximize the resources that will help support them through current and future transitions.
Students will take part in self-directed learning by establishing their own goals, locate many of their own resources, and learn to evaluate their own progress.
Students will be asked to learn from each other through facilitated discussions and exercises.
Students with like academic interests will be brought together to form a supportive environment and learning community that is facilitated by a former transfer student with similar academic interests.
Design
At this time, TRIGs are only offered in the Autumn and consist of one or two academic courses in which space has been reserved by entry code for first-quarter transfer and returning students (students transferring or returning to the UW in the Summer and continuing into Autumn are also eligible).
In addition to signing up for the academic course(s), TRIG students are required to take GEN ST 199, University Community, a two-credit, non-graded (CR/NC) seminar. This seminar is what truly makes a TRIG a TRIG. All TRIG participants meet once a week with a Peer Instructor to talk more about university resources and services, as well as more department-specific resources related to each student's chosen area of study. Credit for GEN ST 199 is based on participation, class assignments and completion of an electronic portfolio.
This Fall, there will be nine TRIGs being offered in the following majors: Architecture, Business, Biology, Community and Environmental Planning, Economics, History, Political Science, Psychology, and Sociology. Students in these majors should seriously consider registering for a TRIG when they attend their summer Advising and Orientation Session. It will be a great way to get registered for high-demand classes in the major, meet new friends, and learn how to get the most out of your UW experience. For more information on the TRIG Program, please visit our website at: http://depts.washington.edu/trigs/. You can also email trigs@u.washington.edu or call First Year Programs at (206)543-4905.