SPRING 2006 | Issue No. 6
IN THIS ISSUE:

Print-ready PDF version
UW VIRTUAL TOUR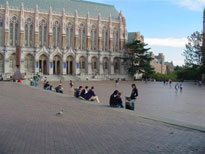 TRANSFER THURSDAYS
Thinking about transferring to the UW? If you are,
Transfer Thursday is your gateway to transfer information
. At a Transfer Thursday session, you can speak to an admissions counselor who will tell you all about applying to the UW. You can also meet with an undergraduate academic advisor who will help you prepare for your intended UW major. Bring your questions and your unofficial transcript(s). It's one-stop shopping for the prospective transfer student.
Where:
University of Washington
171 Mary Gates Hall
When:
Every Thursday 1:00 - 4:00.
Admissions sessions
begin at 2:30!
For more information:
(206) 543-2550 or click
here
.
CREDITS
Megan McConnell
Editor
Mike McCain
Technical Designer
Contributors:
Janice DeCosmo
Michelle Hall
Terry Hill
Susan Inman
Beret Kischner
Jamie Lee
Megan McConnell
Michelle Trudeau
The Transfer eNewsletter is a project of the UW Undergraduate Advising GatewayCenter.
Undergraduate
Gateway Center
171 Mary Gates Hall
Weekdays 8 a.m. - 5 p.m.
"What Can I Do with a Major in . . . "
By Megan McConnell, Academic Counselor, UAA Advising
Students are asking it, advisers are trying to answer it, we just want to remind everyone of a great website that helps us all get to the bottom of the age-old, "What can I do with a major in . . ." question.
The University of Washington's Center for Career Services maintains a convenient website that helps you connect majors with careers. For each major of interest, a student can choose either a PDF or HTML version to find an outline of common career areas, typical employers, and strategies designed to maximize career opportunities. CCS reminds advisers and students to keep in mind that the information sheets and websites are representative of typical career paths associated with each major and not a comprehensive list.
You can navigate to the website via the Transfer Thursday webpage; it is the very last link at the bottom of the page under "Recommended websites for prospective transfer students."
Alternatively, just bookmark the following URL:
http://depts.washington.edu/careers/employguide/guide/