19 January 2022 Message to AAUP's faculty listserver from AAUP president Eva Cherniavsky, and the UW faculty union organizer, Alex Miller:
Dear Colleagues,
We thought you might be interested in knowing that the UAW 4121, which represents Academic Student Employees at UW, has filed a grievance regarding safe working conditions for ASEs. The supporting petition can be found at https://docs.google.com/forms/d/e/1FAIpQLSe5QiRQ42YmLGfujIOzG73FdevvWo5X_x2OnepOehvWMdmzgQ/viewform
The issues raised in the petition resonate with concerns raised on other listserv, and it may be that some of you are interested in signing on.
In this context, it seems worth underscoring how collective bargaining rights allow faculty and other university constituencies to have a real say in our working conditions. At Western Washington University, for example, the MOU with United Faculty of WWU specifies that "no instructor will be required to teach a section including both remote and in-person students," and will be compensated if they choose to do so for programmatic reasons. The MOU also stipulates that the university will provide all supplies, including masks, and that it will make on-campus testing available to all vaccinated faculty on a voluntary basis (or, if not possible, will provide transportation to a testing site). Oregon's faculty union, United Academics, has continued to advocate for its members, amplifying the concerns of faculty from under-represented backgrounds and successfully lobbying for paid leave beyond FMLA. Finally, AFT Washington bargained to receive compensation for moving classes online in 2020 at Seattle Colleges, Shoreline Community College, and Green River College.
It's also worth noting that the Rutgers faculty union just negotiated a 5% raise for faculty which goes into effect this month. At Western, faculty received 3% this year, retroactive to last spring, and will receive another 4.25% next September. In recognition of how faculty have gone above and beyond while teaching during the pandemic, Oregon's union recently negotiated front loaded salary increases of 5%, 3%, and 2% over the next three years. While faculty everywhere are struggling with escalating workloads related to remote "pivots," supporting students in crisis, formulating and implementing pandemic-related policies, and so forth, it's notable that at unionized institutions, compensation is not continually falling behind regional cost of living, but exceeding it.
Best,
Eva Cherniavsky, UW-AAUP
Alex Miller, Ethnic Gender and Labor Studies, UWT
AAUP forum on the future of the University of Washington police force.
Video of Nov. 18, 2021, event on YouTube: https://youtu.be/tyhLmYpPTcc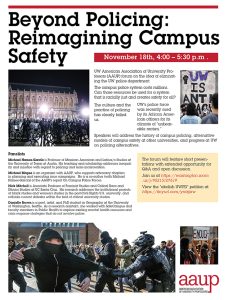 ================================================================================
Letter to UW President Cauce, Faculty Senate Chair Angotti, incoming Faculty Senate Chair Laws, Incoming Faculty Senate Vice-Chair Reddy, and the UW Board of Regents, dated 23 July 2021.
Recent communication (both on and off our listserv) from our UW-AAUP membership and list subscribers, alongside countless conversations we have held with colleagues in our units and networks, has made apparent to us the extent of faculty worry and dismay at the conditions of our planned return to campus in the fall.   The UW-AAUP Executive Board joins our members and colleagues in affirming that the currently existing plans and guidelines for an autumn return are inadequate, as we do not have in place the measures necessary to ensure faculty and students have the safety and support we need and deserve. READ MORE HERE.
And President Cauce's response 2 August 2021, reassuring us the experts have things well in hand, no need for the faculty to be worried…READ HERE.
And now our reply to President Cauce: With all due respect, it appears to us that your reply devotes considerable space to addressing concerns we did not raise – and leaves largely unanswered the many concerns we did.  …READ HERE
July 2021–AAUP's UW Board corresponds with Provost Richards on expectations for fall teaching. Read these letters here:
1) AAUP board's original letter: Regarding instruction in Fall 2021, we have received guidelines only from the Center for Teaching and Learning (https://teaching.washington.edu/topics/preparing-for-autumn-2021/). Most of the CTL recommendations are open to a range of interpretations READ MORE HERE
2) Provost Richards' reply:The intent was to provide suggestions – not directives – on ways to accommodate remote learning in an existing in-person course. These suggestions do not include creating two courses, but instead incorporating evidenced-based approaches to teaching that were already designed and incorporated by many instructors prior to the pandemic. READ MORE HERE
3) AAUP's reply to Provost's reply: Thank you for your reply to the AAUP board letter requesting clarification on expectations of faculty for delivering our courses simultaneously in both online and in-person versions in the fall. As you may be aware, the questions we posed in our earlier message emerged from our discussion on our faculty listserv. READ MORE HERE
See our meeting schedule HERE.
Join our Listserver HERE.
Recording of the event here for those with a UW Net ID (Zoom link expires July 23, 2021): https://docs.google.com/document/d/172MZX979FrdiXrSNARNr1I0-E3dnK495I3SshiDMywM/edit?usp=sharing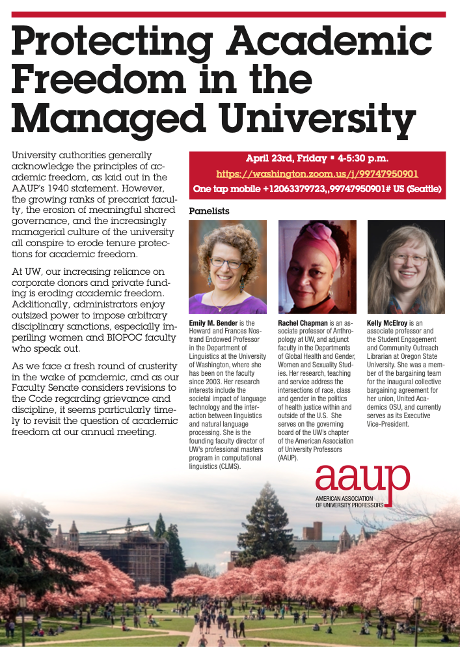 University authorities generally acknowledge the principles of academic freedom, as laid out in the AAUP's  1940 statement. However, the growing ranks of precariat faculty, the erosion of meaningful shared governance, and the increasingly managerial culture of the university all conspire to erode tenure protections for academic freedom. At UW, for example, administrators enjoy outsized power to impose arbitrary disciplinary sanctions, especially imperiling women and BIPOC faculty who speak out.  A recent issue of the AAUP's Journal of Academic Freedom explores the implications of a shift from the "governed" to the "managed" university.
As we face a fresh round of austerity in the wake of pandemic, and as our Faculty Senate considers revisions to the Code regarding grievance and discipline, it seems particularly timely to revisit the question of academic freedom at our annual meeting.
Emily M. Bender is the Howard and Frances Nostrand Endowed Professor in the Department of Linguistics at the University of Washington, where she has been on the faculty since 2003. Her research interests include the societal impact of language technology and the interaction between linguistics and natural language processing. She is the founding faculty director of UW's professional masters program in computational linguistics (CLMS), established in 2005.
Rachel Chapman is an associate professor of Anthropology at UW, and adjunct faculty in the Departments of Global Health and Gender, Women and Sexuality Studies. Her research, teaching and service address the intersections of race, class and gender in the politics of health justice within and outside of the U.S.  She serves on the governing board of the UW's chapter of the American Association of University Professors (AAUP).
Kelly McElroy is an associate professor and the Student Engagement and Community Outreach Librarian at Oregon State University. She was a member of the bargaining team for the inaugural collective bargaining agreement for her union, United Academics OSU, and currently serves as its Executive Vice-President.
One of the speakers on our annual meeting panel will be UW Linguistics faculty member Emily M. Bender,  has collaborated with Dr. Timnit Gebru at Google on the ethics of AI research. Check out the NY Times piece on Dr. Gebru, linked here.
UW Faculty Senate adopts resolution on merit reviews
Class C Resolution adopted 25 Feb 2021; Language includes: "The merit evaluation system should provide more agency and flexibility to faculty to choose the work they believe illuminates their meritorious contribution to students, colleagues, their department, the university, and/or the community during times when the normal operation of the university, or their regular function as a faculty person are interrupted or compromised. In particular, departments, units, and schools should work with faculty to approve alternative structures/systems/procedures for student evaluation of teaching during these unprecedented times (as allowed under Faculty Code Section 24-57, Subsection A)." Read more.
AAUP's reflections on the proposed new faculty grievance policies in the Faculty Code – 22 Feb 2021
The Faculty Senate has been working on revising the sections of the Faculty Code pertaining to grievances and disciplinary processes.  The current proposal for revising the Code around grievance proceedings makes some very valuable improvements, particularly with respect to codifying a structure of mediation that might, in many cases, forestall the need to proceed to a formal grievance.  But UW-AAUP believes further changes are required to ensure the grievance process, and all related processes, repair harm and restore justice, rather than erode community and exacerbate injustice.
This is a phased project: one portion of the work, in the form of a Class A resolution regarding grievance proceedings, is up for consideration at the Senate meeting this coming Thursday, February 25, at 2:30 at 2:30 (on zoom or dial 1.408.638.0968, agenda on line). If approved by the Senate, it would come to a faculty vote in Spring.  Other portions of this work are still in progress, including faculty disciplinary processes. See more: UW AAUP statement on faculty grievance revisions Feb2021
UW's Planning and Budgeting analysis for the current legislative session
Governor Inslee's 2021-23 biennial budget assumes new revenue from the creation of both a capital gains tax and a tax on health insurers. The proposed budgets would increase state funding for the University of Washington Medical Center and Harborview Medical Center, and would fulfill a number of the University administration's priorities. Still, the budget requires furloughs and suspends regular merit increases for University staff throughout the biennium. The Governor did not propose any changes to the state's current tuition policy. UW's analysis here.
Bill Lyne, our faculty colleague at Western Washington University and President of the state's faculty union (United Faculty of Washington) shared his analysis of Gov. Inslee's alarming reversal on higher ed funding in the biennium:
https://www.ufws.org/2020/12/21/the-ways-of-white-folks/
Announcing Scholars for a New Deal for Higher ed
https://scholarsforanewdealforhighered.org/our-work/
White paper: A TRUE NEW DEAL FOR HIGHER EDUCATION: HOW A STIMULUS FOR HIGHER ED CAN ADVANCE PROGRESSIVE POLICY GOALS
Austerity is not an option: some resources
National AAUP is organizing a New Deal for Higher Education campaign. Organizing meeting 1/16–stay tuned for reports.
"Making the Invisible Visible" University Institutional Debt Research Workshop-January 13 from 1- 5 PM eastern = 4 – 8 pm Pacific. Register here.
Nation article by Eleni Shirmer (part of the PHEW and Debt Collective): https://www.thenation.com/article/society/student-debt-university-credit/
Recorded webinar – The Neoliberal University: How to Defend Education, Programs, and Jobs – sponsored by Haymarket Books and Spectre.
Chronicle brief on faculty burnout (in which UW faculty quoted). You can download it here https://connect.chronicle.com/CovidFacultyResearchBrief.html
Some other news clips and commentary:
How Covid-19 Exposed the Cracks in a Public-Private Housing Deal at a university: https://www.chronicle.com/article/how-covid-19-exposed-the-cracks-in-a-public-private-housing-deal?cid2=gen_login_refresh&cid=gen_sign_in
U.S. Sen. Elizabeth Warren Pushes For Answers From Georgia Dorm Operator – https://www.gpb.org/news/2020/09/02/us-sen-elizabeth-warren-pushes-for-answers-georgia-dorm-operator
Housing Developer Pressured Universities on Fall Plans in Rhode Island – https://www.insidehighered.com/news/2020/08/07/housing-developer-reminded-universities-about-project-debt-they-mulled-fall-plans
Reopening Plans for Georgia's Public Universities Are Under Fire from Students and Faculty – https://www.rollingstone.com/culture/culture-news/georgia-public-university-dorm-covid-19-precaution-masks-distancing-corvias-1039809/
UW Faculty Senate Class C legislation, encouraging faculty caregiver supports, passes 3 Dec 2020
This Faculty Senate Class C Resolution promotes measures to support instructors (part-time, full-time, graduate students) and faculty influenced by the COVID pandemic; it passed out of the Senate on 3 Dec 2020. Noted, of course, this is unenforceable without a collective bargaining agreement, which would require having a UNION.
1 Sept, 2020: AAUP calls for caregiver accommodations
UW can only continue to ensure excellence in teaching, research, service, and community partnerships if it provides sustainable, safe, and accessible assistance to caregiving faculty.  We call for the following principles and action steps in achieving this goal: Equity is essential, Creativity is our strength, Policies alone are not enough, Lead from the top and Flexibility is key. See full statement: AAUP statement on childcare 2020Sep 1
UW AAUP Chapter signs on to Decriminalize UW Petition (September 2020)
#GeorgeFloyd #Breonna Taylor #CharleenaLyles #JTWilliams #TommyLe #ShaunFuhr #MannyEllis
As members of the University of Washington (Seattle) community, we call on President Ana Mari Cauce and Provost Mark Richards to take immediate action to ensure the health and safety of people on campus, particularly Black and other persons of color, by protecting them from police violence by 1) the Seattle Police Department and 2) the UW Police Department.
Specifically, we call on UW to break all ties (both informal and formal in the form of contracts, agreements, and MOUs) with Seattle Police Department by taking the following steps:
Immediately stop handing over people detained by UW Police Department to SPD custody.
Stop using SPD to respond to public safety needs, including referrals for welfare checks under the Safe Campus program.
Stop using SPD for additional security for any events, including football games, concerts, and ceremonies.
Further, we call on UW Seattle to reimagine a Safe Campus as follows:
Disarm UWPD officers.
Ban the use of police dogs, which many communities of color in the US associate with the terror of state violence.
Publicly commit to not hiring former police officers with disciplinary records as UW Police Officers.
Petition is here: https://docs.google.com/document/d/1S4RPR9wfPdwEjcLLWUNJ3ESQCytslcBn9A_6RIxvxpc/edit
July, 2020: AAUP supports letter urging UW leadership to invest in caregiver accommodations
We are writing with an urgent request to University leadership and the Faculty Senate of the University of Washington, deans, and department heads. COVID-19 has uncovered many aspects of our institutional practice that have historically rendered certain labor invisible and left others more vulnerable. Now, more than ever, the structure and expectations of research productivity and teaching quality overwhelmingly privilege those who do not have to consider caring for family members. SEE MORE
Does UW need all the fiscal reserves we are hoarding?
Using a template provided by Howard Bunsis, Professor of Accounting at Easter Michigan University and a nationally recognized expert in higher education finances, and inputting figures from UW's 2019 audited financial report, we have attempted (in the attached document) to calculate UW's true unrestricted reserves, which we estimate at 1.98 billion.  Do we need all that money? AAUP statement on avoiding austerity in the wake of COVID 2020
August 2020: Inquiry on AAUP list server prompts UW administration response about what is (and is not) discoverable from faculty email through the state's public records act.
from our UW president, Ana Mari Cauce: I understand that there have been lots of concerns about how we access emails for public records requests and/or legal proceedings. Unfortunately, the answer is not a straightforward one – we work through schools and colleges, which have their own procedures. I've tried to boil things down to the main issues. 2020.08.20 Public Records AAUP Response

August 2020: AAUP registers support for restorative justice approach to conflict in UW School of Medicine
Dear UW Leadership,
The board of the University of Washington chapter of the American Association of University Professors has become aware of a situation concerning climate, student/faculty/administration relations, due process, and ongoing issues of anti-Black racism in the School of Medicine (SOM). The situation that has unfolded in the SOM highlights the dearth of resources for managing conflicts between students and professors (among colleagues, or with administration), especially when the underlying driver is racism.We write this letter to support the people at the heart of this struggle who are working to uphold the values of racial justice, shared faculty governance, and academic freedom. See full exchange of communications: BAMM – UWSOM 2020 controversy, and our  letter: AAUP letter re UWSOM concerns Aug2020
July 2020: The DigiPen Institute of Technology faculty creates a local AAUP chapter, inducts officers.
DigiPen Institute of Technology faculty have voted to create a local chapter of the American Association of University Professors (AAUP), and induced officers elected during their first chapter meeting. DigiPen is a private, for–profit university in Redmond, Washington. DigiPen offers bachelor's and master's degree programs in Computer Science, Animation, Video Game Development, Game Design, Sound Design, and Computer Engineering.
Avoiding financial catastrophe for the UW during the epidemic.
Analysis of options provided by our friends at the Economic Opportunity Institute.EOI Memo to Legislators July 2020
Only Free College Can Save Us From This Crisis — The situation on demands bold action on par with the New Deal, By Christopher Newfield Chronicle of Higher Ed article here
Christopher Newfield blogs on governance troubles: https://bit.ly/3l7k5mW and budget troubles: https://bit.ly/31DrJwm.
UW is participating in the national Public Higher Ed Network, where public universities across the country talk about strategies to keep their institutions alive during the coming austerity pressures.  For example, Penn State community is organizing under the Coalition for a Just University (CJU/PSU), using regularly meetings to bring people together, holding a virtual rally, demanding a compact and presenting their own modeling system for the spread of the virus on campus – about which the university admin flipped out. Jerry from Shippensburg Univ has been working with K-12 educators under the group PA for a Safe Return to Schools to educate them on the law and reopening especially in terms of ADA and FMLA. Join Slack, or check out this statement about what a union can and should be. Please complete this form to join the network, chaired by Barbara Madeloni.
April-May, 2020: AAUP urges Faculty Senate to interrupt the termination of the UW's Intensive English Language Program.
Dear Professor Sandison, Thank you for your reply on the issue of whether the Continuum College may close the Intensive English Program without triggering the RCEP process in the Faculty Code. Unfortunately, this interpretation of the Faculty Code is difficult to reconcile with the actual contributions of IELP.
Faculty Code Section 26-41 (Section A) on "Reorganization, Consolidation, and Elimination Procedures" (RCEP) calls for a process to be launched for termination of any "distinct option in the University Catalog," which this certainly is. The relevant Catalog entry is HERE. The entry for IELP advertises five levels of instruction, and "experienced instructors with advanced degrees in teaching English as a second language." SEE MORE
…And state legislators agree! SEE THEIR LETTER HERE.
See an analysis of the administrative bloat in the Continuum College, which decimated IELP. UWC2-salaries-org chart
March 23, 2020: AAUP Board Communication to UW administration during COVID-19
For over a century, the AAUP has advocated for a strong university, operating on principles of shared governance and in service to the public good.  In that spirit, we write to ask for immediate measures we deem essential to sustain our institution through this crisis.  The UW is on the front lines of the COVID-19 epidemic and vital to the economy of our region; its continuing institutional strength will be key to the recovery of the State of Washington.   SEE MORE
March 21, 2020: AAUP Statement of Support for our brave, beloved UW health workers!
THANK YOU to the heroic teams at UW Medicine and the schools of Nursing and Public Health who are doing so much to protect us all as we live through the pandemic.
Here are some ways to follow their work:
UW Virology lab website dashboard, which has tested about 25,000 people (finding 7.5% positive): http://depts.washington.edu/labmed/covid19/
Twitter feed from the UW Virology lab, with regular vignettes throughout the day. Go to Twitter and follow: @UWVirology
UW Medical Center's nurses' union (WSNA) website has regular updates
Harborview's 1199 Nurses' union page, HERE.
Another link to follow–Inside Higher Ed's catalogue of university responses.
And AAUP national's Statement on COVID-19 and the Faculty Role in Decision-Making
February 6: AAUP forum in conjunction with Faculty Forward, New Titles for UW lecturers? Parity for lecturers will require more than a name change, but it's a start…
Panel included: Linda Hurley Ishem, urban studies (UW-Tacoma), Aaron Katz, public health (UW-Seattle), Carrie Lanza, social work (UW-Seattle), Annie Nguyen, interdisciplinary A&S (UW-Tacoma), Moderator: James Rush Daniel, Dept of English (UW-Seattle), Eva Cherniavsky, host on behalf of AAUP & Faculty Forward. See notes on discussion: Notes of 6Feb2020 AAUP lecturer forum
January 20, 2020: AAUP Statement of Support for UPass benefits for all UW employees.

We, the undersigned, write to you to request fully subsidized transit passes for all University of Washington employees. UPASSForAllStatement
---