The Center for Social Science Computation and Research
November 9, 2018
Upcoming QUAL Speaker Series events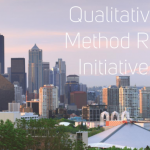 The UW Qualitative Multi-Method Research Initiative (QUAL) will be hosting two upcoming seminars as part of their Speaker Series which should be of interest to CSSCR community members.
---
October 26, 2018
CSSCR Newsletter, Autumn 2018, Number I
CSSCR Autumn 2018, Number I From the Director Welcome back to campus for Academic Year 2018-19! This is our Autumn CSSCR announcement. Below you will find our listing of workshops for the quarter and some new data sources. Do check out our new CSSCR website for updates and for changes in our workshop scheduling! As…
---
July 18, 2018
Welcome to the new CSSCR Website!
Hello! This new website more closely aligns with design principles utilized across the University of Washington. It also puts us in a position to decommission julius.csscr.washington.edu, a server that has served (ahem) CSSCR dutifully for well over a decade. If you find problems with this new site, please notify our webmaster and we'll do what…
---