Care Transformation
Ageism
---
Definition – A system of oppression based on the social construction of age superiority and inferiority, which is expressed in individual, institutional, as well as cultural forms and functions for the benefit of some at the expense of others.
---
Recommended Books
Enlightened Aging: Building Resilience for a Long, Active Life – UW Medicine Affiliation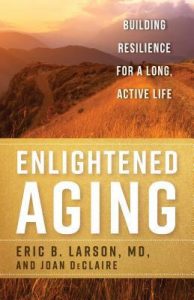 Authors: Eric B. Larson, MD – UW Medicine Clinical Professor and Joan DeClaire
Published:  June 9, 2017
ISBN: 1442274360
ISBN13: 9781442274365
Pages: 234
"A leading expert in the science of healthy aging, Dr. Eric B. Larson offers practical advice for growing old with resilience and foresight. More than just canned advice, Enlightened Aging proposes a path to resilience—one that's proven to help many stave off disability until very old age. The steps on this path include pro-activity, acceptance, and building and maintaining good physical, mental, and social health
Using inspiring stories from Dr. Larson's experiences with study participants, patients, friends, and relatives, Enlightened Aging will help readers determine what their paths can look like given their own experiences and circumstances. It informs readers of the scientific evidence behind new perspectives on aging. It inspires readers with stories of people who are approaching aging with enlightened attitudes. It offers advice and resources for readers to build their own reserves for old age. It recommends ways for readers to work with their doctors to stay as healthy as possible for their age. And it offers ideas for building better communities for our aging population. While especially relevant to the baby boom generation, this work is really for people of all ages looking for encouragement and wise counsel in order to live a long, active life." – Rowman Littlefield
Aging: An Apprenticeship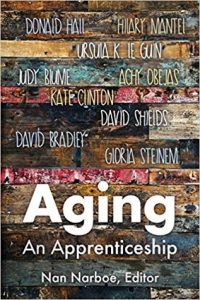 Editor: Nan Narboe
Published:  April 4 2017
ISBN: 0692753990
ISBN13: 978-0692753996
Pages: 298
"Nan Narboe's 56 thoughtfully selected essays offer an intimate and lyrical account of aging through the decades. Authors Donald Hall, David Shields, Kate Clinton, Paulina Porizkova, Ursula K. Le Guin and others draw from their own experiences, describing a specific decade's losses and gains to form a complex and unflinching portrait of the years from nearing fifty to ninety and beyond.
Drawing on seven decades worth of experiences, the selected essays offer a clear-eyed composition of narratives, each narrative as important as the one before it. In Paul Casey's "Katie Couric Is No Friend of Mine," a colonoscopy, not a red convertible, marks his initiation into mid-life. Germaine Koh, in "Thoughts on Aging," is the oldest player in her roller derby league, confounded by her changing body. Ursula K. Le Guin's "Dogs, Cats, and Dancers: Thoughts about Beauty" meditates on human self-consciousness–it is aging humans who find their bodies surprising. And in "Death," Donald Hall rejects euphemisms: he's not going to "pass away;" he's going to die." – Red Notebook Press
This Chair Rocks: A Manifesto against Ageism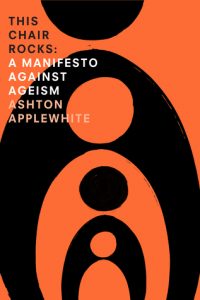 Author: Ashton Applewhite
Published: March 15, 2016
ISBN: 0996934707
ISBN13: 9780996934701
Pages: 288
"In this lively, entertaining book, Applewhite mixes her personal experiences and opinions about growing old with an exploration of society's attitudes about age, debunking myths and exposing ageism. Author (Cutting Loose) and blogger (Yo, Is This Ageist?) Applewhite uses an enormous number of sources, including books, interviews with experts, and research studies, to examine aging in America. She uncovers quite a few problems—"I see ageism everywhere"—and tempers them with recommendations for changing the conversation and inciting social change, suggesting ways to "push back" against, for example, antiaging rhetoric.
She covers topics of all kinds, such as isolation (a fertile environment for disease), sex and intimacy, and the role of work and how companies can better accommodate older workers. She works hard to discuss and correct common misperceptions about aging. Her humor, high-energy writing, and emphasis on positive ways to view and experience age contribute to making this a valuable resource, an agent for social change, and an enjoyable read. (BookLife) – Publishers Weekly
Being Mortal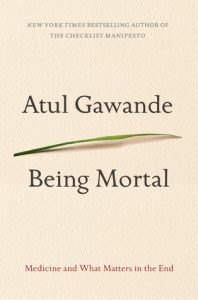 Author:  Atul Gawande
Published: October 7, 2014
ISBN: 080509512
ISBN13: 9780805095159
Pages: 282
"The recipient of numerous awards and widespread acclaim, Atul Gawande's Being Mortal has secured a position among the bestselling medical books of all time. In the years since it was first published, Being Mortal has become a cultural touchstone that has profoundly altered the way we think about end of life care. From those confronting their own mortality or that of a loved one to medical professionals guiding patients through their final days, readers of all backgrounds have connected with Gawande's insights on death and dignity. Being Mortal has been lauded as an invaluable tool by doctors, nurses, nursing home directors, hospice care workers, and funeral home directors. Academics and clergy have incorporated it into their lectures and sermons. Entire communities have read it together as part of One City Reads programs. It is a book that sparks conversation and leads to thoughtful reflection. It is, quite simply, a book for everyone." – Picador
Life Gets Better: The Unexpected Pleasures of Growing Older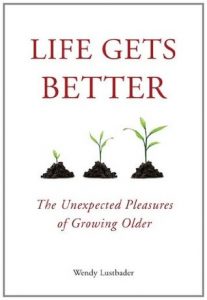 Author: Wendy Lustbader
Published: August 18, 2011
ISBN:1585428922
ISBN13: 9781585428922
Pages: 256
Recommended Videos
Ashton Applewhite: Let's end ageism
It's not the passage of time that makes it so hard to get older. It's ageism, a prejudice that pits us against our future selves — and each other. Ashton Applewhite urges us to dismantle the dread and mobilize against the last socially acceptable prejudice. 'Aging is not a problem to be fixed or a disease to be cured,' she says. 'It is a natural, powerful, lifelong process that unites us all.'" – TED2017
Jared Diamond:  How societies can grow old better
"There's an irony behind the latest efforts to extend human life: It's no picnic to be an old person in a youth-oriented society. Older people can become isolated, lacking meaningful work and low on funds. In this intriguing talk, Jared Diamond looks at how many different societies treat their elders — some better, some worse – and suggests we all take advantage of experience." – TED2013
Sophie Andrews: The Best Way to Help is Often Just to Listen
"A 24-hour helpline in the UK known as Samaritans helped Sophie Andrews become a survivor of abuse rather than a victim. Now she's paying the favor back as the founder of The Silver Line, a helpline that supports lonely and isolated older people. In a powerful, personal talk, she shares why the simple act of listening (instead of giving advice) is often the best way to help someone in need.– TEDMED 2017
---
Recommended Peer Reviewed Articles
Click the title of each article to download it; your Net ID maybe required.
Click here to download a list of recommended peer reviewed articles with citations.