Care Transformation
TCPI
Transformation of Care: Meeting the Challenge of Modern Healthcare Delivery
The Center for Medicare & Medicaid Innovation provides tools and support to help clinicians meet the challenges of modern healthcare delivery. A major area of healthcare reform is focused on achieving the "Triple Aim"—better care, better health for patient populations and better value—in an increasingly competitive healthcare environment.
With the passage of the Affordable Care Act, the U.S. Department of Health and Human Services (HHS) is committed to having 50 percent of payments linked to quality and value by 2018, shifting from paying healthcare providers for quantity of care (fee-for-service) to paying them for quality of care.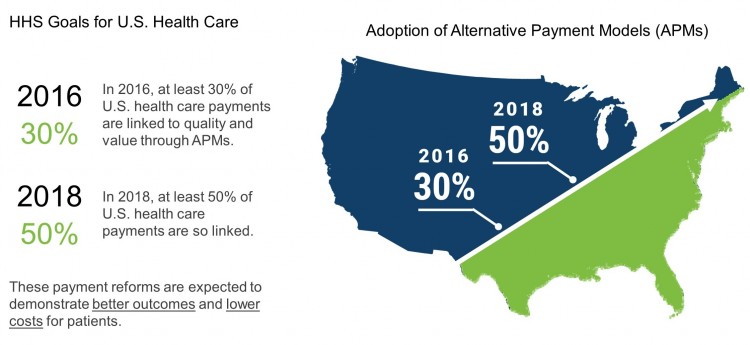 UW Medicine received a Transforming Clinical Practice Initiative award from Center for Medicare and Medicaid Innovation (CMMI) in October 2015 to support these care transformation efforts in Washington, Wyoming, Alaska, Montana and Idaho. UW Medicine aims to prepare the clinician workforce for new payment models by:
harnessing the power of information to improve care for patients
training clinicians to support them in changing the way care is delivered
spreading new programs aimed at improving patient experience, safety and quality of care
About the Transforming Clinical Practice Initiative
The Transforming Clinical Practice Initiative (TCPI) is one of the largest federal investments designed to prepare clinicians for value-based payment models. Over the next four years, TCPI will help more than 140,000 clinicians achieve large-scale care transformation through sharing, adapting and developing quality improvement strategies.
The initiative is one part of a strategy advanced by the Affordable Care Act to strengthen the quality of patient care and spend health care dollars more wisely. It has three major parts:
Practice Transformation Networks (PTNs) are peer-based learning networks designed to coach, mentor and help clinicians develop core skills to transform care. UW Medicine received a PTN award in October 2015 to help achieve the Triple Aim and provide training, programs and other support to clinicians in continuously improving the healthcare system.
Support and Alignment Networks (SANs) offer support for PTNs. SANs aim to provide a sustainable approach to care transformation by creating infrastructure to identify evidence-based practices and policies and disseminate them nationwide. Learn more about Support and Alignment Networks.
Quality Innovation Network—Quality Improvement Organizations (QIN-QIOs) bring Medicare beneficiaries, providers and communities together in initiatives to accomplish the triple aim. QIN-QIOs offer support to PTNs in evaluating clinician and practice progress toward readiness to participate in new payment models. Learn more about QIN-QIOs.
To learn more about TCPI, visit https://innovation.cms.gov/initiatives/Transforming-Clinical-Practices/.
Join the TCPI Community
To learn more about UW Medicine's Practice Transformation Network, contact Meridith Weiss.
Tools & Resources:
WWAMI PTN Performance Measures 2018.05.18
CMS_CMMI Payment Innovation Programs for Eligibility Assessment 8.29.16