Lisa Maves, PhD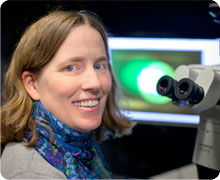 Dr. Maves is a Principal Investigator at Seattle Children's Research Institute and an Assistant Professor of Pediatrics at the University of Washington School of Medicine. She received her PhD from the University of Washington and completed postdoctoral research at the University of Oregon and at Fred Hutchinson Cancer Research Center. She was a staff scientist at FHCRC before joining Seattle Children's Research Institute in 2012.
"At Seattle Children's, my work focuses on basic research on heart and muscle development and regeneration. Each day offers a new opportunity to make a discovery that will impact new therapies for children with muscular dystrophy and congenital heart disorders."
Contact Lisa Maves directly at lmaves (at) u.washington.edu.