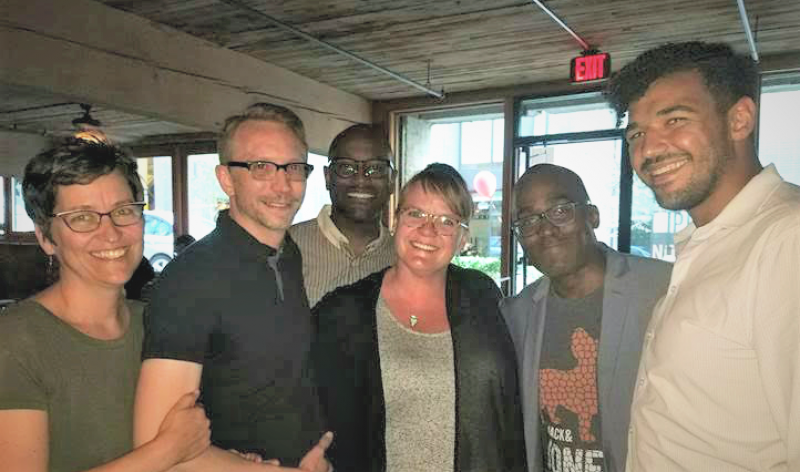 About
The UW/Fred Hutch Center for AIDS Research (CFAR) Community Action Board (CAB) is a group of key stakeholders from our community who serve in an advisory capacity, providing a community perspective on important issues in HIV/AIDS research.
Mission Statement
The CFAR CAB's mission is to encourage communication and to build trustworthy collaborations between UW CFAR researchers and community members and community-based organizations to enhance local, national, and international prevention, treatment, and education activities.
Specific goals of the CAB
Make HIV/STD research more transparent and useful by engaging CAB members to help develop improved and targeted information dissemination to the community.
Use CAB activities to help CFAR affiliates and researchers learn about local community organizations, concerns, activities and opportunities for collaboration.
Communicate CFAR services to communities and identify important research topics to ensure community relevancy and collaboration.
Membership
The CAB is comprised of a group of committed individuals, including representatives from HIV-affected groups and organizations.  The CAB Steering Committee is listed below.  Working Groups include steering committee members and a broader membership from the communities they serve.
The UW/Fred Hutch CFAR CAB meets every 2nd Tuesday of the month, 6:30-7:30pm. Please contact the CFAR CAB Manager if you are interested in joining us (cfarcab@uw.edu).
People
Community Action Board Member Organizations
AARTH
BABES Network - YWCA
Center for Multicultural Health
Entre Hermanos
Gay City
Gender Justice League
ICHS - International Community Health Services
Lifelong Aids Alliance - Bellingham
Lifelong Aids Alliance - Everett
Lifelong Aids Alliance - Seattle
Neighborhood House/Project Handle
People's Harm Reduction Alliance
Pierce County AIDS Foundation - Olympia
Pierce County AIDS Foundation - Tacoma
POCCAN
Project Neon/Seattle Counseling Service
Teen Feed
Seattle Area Support Groups and Community Center
Seattle Indian Health Board
Somali Health Board
Oregon 
Cascade AIDS Project (Portland)
HIV Alliance (Eugene)