Leadership Without Borders
Student Leadership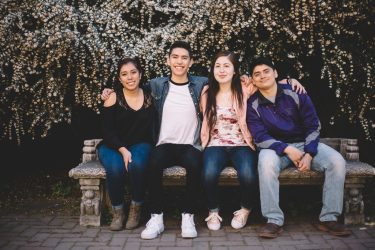 At the LWB Office we provide undocumented students with a variety of opportunities, trainings, and resources to discover, construct, and expand their own brand of leadership to create positive change on campus and their at-large community.
Leadership in Action
"Leadership is the practice of accepting responsibility to enable others to achieve shared purpose under conditions of uncertainty."
– Marshall Ganz
As a practice, leadership is learned experientially, combining "heart, head, hands." At the LWB Office, we provide undocumented students with a variety of leadership opportunities to engage them developing new skills, exploring leadership concepts and topics, and connecting through personal narratives, while serving their community.
The following are some of the key leadership opportunities the office will offer for students:
LWB Trainings:

The LWB Office will offer quarterly leadership trainings facilitated by LWB staff or guest facilitators from community organizations. Topics will include: artivism, community organizing, storytelling for change, and adaptive leadership.

Panels & Presentations:

Students will be invited to participate in student panels and/or give presentations for the LWB office's Undocu Ally trainings.

Workshop Facilitation:

Students will have an opportunity lead or co-facilitate LWB trainings and other educational events.

In the Field Experiences:

Students will be partnered with a community organization to complete a service-learning project.
The LWB Internship Program
The LWB Internship program was created to provide a direct leadership experience to undocumented students who want to work directly through the Leadership Without Borders. The program involves collaborating with LWB staff to plan and execute a variety of leadership programs and events as well as to support other LWB components, such as the Husky Lending Library program.
Contact us at undocu@uw.edu to learn more about how you can apply for the LWB Internship Program.
Why Undocumented Student Leadership
We believe undocumented students have a unique leadership perspective and have already made significant contributions to improve our higher education institutions as well as our at-large community. There are a variety of examples that highlight how undocumented student-led efforts have resulted in crucial policy changes at the local, state, and federal levels, created spaces of empowerment for immigrant and refugee communities, and expanded opportunities for marginalized communities to access higher education.
While undocumented students face uniquely complex challenges to successfully navigate our society, they have also found innovative, inspiring, and entrepreneurial forms to exercise their leadership and positively impact their communities. We believe investing in our students' leadership development is not only the right thing to do, but also an investment in the improvement our campus and surrounding community.