2005 Capstone Presentations, Cohort 1
Monte Bridges
Superintendent, PSESD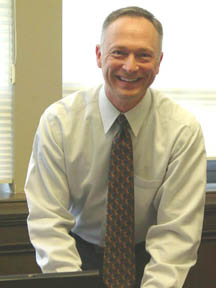 Superintendent Evaluation for Increased Organizational Performance: From Traits to Triangulation
Download Executive Summary (Word doc)
May 11, 4:00-5:00pm
Miller Hall 222
Monte L. Bridges was born and raised in Ellensburg, Washington. After high school graduation, he moved to Seattle, Washington, where he still lives. Currently, Monte serves as Superintendent for the Puget Sound Educational Service District (PSESD). Previously, Monte worked as Assistant Superintendent for K-12 Services at the PSESD; and for the Vashon Island School District in a variety of capacities, including Superintendent. Prior to that, he worked with the Edmonds School District and the University of Washington.
Monte is an adjunct faculty member and member of the Superintendent Professional Education Advisory Board at Seattle Pacific University. In addition, he is an auxiliary faculty member/clinical instructor for the Department of Speech and Hearing Sciences at the University of Washington. Also, Monte is active in the Washington Association of School Administrators and Washington State Association for Supervision and Curriculum Development, as well as many other professional boards and associations. He is a member of the National Advisory Board for Scholarship America and past Chair of the Washington State Dollars for Scholars Board. Governor Gary Locke appointed Monte to the Washington State Arts Commission in 2004, where he serves a three-year term.
Monte holds Bachelor of Arts in Communication Disorders, Master of Speech Pathology and Audiology, and Doctor of Education degrees from the University of Washington in Seattle. In addition, he holds a Master of Arts in Education with emphasis in Curriculum and Instruction degree from Seattle University; and a Washington State Continuing Superintendent certificate issued through Seattle Pacific University.